Archived Outdoors
The 100-year trail: A century after Benton MacKaye proposed it, millions enjoy the A.T. each year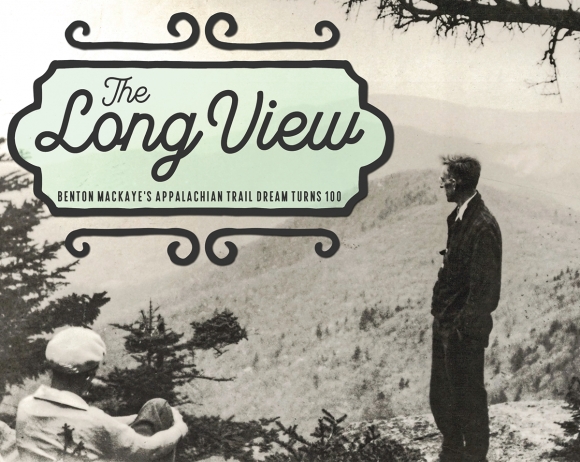 In an undated photo, Benton MacKaye surveys a future section of the Appalachian Trail.
Appalachian Trail Conservancy photo
A wall of wind hurtles through the asphalt-covered mountain gap as I exit my car, popping open the trunk to rummage through the sea of stuff for any last-minute additions to the loaded backpack lying atop the mess.
The air is chilly for early May, barely clearing 50, and I'm tired. It's 4 p.m. on a Friday, the end of a long week made longer by ongoing complications from a home improvement project. I made a point of declaring that, regardless of the circumstances, I would be going backpacking this evening, but if I'm honest with myself, the treadmill of sifting and planning and losing and finding the gear I'd need to make it happen left me wondering if a brief overnight adventure was really worth all the effort.
But here I am, standing alone in the wind under the I-26 overpass at Sams Gap, a loaded pack on my back and an excited dog attached to the leash in my hand. I've come too far to turn around now, so I step forward, footfalls echoing beneath the overpass before following the white blaze up a steep asphalt drive and then hanging a left onto the Appalachian Trail.
I turn my back to the highway, place my boots on the dirt, and breath in beauty. Low-angled light dapples the newly green forest floor. Mayapples stand erect like open umbrellas, and young ferns coil like wound springs. The trail quickly turns steep, and my legs strain against gravity while my lungs contract and expand in support. In an irony I've often noticed while spending time outdoors, the harder my body works, the more quickly my fatigue evaporates.
I feel alive.
A large white trillium (Trillium grandiflorum) blooms along the A.T. near Sams Gap. Holly Kays photo
***
More than a century ago, a young boy named Benton MacKaye found a similar kind of transformation in the mountains, and he grew into a young man whose vision and idealism birthed the Appalachian Trail.
Born in Connecticut on March 6, 1879, MacKaye had a turbulent upbringing as the sixth of seven children, son of a brilliant but often broke inventor/playwright, Steele MacKaye MacKaye. He was 9 years old when his older brother Will died and 14 when his father passed away, leaving the remaining sons to support the family.
In the face of tragedy, MacKaye always found restoration in the wilderness. As a teenager, he thoroughly explored the forest surrounding the family home in Massachusetts, carrying a sketchbook in which he created exquisite maps and drawings of the plants and animals he encountered.
As an undergraduate at Harvard University, his expeditions grew in scope and ambition, writes Jeffrey H. Ryan in his book Blazing Ahead: Benton MacKaye, Myron Avery, and the Rivalry that Built the Appalachian Trail. After completing his freshman year, MacKaye and a couple classmates spent two weeks exploring the White Mountains of New Hampshire, ascending multiple summits along a path that would later become part of the Appalachian Trail. A few years later, he took a post-graduation trip with his brother Percy and a close friend named Horace Hildreth, which Ryan described as "the most ambitious" excursion yet. The young men traveled by train and then by foot — sometimes using dirt roads, other times bushwhacking through the forest — to summit Haystack, Stratton and Bromley mountains.
"At a time when the approaches to high peaks, if any, were mostly dirt roads and the young men often counted on the kindness of farmers or their own resourcefulness for food and shelter, it was an ambitious and exhilarating feat," Ryan wrote. "Yet the memory that stuck most with MacKaye was how it felt to stand above the clouds."
The experience altered the course of MacKaye's life, inspiring the idea for the trail with which he would be forever linked.
"I felt as if atop the world, with a sort of 'planetary feeling,'" he wrote in an April 1901 letter to his brother James, describing the summit of Stratton Mountain. "I seemed to perceive peaks far southward, hidden by old Earth's curvature. Would a footpath someday reach them from where I was then perched?"
Benton MacKaye, circa 1900. Appalachian Trail Conservancy photo
MacKaye went on to earn a graduate degree in forestry, a new field still working to define itself, and was in fact the first person to enroll in Harvard's freshly minted forestry program. He enjoyed his studies, but it was still unclear what a forestry degree meant in the real world. MacKaye spent a few years working for the U.S. Forest Service — an experience that was "a bit like hiking with a pebble in your boot," Ryan wrote — and then came back to Harvard as an instructor.
Life had been going well, but it took a turn for the worse in 1910 when he lost his job. A year later, MacKaye and his fiancée Mabel "Lucy" Abbott broke up. After the split, MacKaye was hired as forest examiner for the Forest Service, an offer that came directly from the agency's head, Henry Graves, but by 1919 he had parted ways for good with the Forest Service and federal employment in general. In 1915, MacKaye married. His wife, Jessie Hardy Stubbs, known as Betty, was a lecturer and social activist, an "intellectual soul mate" to MacKaye and, like her husband, suffered from debilitating bouts of depression, Ryan wrote. On April 19, 1921, Betty died by suicide after jumping in New York's East River.
Through that tragedy, the A.T. idea made its way to the national stage.
After Betty's death, MacKaye's close friend Charles Harris Whitaker invited him to come stay at his farmstead in Mount Olive, New Jersey.
"Without a partner or any immediate job prospects, he spent his days developing and refining an idea that was taking root in his mind and coming to life on the pages of his diary and notebook," Ryan wrote. That idea was "a bold, new plan for the entire Appalachian Range: a recreational and economic plan that evolved around a footpath extending 'the full length of the Appalachian skyline — from the highest peak in the north to the highest peak in the south — from Mount Washington to Mount Mitchell.'"
Whitaker happened to be the editor of the Journal of Landscape Architecture, and MacKaye's idea excited him. He set up a meeting with Clarence Stein, head of the American Institute of Architects' Committee on Community Planning, and the three developed a plan to run an article about MacKaye's idea in Whittaker's journal, which Stein would then promote through his committee.
The resulting article, "An Appalachian Trail: A Project in Regional Planning" came out in the journal's October 1921 issue, 100 years ago this fall. Within 16 years of the article's publication, the 2,000-mile trail MacKaye had envisioned along the Appalachian spine became a reality.
***
During the 2.5-mile hike to Hogback Ridge Shelter, I see almost nobody. Most of the people walking the trail this time of year are northbound thru-hikers unlikely to walk past Hogback Ridge at this point in the day. I'm hiking south, and I have the sun-pierced purple larkspurs and the evening chorus of birdsong all to myself.
When I reach the shelter, I find a group of five or six thru-hikers clustered around the camp, some eating dinner at the single picnic table, others sitting around a blazing fire. Northbound from Georgia is still the most popular way to hike the trail, so here the "bubble" of thru-hikers tends to occur in mid to late spring.
"Do you want some water?" a red-haired woman asks as I approach, offering me a pour from her hydration bladder and explaining that the water source is a longer-than-usual walk away from the shelter.
I decline — unlike her, I hadn't just walked 16 miles with a 25-pound pack — then set about getting water, setting up the tent and unloading my sleeping bag and mat. I spend an hour or so wandering down the trail a bit in hopes of bumping into my cousin, a thru-hiker who's aiming for Hogback Ridge tonight, but eventually I head back toward camp to make some dinner.
That's when I meet Stashe and Pickles, a couple thru-hikers sitting on the edge of the three-sided shelter eating instant dinners from plastic bags.
"I met Pickles over here on day one or two," says Stashe, a 31-year-old Portland, Oregon, resident known as Zac Coykendall when he's not on the trail. His sizeable mustache gives a clue as to his trail name's origin. "We all found a group of people who were all hiking the same speed, a bunch of lovely weirdos. I liked hanging out with them, and I've been hanging out with them as long as I can."
They've all been hiking for about a month, recently cresting 300 miles. It's surprising, Stashe says, the degree to which the people he's met have defined his experience.
"You think of this as a Walden experience, how you go out in the middle of nowhere," he says. "But no, it's mostly about the people."
"I didn't know how important the community would be to my success," adds Pickles, a 28-year-old from Orlando, Flordia, whose off-trail name is Analise Pena. "I knew it would happen. I knew I'd have friends and it would be fun. But when it's really, really tough and you have that support, there's nothing like it. It's really important."
After a long day on the trail, hikers hang out around the fire at Hogback Ridge Shelter on the Appalachian Trail. Holly Kays photo
The next morning I meet a 21-year-old Army veteran from Gillette, Wyoming — "Cowboy" on the A.T., or Tristan Dowling off it — who reminds me of the off-trail support hikers get, too.
"The kindness of people and the absolute warmth and hospitality that hikers receive," he says when I ask what's been surprising about the experience so far. "If you think about it, we're nasty, smelly, gross people and they charge us less for rooms and we make a bigger mess and we're loud, rambunctious — just a rowdy kind of crowd. And everybody loves us."
For tonight, though, that outside world is far away, and the on-trail atmosphere takes over. As the setting sun sends pink streaks into the sky, visible between still-bare trees, the campfire wards off the oncoming chill. After a long day on the trail, my cousin wanders into camp as a thru-hiker aptly named Tunes strums his ukulele. Everyone sings along to "Sweet Caroline" and "Country Roads" until hiker midnight hits and the warmth of the sleeping bag calls.
***
Today, the Appalachian Trail is a 2,193-mile blazed footpath stretching from Springer Mountain, Georgia, to Mount Katahdin, Maine.
Three-sided shelters, typically accompanied by a fire ring, picnic table and water source, are spaced roughly a day's hike apart throughout the whole thing, and every now and then there's a road crossing near a community where hikers can down a hamburger or five, get a decent shower and replenish their food supplies. Every year, thousands of people attempt to hike the whole thing, and millions embark on shorter excursions.
But MacKaye's original plan was about more than just a trail.
Always a social progressive, he envisioned not only a "long trail" stretching from Mount Mitchell to Mt. Washington — a slightly different and shorter route than the one ultimately constructed — but also a network of camps and communities scattered along it that would provide an increasingly urbanized nation a nature-infused respite from modern life. This long trail would have shelter camps located "a comfortable day's walk" apart, a fair description of the shelters present today. But it would also have community camps of 100 acres or more established as self-owning communities for the purpose of "non-industrial" activities — recreation, recuperation, study and seasonal field schools, for example. A later development, MacKaye posited, would be food and farm camps established in adjoining valleys or included in the community camps.
Benton MacKaye's original sketch of a proposed A.T. route included various spur trails. Appalachian Trail Conservancy photo
"Their development would provide a tangible opportunity for working out by actual experiment a fundamental matter in the problem of living," MacKaye wrote. "It would provide one definite avenue of experiment in getting 'back to the land.' It would provide an opportunity for those anxious to settle down in the country; it would open up a possible source for new, and needed, employment."
This "problem of living" is a recurring theme MacKaye's article.
"It goes without saying we should work upon the labor problem," he wrote. "Not just the matter of 'capital and labor' but the real labor problem — how to reduce the day's drudgery."
He wrote during a time of rapid urbanization and upheaval. In 1921, World War I and the Spanish flu epidemic were barely in the rearview. Many rural areas were in decline, with Americans increasingly leaving the country for urban settings.
As technology progresses, MacKaye wrote, there will be increasing time for leisure, "but will leisure mean something 'higher?'" If only 1% of the American people put their leisure time to use in support of an Appalachian ridge trail that could offer opportunities for recreation, health, recuperation, and employment in struggling rural areas, he argued, their efforts would be equal to that of "40,000 persons working steadily on the job."
While the second half of MacKaye's plan — community and farm camps along the trail — never came to fruition, the first half of his proposal progressed with startling speed. MacKaye's article published in October 1921. The first Appalachian Trail Conference, later to become the Appalachian Trail Conservancy, was held in March 1925, and by 1937 a complete trail stretched from Springer Mountain, Georgia, to Mt. Katahdin, Maine — an even longer distance than MacKaye's originally proposed route.
According to Ryan, the rapid speed of completion was not due to MacKaye but rather to a lesser-known but just as influential name in A.T. history — Myron Avery.
"That is almost 100 percent Myron Avery, because interestingly enough what happened is MacKaye really wanted to shepherd this thing through on his own, and he really didn't have the right personality to engage and organize people," he said.
MacKaye was a man of ideas. Avery was a man of action.
After growing up poor in coastal Maine, Avery graduated from Harvard Law School in 1923, becoming a maritime lawyer and an Appalachian Trail enthusiast. He was one of the founding members of the Potomac Appalachian Trail Club and eventually served seven consecutive terms as ATC chair. He was brilliant, he was hardworking, and he was determined to get the job done.
"He had an obsession with completing the trail, and he was not really concerned with anything else in terms of alienating people or a minor inconvenience like having the Skyline Drive (in Virginia) literally built over a 30-mile section of trail they had built," said Ryan. "His response was, 'Let's just move the trail over.'"
The Skyline Drive episode highlighted the stark contrast between Avery's and MacKaye's philosophies regarding the A.T. Avery's main goal was to achieve a complete, continuous footpath along the Appalachian ridge — if the trail had to sacrifice some wilderness characteristics to accomplish the goal, so be it.
"Our main problem is to actually create it," Avery said in a 1934 statement for the Appalachian Trail Conference, quoted in Ryan's book. "Then we may discuss how to use it."
MacKaye couldn't have disagreed more.
"MacKaye passionately felt that Avery's view was short-sighted and missing the whole point of the A.T.," Ryan wrote. "'A wilderness is like a secret,' he told the gathering. 'The best way to keep it is to keep it. Keep the wilderness wild. Do not manicure it.' MacKaye believed the violation caused by skyline roads was wholesale. Two months before he had written that a skyline road 'violates the wilderness solitude not merely here and there but throughout its whole length.'"
Ultimately, Avery won. Today, the A.T. closely parallels Skyline Drive for most of the road's length and also hugs the connected Blue Ridge Parkway in various places.
That same year, MacKaye grew so disenchanted with Avery's approach to things that he left the ATC and — together with fellow wilderness advocates Bob Marshall, Harvey Broome and Bernard Frank — started another organization that is still active today: The Wilderness Society.
***
Three weeks after that chilly but rejuvenating night on Hogback Ridge, I find myself in Benton MacKaye's shadow again — this time, by accident.
I'd signed up for a ladies backpacking trip to the Lakeshore Drive area of the Great Smoky Mountains National Park, and as we stepped on the trail I noticed a small green sign noting that this was part of the Benton MacKaye Trail. I hadn't known before showing up.
The 288-mile trail, I would later learn, shares its start in Springer Mountain, Georgia, with the A.T. and intersects that longer trail multiple times before reaching its terminus in the Big Creek area of the Smokies.
The BMT follows a route that's closer to the one MacKaye originally proposed for the A.T.'s southern reaches. Some say it's truer to his vision in another respect, as well — the prevalence of wilderness.
From Feb. 1 through April 30 of this year, a whopping 2,689 people registered to start a northbound thru hike on the A.T. On the busiest day, April 1, 56 people were registered to start the trail. The BMT is a different story. A section on the Benton MacKaye Trail Association website labeled "Crowds" reads simply: "Known as a trail where hikers can enjoy mile after mile of peaceful solitude, crowds are not a problem."
Just days away from completing her BMT hike, Sara Leibold had already groundtruthed that statement when we met her at Campsite 74 on the Lakeshore Trail. Our group of five had already set up camp and gotten water boiling for dinner when she walked up to the campsite, and though we'd never met before, she was relieved to see us. It had been days, she said, since she'd seen anybody at all.
Sara Leibold sets out for her last few days of hiking to complete the Benton MacKaye Trail. Holly Kays photo
"I'd rather be around a little more people, because it's just been nobody," she said.
Leibold, 34, is no stranger to long hikes. She thru-hiked the A.T. in 2011, and she's completed various other trails in the years since, most recently the 339-mile Pinhoti Trail, which starts in her native Alabama. There's a time for solitude, she said, and there's a time for community.
"When I did the Pinhoti Trail in the fall, I was really needing to get away, and it was great to be by myself," she said. "But now I've been by myself too much, so I want to be around people."
These days, the A.T. usually has people — especially within the "bubble" of spring-starting northbounders. In the 1940s and '50s combined, only 17 people thru-hiked the A.T. But in recent decades, the trail's popularity has exploded. Between 2000 and 2010, 5,970 people logged at least 2,000 miles on the A.T., and in the 2010s that number grew to 9,046.
Figures like that leave Leibold torn. She's glad she thru-hiked when she did, because she's not sure she would like it as much now. On the other hand, "it's great, because honestly the more people that go on the trails, the more people you have that are going to love it and want to protect it," she said.
Ken Cissna, president of the Benton MacKaye Trail Association, wonders what MacKaye might have thought about the trail named in his honor compared to the one known as his brainchild.
"I kind of think he might like the Benton MacKaye Trail, because it does provide a more wilderness experience," he said. "But I mean, my goodness, his vision gave rise to what I assume must be the most traveled trail in the world. Certainly the most revered and iconic, and that's really something."
"By having the foresight to create this interconnected footpath from Maine to Georgia, MacKaye's vision has provided a way for millions each year to benefit from a true natural experience, in many cases just a short drive from some of the most populated cities in world," added Jordan Bowman, communications director for the ATC. "In regard to conservation, the work and words of Benton MacKaye have rekindled the notion that the Appalachian Trail should be 'a realm' beyond the footpath itself."
MacKaye didn't just create a trail, said Ryan. He created a vision, a template for all other long-distance hiking trails to follow, as well as a model for building and sustaining those trails. The A.T. is part of the National Parks System, but it owes its existence more to the dedicated efforts of generations of volunteers than to government oversight. Included in MacKaye's original proposal was the idea that volunteer hiking clubs should be responsible for building and maintaining the trail and its amenities — and clubs like the Carolina Mountain Club and Nantahala Hiking Club continue to fulfill that role today.
Volunteers with the Carolina Mountain Club, founded in 1923, built this and various other shelters on the Appalachian Trail in the greater Asheville area. Club members still maintain the shelters and trail. Holly Kays photo
The A.T. is a lot different now than it was as an idea in MacKaye's head in 1921, as a new trail in 1937, as a burgeoning phenomenon in the 1970s or as an incredibly popular cultural symbol in the 21st century. It's different today than it was yesterday or will be tomorrow.
"MacKaye was surprised in his later years about the number of people and the amount of time they spent on the A.T.," said Bowman. "As originally envisioned, MacKaye believed that most people would likely spend around two weeks max on the trail — primarily to get out in the open and study nature, not necessarily to recreate. I'm sure he wondered how many were seeking and receiving the benefits of the outdoor culture he had in mind originally. Nonetheless, I believe MacKaye would be happy to know how many people have come to genuinely love the trail — and have committed time and resources in order to conserve it."
As MacKaye wrote back in 1921, "Two weeks spent in the real open — right now, this year and next — would be a little real living for thousands of people which they would be sure of getting before they died."
In May of 1975, just months before his death on Dec. 11 of that year, MacKaye gave what may have been his final pronouncement regarding his hopes for the future of the trail he'd help birth half a century earlier.
"What I hope," he told journalist Constance Stallings, "is that it won't turn into a racetrack. I for one would give the prize to the person who took the longest time."