Archived Outdoors
National parks visitation explodes in WNC
Wednesday, October 14, 2020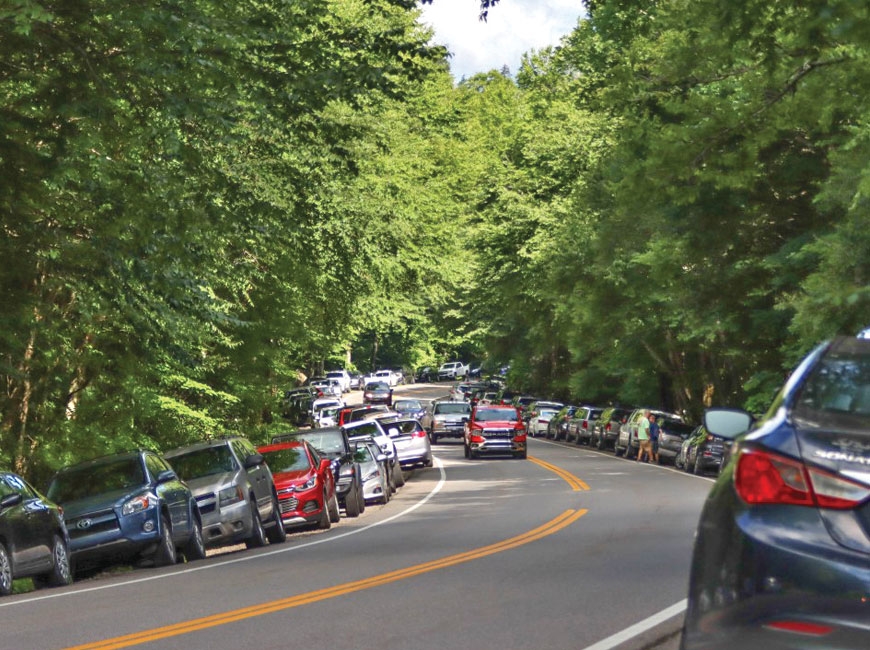 On a Saturday in July 2020, cars line both sides of Newfound Gap Road near the trailhead for Alum Cave Trail. NPS photo
For Western North Carolinians who see the outdoors as a safe haven when life gets hard, perhaps the most distressing part of the pandemic's early days was the domino-like succession of closures in the region's parks, forests and other open spaces.
The World Health Organization declared COVID-19 a global pandemic on March 11, and less than two weeks later the Great Smoky Mountains National Park took the monumental step of announcing a two-week closure of all trails and roads. The Blue Ridge Parkway shut down its southernmost section in coordination with the Smokies' March 24 closure, and by mid-April both the Parkway and the U.S. Forest Service had issued additional closures that effectively curtailed access to most federal lands regionwide.
But compared to the pandemic itself, the closures were short-lived. The Smokies began its first phase of reopening May 9, with many closures in the Parkway and national forests lifting the following week.
Record-breaking summer in the Smokies
Once the gates opened, the visitors arrived — in record numbers, according to preliminary National Park Service statistics. While overall visitation to Park Service sites was down this summer — the 100.9 million people who visited one of the 421 sites between June and August represented just 79 percent of the number who did so during the same period last year — the Great Smoky Mountains National Park and the southern portion of the Blue Ridge Parkway saw explosive growth in use.
In the Smokies, monthly visitation topped 1.5 million in June, July and August. June and August of 2020 were the busiest on record, and July was the third busiest.
This year, parkwide June visitation was 4.5 percent higher than in June 2019. Likewise, July visitation was 7 percent higher than the same month last year and August represented a whopping 9.4 percent increase over 2019. September figures have not yet been released.
"Many National Park Service sites don't see that amount of visitation in a year," said Smokies spokesperson Dana Soehn. "We're seeing it each month."
In 2019, the Smokies was the nation's most-visited national park when it logged a record-high 12.55 million visits, while second-place Grand Canyon National Park had less than half that figure, at 5.97 million. While the Smokies experienced record-breaking summer visitation this year in the midst of COVID-19 and despite the fact that several campgrounds and recreation areas were closed through June, the same could not be said of Grand Canyon, where visitation between June and August of 2020 came in at just 40 percent of 2019 levels.
However, the pandemic does appear to have influenced which areas of the park people are seeking out.
"We had people trying to find areas to hike that would not be as crowded," said Soehn. "We had higher use across the park at some of these secondary entrances."
Outlying entrances experienced the largest increases in visitation, while the park's main North Carolina entrance — Oconaluftee, located near Cherokee — saw an overall decrease this summer, with visitation in June coming in 11.8 percent below that of June 2019, recovering slightly to a 5 percent decrease in July and then to a 0.3 percent decrease in August.
Conversely, the Gatlinburg entrance saw moderately higher use than it did last summer, with increases over the same month last year ranging from a nearly flat 0.7 percent in June to a robust 9.5 percent in August. Visitation jumped significantly at the Townsend entrance, which leads to Cades Cove, with combined visitation June through August representing a 19.1 percent leap over 2019 figures.
In the lineup of outlying areas, the Fontana Road entrance saw the biggest jump percentage-wise, with the 53,056 visits it logged between June and August representing a 58.67 increase over the same period last year. In raw volume, Deep Creek experienced the largest change, with 219,461 visits between June and August compared to 179,134 last year — that's an upswing of 22.5 percent, or 40,327 visits.
Also in North Carolina, Cataloochee — which remained closed through early June due to a road project — saw a modest 4.32 percent uptick from 2019 numbers between June and August, though on its own August showed a 19.6 percent jump in visitation from the same month last year.
In the same June through August period, Big Creek saw visitation jump by 27.79 percent, while Balsam Road was the only North Carolina entrance other than Oconaluftee to post a decrease, with 5,875 fewer visits recorded this summer than in 2019, an 18.64 percent decrease. The counter at the 20 Mile entrance was not functional this year.
Smokies seeks answers to congestion issues
All those visitors have had a positive impact on the economies of the surrounding communities, but the increased use — part of a trend that's been ongoing since 2009 — has also posed a challenge for park managers. Next week the Smokies will host a series of online workshops to seek public input on how these issues could be addressed at specific sites throughout the park.
"We look forward to working hand-in-hand with our local communities and visitors from across the country to thoughtfully address growing challenges associated with extremely high visitation," said Smokies Superintendent Cassius Cash. "Congestion at the most visited park in the nation is complex, but we believe by working together, we can find solutions that help us continue to protect the park and provide better experiences for millions of visitors."
Increased use, especially at outlying areas like Big Creek, has resulted not only in congestion but also in erosion and vegetation damage along roads and parking areas, said Soehn.
"Congestion issues at popular destinations across the park are very complex, and each site is very unique. None of them are easy congestion problems to solve," said Soehn. "We don't think there's a one size fits all approach that will work in all sites across the Smokies, and that's why we really want to work with the users and local communities connected to some of these congestion hotspots, so we can specifically talk through issues related to those sites and brainstorm potential solutions that will be unique to those areas."
Community members will have four opportunities to participate in a two-hour, facilitator-led online meeting with park managers. Meetings will be held 2 to 4:15 p.m. Monday, Oct. 19; 6 to 8:15 p.m. Tuesday, Oct. 20; 10 a.m. to 12:15 p.m. Thursday, Oct. 22; and 6 to 8:15 p.m. Thursday, Oct 22.
During the workshops, participants will learn about the current state of park visitation and congestion management strategies used on public lands worldwide. In small online groups, they will then be asked to provide input on how to solve congestion issues at Cades Cove, Clingmans Dome, Deep Creek, Big Creek, Rainbow Falls, Grotto Falls, Alum Cave, Chimney Tops and Laurel Falls. Participants must register by Oct. 14 at https://tinyurl.com/grsmves.
The park is open to considering a variety of options, said Soehn — everything from timed entries to shuttle systems to apps that let people know when parking lots are full. At especially popular areas like Alum Cave and Chimney Tops, it's not uncommon for people to park along both sides of the road for a mile past the trailhead once the parking lot fills up.
In a pre-pandemic scene from July 2019, visitors crowd the rocks around Laurel Falls. NPS photo
"It creates a less safe environment for the users getting to the trailhead, and we also have experienced more people that park in unstable shoulders not designed for parking and they either get stuck or they slip off some of the steep shoulders and we have to have them get towed out," she said. "There's roadside damage that occurs whenever people park on these nondurable areas."
The Smokies has been facing congestion issues since the 1990s, but at that time the problem was mainly confined to Cades Cove. The park did some studies looking at how to improve transportation flow in that area but then put the project on hold. In the last decade, congestion has become an issue at destinations throughout the park, not just at Cades Cove.
With information gathered from next week's meetings, the park hopes to better understand the type of experience people want to have at the locations in question.
"We're going to take the ideas that come from these workshops and put them through a feasibility assessment to see if there are some things that we can try as a pilot in 2021 to relieve congestion," said Soehn.
The process would be similar to that being used to evaluate recent changes to vehicle-free periods in Cades Cove, she said. This year, the Smokies launched a pilot program that makes Wednesdays off-limits to cars in Cades Cove but allows them all day Saturday, a change from the previous policy of prohibiting vehicles during the morning only on both Wednesdays and Saturdays. The vehicle-free periods are intended to give cyclists a chance to ride the loop more safely and enjoyably. The park is now examining the results of the pilot study to determine whether the change should become permanent.
Simple changes identified following next week's meetings could be piloted as early as next year, while other proposals might require more time to study and gather funding. Soehn said that forthcoming funds from the bipartisan Great American Outdoors Act, which President Donald Trump signed into law Aug. 4, could aid the efforts. The act dedicates $9.5 billion over five years to address deferred maintenance issues on federal lands, and while that money can only be used to replace existing facilities, it could serve as a springboard to give improvement projects a boost. For example, a repaving project funded through the Great American Outdoors could prompt a discussion about finding additional funding to wrap a traffic flow improvement component into the project.
Visitors flock to southern Parkway section
On the Blue Ridge Parkway, visitation rode a steady downward slide this summer compared to 2019 numbers. Visitation was 2.3 percent lower in June, 14.6 percent lower in July and 17.6 percent lower in August. However, the Parkway is a long road — 469 miles to be exact — winding from its southern terminus just south of the Oconaluftee Visitor Center in the Smokies to its northernmost point in Virginia's Shenandoah National Park.
While many areas of the Parkway saw decreases in visitation this year, use exploded on its 57 southernmost miles, between U.S. 276 and Cherokee.
In June, visitation at those locations was up 51.96 percent over June 2019, and while things calmed down a bit over the next two months, that section continued to post increases over last year's figures, with an 18.19 percent hike between July 2019 and July 2020 and August showing a modest 2.4 percent increase over the same month last year.
"Universally we're seeing more people trying to look for outdoor activities, and certainly the Parkway provides those opportunities for people of all ages and capabilities," said Parkway spokesperson Leesa Brandon. "You can go for a scenic drive or you can go for a strenuous hike, and everything in between."
Historically, the North Carolina section of the Parkway has been the most popular, typically attracting twice as many visitors in a given year as is the case for the longer but lower-elevation Virginia portion. Despite the pandemic, said Brandon, "historically popular" areas in the southernmost portion continued to be popular this year, though she added that overall summer visitation hasn't deviated too strongly from typical patterns.
"There's definitely some rich park experiences, especially at the southern end, in a time where people are looking for more and different things to do outdoors," she said. "If they haven't been on the Parkway in a few years, this could be an opportunity for them to do that."
A timeline of closings (and reopenings)
• March 17 — The Great Smoky Mountains National Park closes its visitor centers in response to the pandemic.
• March 18 — The Blue Ridge Parkway closes its Asheville visitor center. The Smokies suspends reservations for group gatherings as well as the on-site payment option for various park campgrounds.
• March 24 — The Smokies announces closure of all park accesses after experiencing extremely high visitation during the first two weeks of the pandemic. On the same day, the Blue Ridge Parkway closes its southernmost 14 miles, which terminate in the park, to coordinate with closures in the Smokies and on the Qualla Boundary.
• April 1 — The Smokies announces that its closure, originally intended to end on April 6, would continue until further notice.
• April 8 — The Blue Ridge Parkway closes its northernmost 13 miles, which terminate in Shenandoah National Park, to coordinate with closure decisions at that location.
• April 13 — The U.S. Forest Service announces a long list of road, facility and trail closures in the Pisgah National Forest.
• April 15 — The Blue Ridge Parkway announces additional closures that include its entire length west of Asheville.
• May 9 — While many facilities remain closed, some roads and trails reopen in the Great Smoky Mountains National Park. The Blue Ridge Parkway reopens its southernmost 14 miles.
• May 15 — The Forest Service reopens some trails and roads and lifts dispersed camping restrictions in some areas. The Blue Ridge Parkway reopens gates in many locations, including its entire length west of Asheville.
Be heard
A series of facilitator-led online meetings with Great Smoky Mountains National Park managers will seek to gain input on solutions to congestion issues at nine popular areas of the park.
Meetings will be held 2 to 4:15 p.m. Monday, Oct. 19; 6 to 8:15 p.m. Tuesday, Oct. 20; 10 a.m. to 12:15 p.m. Thursday, Oct. 22; and 6 to 8:15 p.m. Thursday, Oct 22. Participants must register by Oct. 14 at https://tinyurl.com/grsmves.