Archived Outdoors
Elk fest coming to Maggie: Event will celebrate elk, wildlife and the outdoors
Wednesday, February 13, 2019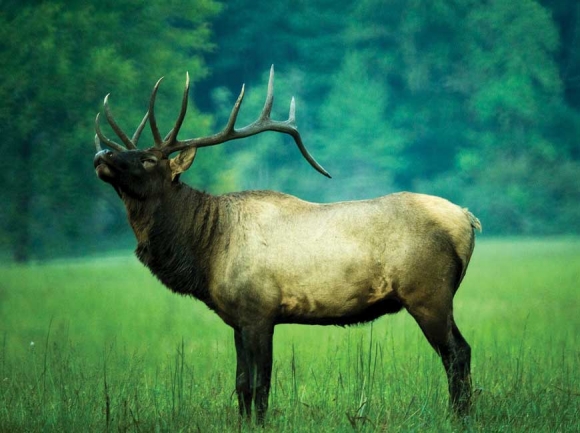 An elk lets out a bugle. Visit N.C. Smokies photo
A new extravaganza will prance into the Maggie Valley Festival Grounds this year — the Smoky Mountain Elk Fest, an event years in the making designed to offer education and celebration of all things elk and of the outdoors in general.
"It's actually been talked about for at least four years, and there have been several meetings where all the state agencies and regional agencies have come together and talked about it," said Lynn Collins, executive director of the Haywood County Tourism Development Authority. "It was just a situation where there wasn't anybody that would step up and spearhead it."
The TDA decided that it would be that somebody, rallying a long list of partners to the cause — the Rocky Mountain Elk Foundation, The Conservation Fund, the Maggie Valley Sanitary District, N.C. Wildlife Resources Commission, the Eastern Band of the Cherokee Indians, the National Parks Conservation Association and the Maggie Valley Chamber of Commerce are all supporting the effort — and appropriating up to $25,000 as seed money for the event, which will be held Sept. 13-15.
"We had looked at doing this in August at first, but when everybody came up for a meeting several weeks ago they said it would be really great if we could do it during the rut, because that's the ultimate experience for seeing the elk," said Collins.
The rut is the time of year in September and October when male elk compete to mate with females, putting on grand shows of clashing antlers and bone-chilling bugles. While the festival itself won't feature any live elk — there are ethical issues involved with placing a wild animal in a pen for public display — it will include opportunities for hikes and tours to view the elk in their natural habitat.
Collins envisions the festival as a combination of education and just plain fun, with music, wildlife craft booths, kids activities, creekside demonstrations and cultural performances offered in addition to educational speakers, outdoor excursions and demonstration booths from various state agencies and nonprofits. The weekend will also include a wildlife photography contest and a taste of the wild event.
"It's going to be a lot of components rolled into one," said Collins.
The announcement comes on the heels of the 18th anniversary of the elk's reintroduction to the Great Smoky Mountains National Park after 300 years of absence. On Feb. 2, 2001, more than 800 people witnessed the release of the first elk in Cataloochee Valley, with a total herd of 52 reintroduced by the end of 2002. Elk were once common in the Southern Appalachians but were eliminated through overhunting and habitat loss, with the last elk in North Carolina killed in the late 1700s and the last elk in Tennessee killed in the mid-1800s. The reintroduced elk were of the Manitoban subspecies, a different — though similar — animal to those that once roamed the Smokies.
"To see my first elk, I drove 2,200 miles," said Joyce Cooper, co-chair of the Great Smoky Mountains Chapter of the Rocky Mountain Elk Foundation. "Now I can drive 5 miles and see an elk. I've had elk on my property. They've been grazing on my hayfield, which I never dreamed would happen in my lifetime."
As the elk population has grown — there are roughly 150 of them now, with groups living in Cataloochee, Cherokee, Harmon's Den and Maggie Valley — Haywood County has become known as a destination for wildlife watching. Visitation to Cataloochee Valley has exploded since the reintroduction, increasing from 65,400 visitors per year in 2000, before the reintroduction, to nearly 100,000 in 2018.
A typical male elk weighs between 600 and 700 pounds. @bigrromantic photo
Conservation projects have blossomed around the elk as well, with the recently designated 1,925-acre William H. Silver Game Land near Maggie created in part to provide a haven of habitat for the growing herd. It was following the formal dedication of the tract in August that the event partners pledged their commitment to make an elk festival happen.
"When I go up to the visitor center to look at the elk and I'm just standing around in the crowd, nobody knows who I am. I just listen just to hear what people are saying, and it makes my heart happy to hear what they're saying," said Cooper.
While the growing elk population has spurred tourism and even resulted in a new TDA logo with an elk front and center, it's also created problems. Elk often find a farmer's hard-earned yields an irresistible snack, resulting in ongoing conflicts between the large ungulates and the human communities that have worked to scratch out a living on this mountain land for the 300 years the elk have been absent. Homeowners in rural areas where elk live have found themselves fearing for their children's safety or grieving the loss of family pets stomped to death by the animals. Collisions between elk and vehicles can cause severe harm to both parties.
"That creates problems, but every problem has a solution, and hopefully sharing with people will solve some of those problems," said Cooper.
Better education on how to safely coexist with elk is important — many visitors to the Smokies, for example, need to be reminded how important it is to keep at least 50 yards' distance while viewing elk — and the festival might also help by raising money to address elk-related issues locally.
"Ultimately the goal would be to be able to from the net proceeds establish a fund that would be available for elk projects, such as building fences for farmers who have had some damage from elk or being able to make improvements to elk habitat, things of that nature," said Collins.
The vision is to create a festival that will become self-sustaining, generating enough profit to put on the next year's event while contributing to the fund as well. Collins also hopes to bring along a partner who would be willing to take the event over from the TDA within the next year or two.
"I'm excited," said Cooper. "I hope it's very successful. I hope we have a big crowd, and I'm excited to be a part of it."
Mark your calendar
The inaugural Smoky Mountain Elk Fest will be held Saturday, Sept. 14, at the Maggie Valley Festival Grounds, with events also held Sept. 13 and 15.
The Haywood County Tourism Development Authority, which is spearheading the event, is seeking sponsors to help with festival expenses and other needs.
To learn more, visit www.smokymtnelkfest.com or contact Collins at 800.334.9036.