Archived Outdoors
Running toward her goals: Catamount student succeeds with Heart & Sole program
Wednesday, January 09, 2019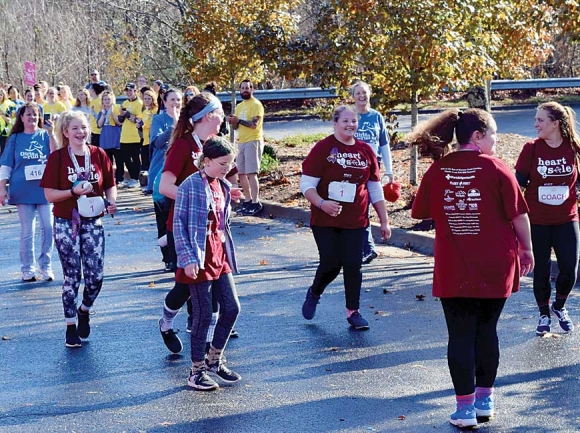 Jaylyn Logan, an eighth-grader at the new Catamount School in Sylva, approaches the finish line of the Girls on the Run 5K race with her teammates in December. Donated photo
Born with cerebral palsy, Jaylyn Logan's nana Marvellia Ross knew that her granddaughter's life would have limitations. However, a new program at the Catamount School has shown them that just about anything is possible when you push yourself and have others rooting for you.
Jaylyn amazed her teammates, her family and herself in December when she not only completed her first 5K race but even ran to the finish line.
"Jaylyn is my oldest grandchild — I've raised her her entire life and carried her around off and on until she was 7 years old," Marvellia Ross said. "Doctors said Jaylyn wouldn't ever be able to do any kind of physical activity or sport, so she reached a goal she was told she couldn't do. It was amazing."
Being a teenager is hard and middle school years for girls in particular can be trying, which is why Girls on the Run of Western North Carolina created a curriculum-based program specifically for middle school girls called Heart & Sole. Just like the GOTR program for elementary-aged female students, Heart & Sole is an after-school extracurricular program that trains young girls throughout the semester for a 5K race. Along the way, the program also teaches the girls about self-esteem, team building, empathy, setting boundaries and other important life skills.
Looking for new extracurricular activities for the brand new Catamount School last year, Enrichment Coordinator Katy Elders discovered the Girls on the Run program. It's such an easy-to-implement program and as an avid runner herself, Elders knew it was something she could take on as a coach and mentor for the girls on the team.
"I love running and the adventurous part of the curriculum," she said. "It's such a tough age no matter where you come from, but this program brings all these girls together and helps them set goals and reach for them."
Ross said she was a little hesitant to let Jaylyn participate in the program knowing how shy her granddaughter is about people seeing her walk and how cruel other students at school can be toward someone who is different.
"People can be pretty mean in public schools and Jaylyn's had a hard time with that, so we changed schools to Catamount last year," she said. "But she met Katy and came home asking if she could do it so I told her she could if she'd go to all the practices and the race."
Elders said Jaylyn came to practices and began training just like the other seven members of the team. She mostly walked the laps, but with the encouragement of her teammates she began to run during practices as well. It's exactly the encouragement she needed from her peers, and it built up her confidence enough that she didn't care as much about how she looked while doing it.
"Her whole team was cheering her on and rooting for her and then they all took a slower lap to run with her," Elders said.
Jaylyn set a realistic goal for herself to complete half of the 5K race that happens in Asheville at the end of the semester with all the other Girls on the Run teams across the region.
"That's still a mile and a half and more than what she completed all semester in practice, so it was a great goal for her. Her running buddy stayed with her and she just kept going," Elders said. "At the end of race all Jaylyn's teammates that had finished walked back a mile and finished it together with her. I was crying — it was awesome. I've never seen a 13-year-old more proud of herself and it's translated at school. She reaches out to other girls more and there's a new seating arrangement at school — she's a whole new eighth-grader."
Jaylyn Logan is pictured with her grandmother Marvellia Ross, (from left), Kari T. Hensley and her Aunt Gigi after the race. Donated photo
Ross was also crying tears of joy watching her granddaughter fight to finish the race. Even though that last mile was the hardest, she said the encouragement and support from her teammates kept her going.
"They ran to the finish line together and when they put that medal around her neck we were all crying happy tears," she said. "Even though she's my oldest grandchild it's as if she's my daughter — I was so overwhelmed."
Now that she's accomplished such a big goal for herself, Jaylyn says she wants to do another 5K and keep pushing herself. Another goal she has is to play softball on the school team.
"I have goals just like every other girl out there — just because I thought I couldn't do it doesn't mean I can't," she said. "She (Elders) made me overcome my fears and she made me stronger — I have a lot of strength in me. At first I wouldn't run but my teammates said, 'come on, run it out!' and they made me do it. It was so sweet how they acted to coach me on."
Ross is also extremely grateful for Elders' encouragement that pushed Jaylyn to realize her strength. They both knew Jaylyn had it in her; she just needed to believe in herself.
"After her surgery when she was 7, she toughened up and she was determined nothing would stop her, and then in less than three months later she was getting up and down with the cast up and down her thighs. She's always tried to be independent," Ross said. "But with Heart & Sole, she learned to do team work and that not everyone is the same and that's OK. There are always going to be people that are rude and other people who are happy and positive. Girls on the Run gave her a positive attitude and built up her self-esteem. Katy had enough faith in her to get her to try it."
While there is a cost to participate in Girls on the Run, Jaylyn and many other girls in WNC receive scholarships that help cover their expenses. Jaylyn said she's excited about staying involved with Girls on the Run by mentoring younger girls even after she goes on to high school. She said the program has also taught her the importance of supporting nonprofit causes like GOTR and breast cancer.
"With Girls on the Run and breast cancer — a lot of people are fighting for these things like my Aunt Gigi who had cancer and she overcame it just like I overcame my fears," she said.
To learn more about Girls on the Run of WNC or to make a donation, visit www.gotrwnc.org/support-us.