Archived Outdoors
To save a life: Global village rallies for high-altitude rescue in the mountains of Nepal
Wednesday, December 21, 2016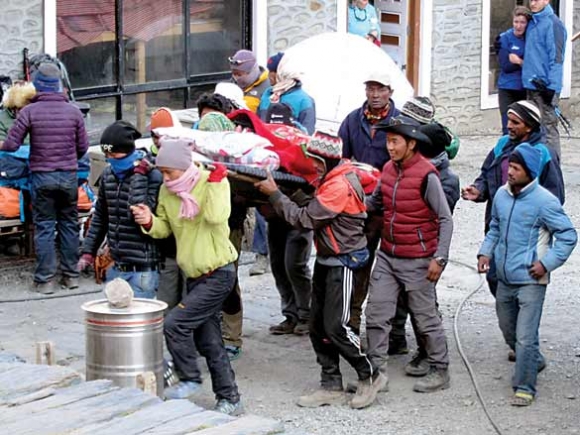 Judy Seago almost left the United States without packing a stethoscope.
Seago, a pediatrician, was headed to Nepal on a honeymoon trek with her new husband Jerry Parker, a pharmacist. Medical missions weren't part of the itinerary for the Jackson County couple — it was supposed to be all about exploring the miles-high mountains of Nepal's Annapurna range.
But that didn't stop Parker, 66, from packing an extensive medical kit that included everything from antibiotics to electrolyte salts to rubber gloves, or from urging Seago, 57, to bring her stethoscope. You never know when you might encounter someone in need of medical attention, he figured. So Seago consented to pack the medical supplies with the understanding that she'd stick to treating people in her area of expertise, the 18-and-under age bracket.
That was that, and on Oct. 14 the couple flew to Nepal to begin their 28-day adventure, 19 days of which would be spent trekking the Annapurna Circuit. Parker had been there once before, when he did the 12-day Annapurna Sanctuary Trek in 2008.
"I was hooked," he said.
This time around, the adventure began with a Jeep ride from BesiSahar to Chamje, a 20-mile distance that required four hours to traverse. The Jeep narrowly skirted cliffs towering above deep valleys, the vehicle loaded with more people than seemed safe. Then, at Chamje, they began walking. Chamje sits at an elevation of 4,675 feet, but the altitude would eventually increase to a whopping 17,768 feet mid-trek at the Thorung La Pass — that's more than two-and-a-half times as high as Clingmans Dome — before beginning its decline.
"Statistically half the people that cross that pass will have some degree of mountain sickness, and about two people a year die," Parker said.
Witnessing the spectacular
The risk didn't deter Parker or Seago. The scenery was "beyond spectacular," Parker said, adding that, "Words probably fail me in some sense."
The beginning of the trail almost reminded him of the Smokies. It was "lush, green, verdant, lots of water," Parker said, with familiar-looking trees such as birches, pines and "humungous" rhododendrons filling the forest. The snowcapped peaks and bare-rock formations in the distance, however, gave away the game. This was not North Carolina. The ancient trail, too, had a character of its own. Long used as a salt trading route between Nepal and Tibet, the path was thousands of years old. Parts of it were paved with locally available rock, which just happened to be marble.
"It was like walking on the interior of a cathedral," Parker said.
As they reached the 10,000-foot mark, the trees disappeared. They'd eventually descend the other side to encounter a landscape completely different than the beginning of the trek— dusty, dry, with little vegetation.
The injury
Parker and Seago were just settling down to take a nap at Thorung Phedi to prepare for what they'd been warned would be the hardest day of the whole trek — a 9-mile day that would have them climb more than 3,000 feet to Thorung La before descending more than 5,000 feet to their shelter for the night — when it happened.
Just about 15 minutes down the trail from Thorung Phedi, a pair of blue sheep began to fight on a slope. Below the sheep, a 40-year-old Japanese woman named Akiho was trekking solo. The sheep knocked loose a rock that gathered enough speed as it rolled down the mountain to snap Akiho's tibia and fibula and shear the flesh from her calf.
"When we first heard that someone had broken a leg we were just thinking, oh, a broken leg, they fell down," Seago said. Then, she saw the patient.
"There was just no skin," Seago recalled. "It was just the raw muscle and tissue, and you're like, this is not just a broken leg. This is more serious."
An Israeli solider on the trek was the first to respond, stopping the more serious bleeding using a tourniquet fashioned from his ripped-up shirt and Akiho's trekking pole before she was moved to the village on a litter. The tourniquet probably saved her life, Parker said, but it also posed a problem.
"My biggest worry was when to take that tourniquet off or to loosen it up, because I don't know how long you can leave a tourniquet on and still have a viable leg," Seago said.
Seago's pre-travel declaration that she wouldn't be treating anyone over 18 vanished instantly when she saw Akiho. She hadn't done much trauma work since her medical rotations in the 1980s, but she took the lead on the triage, yelling at Parker to fetch this or that from the medical bag he'd so carefully packed. Akiho had been delivered to the guides' bunkhouse, a darkened barn-like building full of bunk beds.
"It was kind of cramped because there were all these beds. The light was not good and you were just crawling around doing the best you can," Seago said.
An Italian geriatrician and an English physician assistant, also on the trek, materialized to offer help. The first order of business was to bandage the leg to keep the wound moist and the tissue viable. They boiled water, sterilizing both the fabric and the water used to wet it, and covered the wound with the bandages.
"She was shivering and about to go into shock," Parker said. "So we took her sleeping bag and wrapped her up in the sleeping bag."
They gave her the broadest-spectrum antibiotic they could find in the medical bag and got out the rehydration salts that Parker had packed. She'd lost an enormous amount of blood, but they had no needle to run an IV. Instead, they added the salts to 3 liters of water, which they coaxed Akiho to drink.
Through all of this, the only pain medication Akiho had taken was a few Tylenol pills that a German trekker had given her at the site of the accident. It took a while to locate anything stronger, but finally the English P.A. discovered some tramadol, a synthetic opiod that finally provided some relief.
"After a while, people kind of left somewhat," Seago said. "I stayed because that's what we do when we have a sick baby. We stay with them until someone comes and takes them away to a better place for care."
Evacuation by helicopter
As it turned out, the transition of care would involve a lot more than simply keeping things stable while a trauma team arrived.
For starters, Akiho, an experienced trekker and resident of San Francisco, had no travel insurance. Rescue helicopters in Nepal won't fly unless they're guaranteed payment. So, the owner of the teahouse — that's what lodgings for trekkers along the route are called — contacted the Japanese embassy on his satellite phone. They needed to speak with Akiho and with a doctor — Seago — before they'd call for a helicopter. This required moving Akiho into the cold courtyard where reception was better. Even so, the calls kept getting dropped, and every new call involved a whole rigmarole of getting connected to the right person once more.
The whole time, the clock was ticking. It was already 2 p.m., and the tourniquet had been on for nearly two hours. The helicopter ride would take about an hour each way, and helicopters didn't fly after 4 p.m. due to the dangers darkness and high winds pose in the mountains.
Finally, the embassy agreed to send a helicopter. In the meantime, Seago did her best to attend to Akiho, constantly checking her vital signs and monitoring the condition of her leg.
"I had been telling her that when the transport team got there, there would be a nurse, they'd put in an IV, they would give her some pain medicine, because that's what I'm used to," Seago said.
But that's not quite what happened.
The helicopter did come with a doctor, which in itself wasn't normal — typically just the patient and whomever they're hiking with fly to the hospital. The doctor had only come along because Akiho was hiking alone.
"He doesn't have any gloves on. He's working around with the leg and the blood," Seago said. "He just kind of looks at her and puts on a makeshift splint. He just picks something up. It was just a little piece of wood that he found lying around and starts wrapping gauze around it."
They picked Akiho up — mattress, sleeping bag, and all — loaded her in the helicopter and flew away. The materials that vanished with the helicopter mostly belonged to the teahouse owner, and they represented a significant value to him, though he later told Parker that he was happy to have played a part in the rescue despite the monetary loss it represented.
A positive prognosis
It was about a quarter to five when the helicopter left, nearly three hours past the time that Parker and Seago had originally intended to be asleep. They tried to transition back to their original plan for the afternoon, but for Seago at least, it wasn't easy.
"I did not sleep well that night, and I think it was just being nervous about crossing the pass and worrying about altitude sickness and worrying about her (Akiho) some as well," Seago said, "Wondering, what's the status of her leg? Is she going to be OK?"
As it turned out, they made it over the pass just fine, with neither of them getting altitude sickness — unless the mild headache that Seago experienced counts. But they wouldn't get news about Akiho until a couple weeks later, when they finished their trek and managed to track down the hospital where she was staying.
The incident became something of a legend along the trail. Seago and Parker were hiking in peak season, running into the same 50 or so people repeatedly over the course of their trek.
"Every place we stopped along the way, people had heard about the Japanese woman and they'd be talking about it," Seago said.
Whenever they ran into anyone with any kind of medical expertise, she'd always want their opinion as to how that kind of situation should be handled, if she should have done anything differently.
So, when they finally saw Akiho again, the happy ending they witnessed was an immense relief.
"She had two operations and she was going to have to go to Japan for more, but there she was all smiles," Parker said. "The first thing she said to Judy was, 'Oh, it's the woman who saved my life.'"
The road to recovery isn't over for Akiho. Japanese doctors found a bone infection that wasn't treated in Katmandu, and she's expected to be in the hospital for another three months.
But she'll keep her leg, and the prognosis for recovery is good. And that's all thanks to the global community that came together that day on the Annapurna Circuit.
"It takes a village," Parker said. "It was a global village at that moment of many nationalities, races, genders — everything — working together for one person."