Latest
Mike Wade creates endowed fund at SCC
Wednesday, September 20, 2023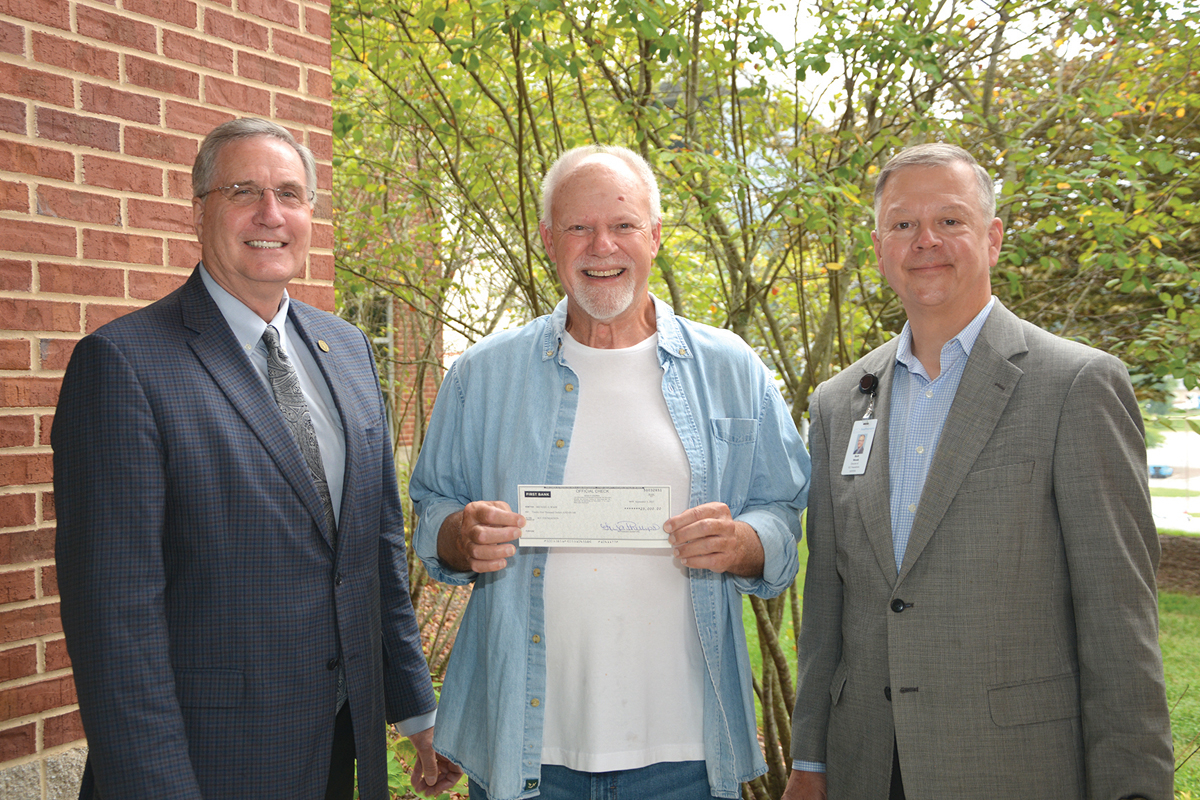 Mike Wade, with SCC President, Don Tomas, left, and SCC Foundation Director Brett Woods, right, recently created a new $500,000 endowed fund with the Southwestern Community College Foundation. When complete, it will be the single largest cash commitment in SCC history. Donated photo
Roughly a decade ago, Mike Wade heard a quote from successful industrialist and philanthropist Andrew Carnegie: "I spent the first half of my life making money, and the second half of my life giving it away to do the most good and the least harm."
In that moment, Wade made a commitment to try and follow Carnegie's example.
"When I first heard those words, I wasn't in a position to do it yet," Wade recalled. "But I can now, and I want to do what I have a passion for – and that's helping people."
Guided by that desire, Wade recently put the wheels in motion to create a $500,000 scholarship endowment at Southwestern Community College, the single-largest cash commitment in the SCC Foundation's 50-year history.
The gift will be used to provide a 'hand-up' to SCC students who demonstrate financial need, hold and maintain a grade point average of 3.0 or better — with preference given to individuals who've graduated from or are participating in Circles of Hope of Jackson County.
By setting up the "Gale Lee Wade, William Edwin Roosenberg and Larry Stanberry Endowed Scholarship Fund," Mike Wade is honoring three men who deeply influenced his own life.
Gale Lee Wade was Mike's father, and local businessmen Roosenberg and Stanberry helped get Mike Wade started in the insurance field.
Helping to streamline the process of setting up the scholarship fund was an already strong relationship he'd developed with a couple of fellow Rotarians: Dr. Don Tomas, SCC's president, and Brett Woods, director of the SCC Foundation.
"They are two of the main reasons I'm doing this," Wade said. "They're very active in the community, and I've gotten to know them both very well."
The first scholarship will be awarded next fall, and Wade expressed a desire to meet the recipient in person for the purposes of providing encouragement.
For more information about the SCC Foundation and the various ways it supports students, contact Woods at 828.339.4241 or This email address is being protected from spambots. You need JavaScript enabled to view it..