Latest
Above the law: Sheriffs largely silent on sovereign group's meeting
Tuesday, September 05, 2023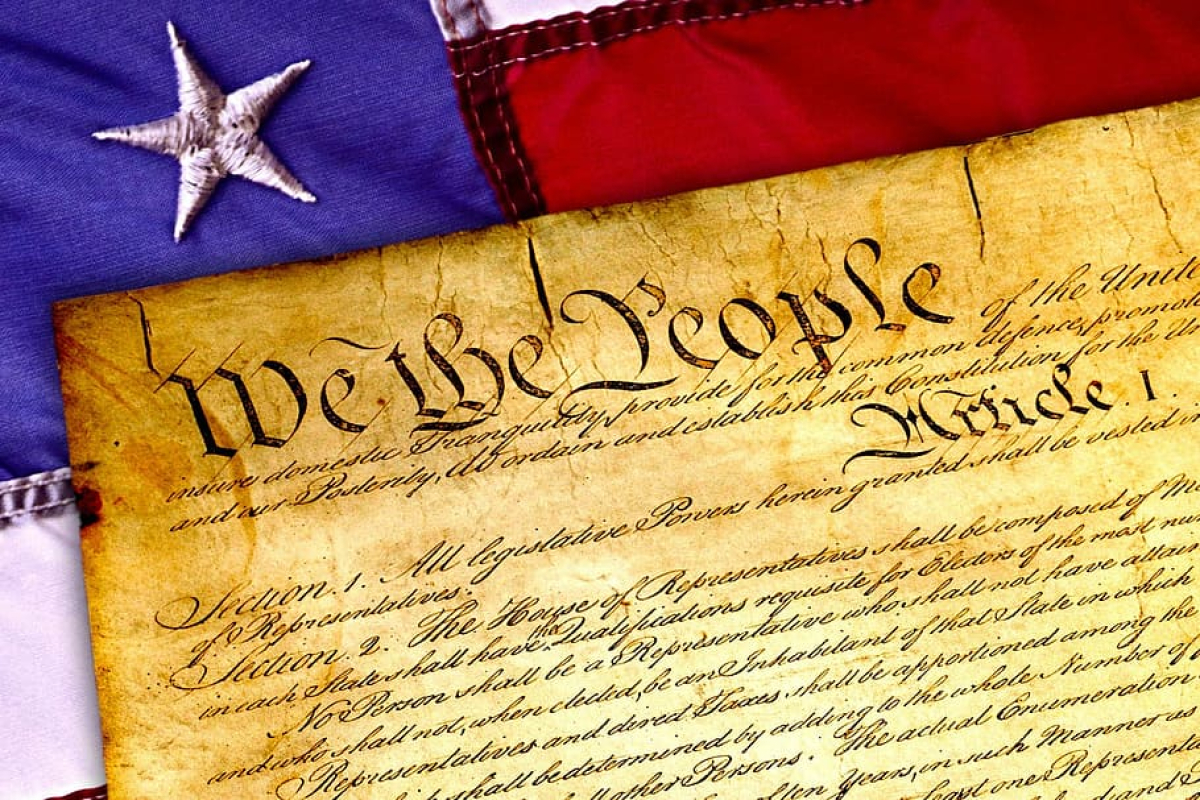 The sovereign sheriff movement makes another appearance in Western North Carolina.
File photo
A controversial law enforcement association that holds a fringe interpretation of the Constitution and has ties to white nationalism, the sovereign citizen movement, election denial and COVID-19 conspiracy theories will host a meeting in Cherokee County this weekend, but Western North Carolina sheriffs have been largely reluctant to say whether they'll attend.
Richard Mack, who will speak at the event, is the founder of the Constitutional Sheriffs and Peace Officers Association, one of the organizations at the forefront of so-called "sovereign sheriff" ideology.
The CSPOA's core tenet holds that the power of a county sheriff within their jurisdiction supersedes that of local, state or federal agencies, courts and legislative bodies, meaning sheriffs can choose which laws they deem "unconstitutional" and therefore which laws they'll enforce.
"It goes back way back in old Anglo Saxon law way back then, the sheriff of Nottingham, he's always been the ultimate protector of the people," Mack said. "[Thomas] Jefferson called the sheriff the ultimate executive of the county, so there doesn't seem to be really any question whatsoever that the sheriff is the ultimate authority in his county."
The current group traces its ideological roots to the anti-government Posse Comitatus movement of the 1960s and 1970s, according to the Southern Poverty Law Center.
Posse Comitatus was a proponent of the "county supremacy" theory that underlies the sovereign stance espoused by Mack, who served two terms as the elected sheriff of Graham County, Arizona, beginning in 1988.
In 1994, Mack initiated a suit that would ultimately lead the U.S. Supreme Court to overturn a provision in the Brady Handgun Violence Act of 1993, named after President Ronald Reagan's Press Secretary James Brady, who was severely wounded in an attempt on Reagan's life in 1981.
The provision required sheriffs like Mack to conduct background checks on firearms purchasers until the NICS (National Instant Criminal Background Check System) could be implemented.
Mack subsequently became an indefatigable public speaker, advancing his thesis before white supremacist groups like America's Promise Ministries.
Although the suit made Mack a darling of the far right, he lost his bid for a third term in 1996, by a wide margin. He blames the feds.
"Both my opponent and I, the incumbent, said the election was going to be very close. The newspaper said it was going to be very close," Mack said. "Three days before the Primary Election — which is the election — the FBI and IRS raid my office. The big headline on the Provo Daily Herald is 'Mack raided by the FBI.' It was done at the perfect time, the most opportune time to do me the maximum damage where I didn't have time to really do damage control. I lost, and I lost badly."
The search was carried out during an investigation of Mack's then-employer, who was later convicted of mail fraud and tax evasion in connection to a Ponzi scheme. Mack was not charged.
In 2009, Mack published his pamphlet, County Sheriff: America's Last Hope, which is the title of the program he'll deliver on Sept. 9 at the First Baptist Church in Murphy. That same year, Mack was one of the founding members of the Oath Keepers along with Stewart Rhodes, who was recently sentenced to 18 years in prison for seditious conspiracy related to the Jan. 6, 2021, insurrection.
In 2011, while still a member of the Oath Keepers' board, Mack founded the CSPOA, giving him a larger platform to champion his sovereign sheriff ideology.
The group's Statement of Positions expresses strident opposition to universal background checks for gun buyers, disparages immigrants who "are not assimilating into our culture as they once did" and decries federal control of land — national parks, military bases, office buildings — within the boundaries of a state or county.
A pledge for law enforcement officers to sign is available on the group's website and leans heavily on their oath to protect and defend the Constitution, to the exclusion of all subsequent authority, jurisprudence or legislation.
"I did not swear allegiance to a mayor or a governor or a health department bureaucrat," it reads. "Fidelity to my oath requires that I abstain from enforcing any edict or order from a governor, or any executive, which lacks constitutional authority."
According to metadata on the document, it was written by Christian nationalist Michael Peroutka in June 2021. Peroutka, the unsuccessful 2022 Republican nominee for attorney general of Maryland, was endorsed by the League of the South, a white supremacist organization, in a previous run for office — an endorsement he said he was "happy" to accept from a group he's refused to disavow.
Given its provenance, Peroutka's pledge promises that officers will not "in any way assist" in the enforcement of then-prevalent public health policies related to the Coronavirus Pandemic, including masking protocols and the restriction of certain business activities.
There's also a threat, to "arrest, detain and recommend prosecution" of government officials who violate the rights of the people under "the pretended [sic] authority of" whichever laws they deem to be "unconstitutional."
The constitutionality of any law is ultimately determined by the Supreme Court, not by local law enforcement officers.
As of November 2022, Mack had stepped away from the day-to-day operations of the CSPOA, ascending to the presidency of the group's board of directors, which includes Peroutka.
Now, Mack also serves as the director of an anti-vax advocacy group headed by physician/attorney Simone Gold, who was recently sentenced to 60 days in prison for her role in the Jan. 6, 2021, insurrection.
During the pandemic, Gold spread misinformation about COVID-19, including the safety and efficacy of horse medicine as a treatment. The National Institutes of Health recommends against the use of Ivermectin for coronavirus infections.
The new CEO and national operations director of the CSPOA, Sam Bushman, runs the online Liberty News Radio station, which the Southern Poverty Law Center says airs white supremacist content.
When Mack comes to Western North Carolina, he'll bring with him another CSPOA board member, Barry County, Michigan, Sheriff Dar Leaf.
"Good man, good sheriff," Mack said. "Kind of a 'Clark Kent' sheriff. He speaks softly, he's mild mannered. I think he came to our first training way back in 2012, maybe it was one of the next ones after that, but he got converted to this whole process and he's been a good constitutional sheriff ever since. He's doing his best to do a good job and we feel that he has been doing a very good job."
In 2020, Leaf said he wouldn't strictly enforce Gov. Gretchen Whitmer's social distancing and stay-at-home orders.
Later that year, after 13 men were arrested in connection with a plan to kidnap Whitmer — one of the leaders of the scheme got 16 years in 2022 — Leaf told a local television station that a lot of people were angry with Whitmer and opined that the whole plot may have been a lawful attempt at a citizen's arrest. Since then, Leaf has continued to maintain that the 2020 General Election was rigged for the Democratic candidate, despite a complete lack of evidence that it was.
The CSPOA has since entered into an informal partnership with True the Vote, a discredited Texas nonprofit that is being sued by the State of Georgia for failing to produce evidence of ballot harvesting claimed in the similarly discredited 2022 "documentary" 2,000 Mules.
The CSPOA's Cherokee County event, which requires a $70 ticket, features a morning session that is open to the public and an afternoon session, which is only open to law enforcement officers and public officials. When asked how he settled on Cherokee County as the location for the event, Mack said that Sheriff Dustin Smith and local citizens invited him.
"I don't think we've ever have met in person. We've talked several times, so I feel like I know him, but I don't believe we've ever met in person," said Mack.
Smith didn't return multiple requests for comment from The Smoky Mountain News, but he has been busy dealing with a lawsuit related to an officer-involved shooting late last year. The suit alleges that he made false statements about the victim, about the incident and about his own whereabouts during the incident.
On Dec. 12, 2022, officers from newly-elected Smith's office responded to a call of a disturbance in a nearby camper trailer. A neighbor had accused Jason Harley Kloepfer of making threats and discharging a firearm, possibly with a hostage present. Cherokee County deputies attempted to make contact with Kloepfer and were unsuccessful, but waited three hours to watch the complainant's videos, which did not contain any indication that what the complainant alleged about Kloepfer was true, the lawsuit said.
"At that point, the Sheriff's Department knows that the neighbor has no proof," reads a suit later filed by Kloepfer. "Her original claims are false. As soon as the officers know that the neighbor's allegations are false, all the officers should immediately leave."
Instead, a short time later, a deputy applied for a search warrant for Kloepfer's home. Nearly six hours after receiving the initial 911 call, the Cherokee Indian Police Department's SWAT team shot Kloepfer when he finally answered the door.
Smith's initial public statementabout the incident made it seem as though Kloepfer was the aggressor, stating that Kloepfer had engaged in a verbal altercation with police. A month later, a home security video of the incident released by Kloepfer shows no basis for Smith's statement.
Kloepfer isn't heard speaking on the video as he walks out of his home with his arms in the air, clutching a cigarette in one hand and a police department robot in the other before taking two rounds to the arm and upper body. Only then is he heard to exclaim, "What the?!" before falling back into the home, gravely injured.
Two days later, Smith issued a new statement blaming the county attorney for the incorrect information on the initial release.
"Neither myself nor Chief Deputy Justin Jacobs were on the scene at the time of the shooting, so we relied on information provided to us from the Cherokee Indian Police Department," Smith said in the statement.
Kloepfer's suit claims that's false, and the claim is backed up by public records previously reported by The Smoky Mountain News.
Beginning on Aug. 30, The Smoky Mountain News attempted to contact via phone and email 11 Western North Carolina sheriffs, asking if they planned to attend the CSPOA event in Murphy, and what their impressions of the group might be.
Only four responded, and none of them claimed to know much about the CSPOA. Even the North Carolina Sheriff's Association didn't seem to have an opinion about the group's message.
Eddie Caldwell, executive vice president and general counsel for the NCSA, said he'd read some articles over the last several years but didn't have any firsthand knowledge.
"The association leadership has not discussed or taken any position whatsoever on anything related to this organization or this issue," he told SMN on Aug. 31.
Sheriff Lowell Griffin of Henderson County said he wasn't attending and that he didn't know enough about the group to form an opinion.
Sheriff Mark Buchanan of Clay County said he didn't know much about the group and was going to the event just to listen.
Sheriff Bill Wilke of Haywood County said he wasn't going, and maintained consistency with statements he made during his election about the CSPOA and the sovereign sheriff theory.
"I don't know much about this group, and other than the North Carolina Sheriff's Association, generally do not take an interest in organizations that attempt to exert political influence on how law enforcement organizations conduct their business," Wilke said. "I conduct Sheriff's Office business in accordance with the Constitution of the United States and North Carolina and am guided by state statute and the appropriate case law resulting from court decisions that further define them. This is as constitutional as I know how to be."
Wilke, who was elected in 2022, may not be familiar with the organization but is certainly familiar with the debate over sovereign sheriffs in Haywood County. In 2020, some Haywood residents demanded county commissioners pass a "Second Amendment sanctuary" resolution which, although largely symbolic, would supposedly empower sheriffs to disregard gun laws with which they do not agree.
Commissioners opted to pass a "Constitution protecting county" resolution that expressed support for the entire document, after then-Sheriff Greg Christopher told them that although he supports both the Second Amendment and the doctrine of judicial review, "Sheriffs do not possess the legal authority to interpret the constitutionality of any law."
Two years later, the highly-respected Christopher would become among the first of more than 40 local officials to be targeted by phony writs from a sham court that accused him of treason and environmental crimes, demanding he surrender to a tribunal.
The sender, Haywood County sovereign citizen Darris Moody, told The Smoky Mountain News prior to her September 2022 arrest that she supported the sovereign sheriff movement and had even given Christopher a "handbook" on how to be a sovereign sheriff.
"[Law enforcement officers] made an oath to the Constitution and in my opinion, they have failed. They bowed to the government. They bowed to the SOP [standard operating procedures]," Moody said. "They bowed to the narrative, to the propaganda, to the TV."
During a Primary Election candidate forum hosted by the Haywood County Republican Party a few month prior to Moody's arrest, then-chair Kay Miller asked Wilke and his opponent if they would join the CSPOA. Wilke's opponent said absolutely. The Democratic candidate, who was not at the forum, told SMN that he'd "go by the law that's in place."
Wilke said he would be hesitant to join any organization because they can change ideologically. He also said that if a sheriff attempts to decide what is constitutional, that act would be unconstitutional.
"How much more constitutional does it get than when I take oaths coming into office that I will support and defend the Constitution of the United States, [and] support and defend the Constitution of North Carolina?" Wilke said at the time. "That doesn't grant me extra judicial authority to enforce laws that aren't in place, nor does it give me the ability to neglect certain things that have been ruled constitutional by courts in the past. If we operate outside those boundaries, there's a word for that — it's called 'vigilante.'"
Moody was recently sentenced to two years in prison for communicating threats. Her co-conspirator, Tim Dever, got 10 years.
Buncombe County Sheriff Quentin Miller said he wouldn't attend the Cherokee County meeting and that he'd never heard of the group, despite both of his 2022 election opponents proclaiming support for the sovereign sheriff movement.
Miller, a rare western Democrat, has proven controversial for his own sovereign stance, choosing not to honor detainers from U.S. Immigration and Customs Enforcement in his county because he believes they're not valid warrants. ICE detainers are 48-hour holds placed upon arrested persons whom ICE has probable cause to believe are removable non-citizens.
The enforcement of ICE detainers is voluntary. Haywood County and most other jurisdictions do honor them as a matter of routine, however, Miller is on the side of a rising tide in North Carolina who do not. Some, including an attorney with the Carolina Migrant Network, even think they're unconstitutional.
"There are some people who believe that [ICE detainers] have no legal binding authority and therefore cannot be adhered to," Caldwell said. "There are others that believe they do have legal binding authority and they choose to adhere to them and follow them, and there are others that believe that they do have binding authority but they exercise their discretion not to follow. Until we get a case from the Supreme Court that clearly tells us the answer to those three different opinions, then we will continue to have folks with three different opinions."
Mack made clear he does not support Miller's choice to ignore ICE detainers.
"That's a legitimate assignment constitutionally delegated to the federal government and for sheriffs not to help out with that is wrong," he said.
A Republican-sponsored bill working its way through the General Assembly would require sheriffs to cooperate with ICE. Republicans currently have a veto-proof majority, so the bill stands a good chance of passing.
Miller refused multiple requests by The Smoky Mountain News to explain his position further or to say what he'd do if the bill becomes law.
The following sheriffs did not respond to requests for comment for this story: Dustin Smith, Cherokee County; Brad Hoxit, Graham County; Doug Farmer, Jackson County; Brent Holbrooks, Macon County; Buddy Harwood, Madison County; Curtis Cochran, Swain County; and Chuck Owenby, Transylvania County. ­