Latest
The rebirth of mountain chic: Waynesville Inn & Golf Club tees up its second century
Wednesday, August 30, 2023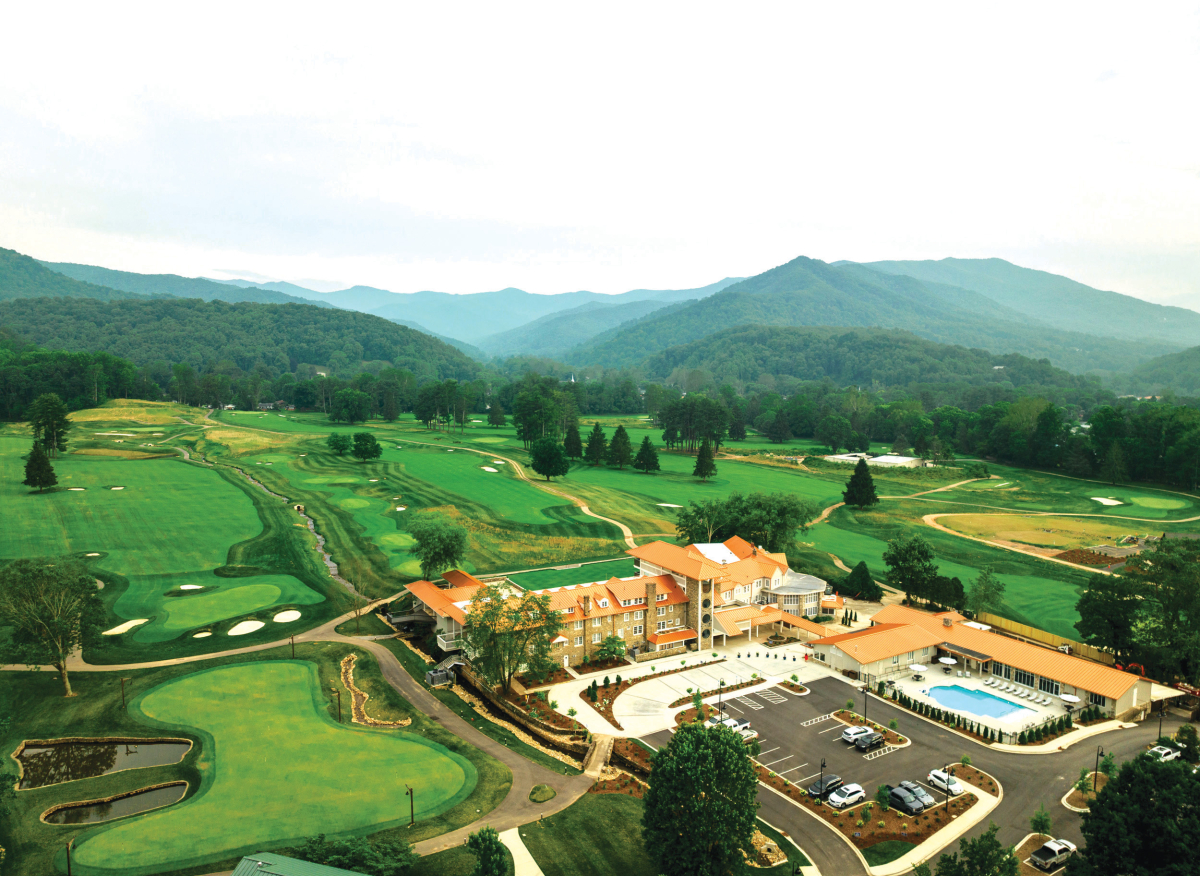 The Waynesville inn & Golf Club has undergone significant rehabilitation, inside and out. WIGC photo
When old Jack Welch sold his Waynesville dairy farm to Jim Long in the early 1920s, he probably couldn't have envisioned that it would one day become a top-notch golf club with stunning views of the Great Smoky Mountains and clubhouse amenities renowned throughout the southeast as some of the most luxurious.
Nearly a century later though, the clubhouse and guest rooms looked tired and dated. Even the famed "Carolina Nine" course was showing its age.
Now, after extensive rehab by a new owner, the Waynesville Inn & Golf Club is poised to tee up its second century and celebrate the rebirth of "mountain chic."
"It's an experience-driven property," said JD Trueblood, membership director at the Waynesville Inn & Golf Club. "This property, we want it to feel warm and comfortable to guests."
In April 2021, South Carolina-based hospitality development, management and investment firm Raines Company purchased the 165-acre site, along with its 111 guest rooms and 27 holes, for $9 million. At the time, more than $25 million in improvements were planned, making the purchase one of the most significant economic development investments in Haywood County, ever.
"One of our partners was at our sister property over in Asheville, the Foundry Hotel, and he got an invite," Trueblood said. "He had no idea about this property until he got here and immediately saw the potential that something really special could be done here."
In 1926, Scottish-born golfer and golf course designer Donald Ross left his mark on Welch's dairy farm by designing the Carolina Nine — as legend has it, on a napkin. Ross is also known as the designer of the Asheville Municipal Golf Course as well as the prestigious Pinehurst No. 2 course.
Welch's old dairy barn would become a clubhouse, complete with card tables, a dance hall and even a space for the club's first pro to live.
Three years later, the club purchased an additional 50 acres, allowing for the completion of another nine-hole course, called the Dogwood.
The iconic Lodge seen today was completed with local stone in 1935. Another building, called Woodcrest, was built next to the Lodge in 1939. In 1946, new owners W.T. Eller and his son-in-law George Kimball modernized the club by adding conference space and locker rooms.
Golf has been played at the site of Waynesville Inn and Golf Club for nearly a century. WIGC photo
After another ownership change in 1963 the club's first irrigation system was installed, as was a modern swimming pool, which replaced an earlier pool that was supplied with creek water.
Mr. and Mrs. William Hall purchased the property in the late 1970s, embarking on an extensive rehabilitation program both on the course and in the guest rooms. Additional acreage was added, which became the property's third nine-hole course called the Blue Ridge.
The four-story tower and pavilion were also added during this time to connect the original Lodge to the Woodcrest building. In 2006, another new owner expanded dining and spa options so non-golfers could also enjoy the facility.
By this time, the facility was becoming something of a "grand old lady" in terms of Western North Carolina golf courses. Sure, there were still some dignified flashes of her once revered majesty, but you had to look hard to see them.
Just a few months after the property was purchased by Raines, the company shut it down so that work could proceed in earnest. On July 1, the club reopened to members with improvements to the facilities, the accommodations and, of course, the course.
The newest nine, called the Blue Ridge, was often referred to as something else by the duffers who played it — a band aid. It lacked coherent flow and seemed somewhat cobbled together.
Enter Bobby Weed, who like Ross is another revered golf course designer. Weed's in-laws have ties to the Waynesville area that date back to around the time the club was established, and as a longtime seasonal resident, Weed said it was "a dream come true to personally steer the club in a new direction for future generations."
Weed consolidated holes from the Dogwood and Blue Ridge nines into a composite layout now affectionately referred to as the Weed Nine. Holes that weren't utilized for the Weed Nine were converted into something the property had always lacked — adequate practice space.
A short out-and-back wedge course now sits between the 1st and 18th holes. An 18,000 square-foot lighted Himalayan putting course along with a new driving range and a chipping and bunker complex were also added.
Not to be neglected, the original Carolina Nine, now called the Ross Nine, was restored by Weed with due respect afforded to Ross' original vision.
The result is a 6,500-yard, 18-hole, par 70 championship course with a rating of 71.5 and a slope of 139 — slightly higher than Augusta National and somewhat more difficult than average.
But not everyone who visits a golf club necessarily cares about actually playing golf there. For that reason, WIGC has invested significant resources in adding and upgrading the facilities, with an eye on style and an attention to detail that can even be seen in the club's new logo — a bear whose shoulders and back are an exact copy of the mountain range that surrounds the club.
"Our owners wanted to make sure this is a golf club, but that we do have a couple non-golf related amenities that will help bring families together," Trueblood said.
The club boasts two separate, fully updated food and beverage options. The Watershed Tavern includes Appalachian and old-world pub fare, while the Grill strives to provide "casual yet elevated" dining with seasonal menus, American flavors and a few wood-fired offerings.
A new heated swimming pool now sits on what used to be pavement near the entrance, adjacent to a state-of-the-art fitness center.
Guest rooms, part of the Trademark Collection by Wyndham, have all been updated and completely redone, preserving the comfy charm while adding contemporary flourishes and just a little bit of that mountain chic.
"A lot of the history has been preserved here from an exterior perspective, but when you come inside of the rooms, they're very refined," Trueblood said. "They're upscale with kind of an understated attitude."
And again, those details — some of the rooms have outdoor balconies that overlook the first tee, where generations of golfers made their mark on the wooden decking, still pitted with divots from old metal golf spikes.
As a quirk of the old building's layout and design, each room is slightly — or dramatically — different, a factor WIGC embraced.
"We want you to feel like it's not just a cookie cutter room," said Trueblood. "We want you to make sure that when you're here, you're having a really unique, really good experience for yourself, and for your friends and your family."
For those seeking a little more privacy, space and style, three new four-bedroom cottages near the Lodge overlook one of the greens, and a stubbed-out concrete pad waits for one more.
Luxury cottages on the course offer more space and privacy for guests. WIGC photo
"They're for the golf enthusiast who wants to bring up fellow members or clients," Trueblood said. "It's a real high-end kind of place to stay for golfers that may be coming through whether it's a day or a few nights making a swing through Western North Carolina."
The cottages also offer a somewhat unique revenue-sharing ownership structure; an owner can enjoy exclusive access when they want to, and let WIGC rent it out when they don't.
The rooms and cottages also offer a way for the general public to access the course. As a membership-based club, none of the facilities are open to non-members, but hotel and cottage guests can pay to play.
There are also plans to add single-family homes and bungalows along the 10th and 12th fairways.
"I know the interest is definitely there amongst our membership, our investors and kind of the whole group of people that are here, that know about Waynesville," Trueblood said. "Waynesville is a really good market in terms of homes. The demand is way up, the supply is low. Hopefully we can do it in a really good way. We've been patient with it, we want to wait until the time is right, to be able to have all of our ducks in a row and have our developers in a really good healthy position to where they can finally release more information."
Several cottages are positioned right off the greens. Cory Vaillancourt photo
As WIGC grows into the community throughout its next hundred years, Trueblood said that the club also wants to remain a positive influence on Western North Carolina's next generation.
Since day one, the club has employed dozens of local contractors in several different phases of the rehab, including Patrick Bradshaw of Civil Design Concepts, and uses local products like Smoky Mountain Roasters Coffee, Hazelwood Soap Company bath and body products and Boojum Brewing beers.
They've also invested in the community in a different way. Call it an investment in the future.
"I think our partners, myself, our staff and our team has come from the world of golf, and golf has meant a lot to all of our lives. We want to make sure that junior golf flourishes," Trueblood said. "You can see behind us; we've got some Western Carolina University folks playing right now. We want to make sure that we can give back in a healthy, positive way where young people know that we care about them, and being able to get them out here on the course, to practice, play and to be part of what golf has brought us."