Archived News
Developers tee off on Waynesville Inn rehab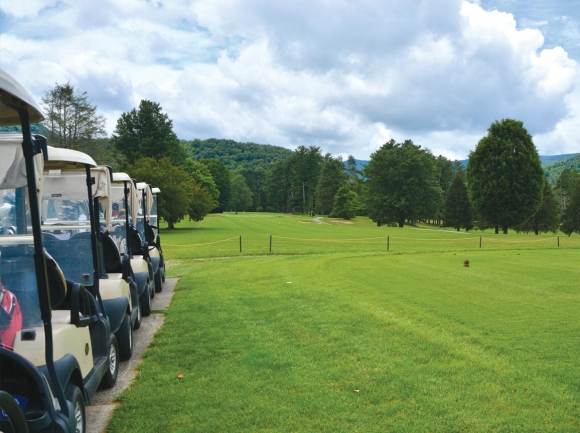 Developers have wasted little time in beginning renovations at the historic Waynesville Inn. Cory Vaillancourt photo
With some demolition work currently underway and a membership drive event held on July 12, the new owners of The Waynesville Inn and Golf Club are eager to present the project to the public as soon as possible.
"The town of Waynesville's been great. We were able to get right in, do our due diligence, do our homework, understand the permitting process," said David Tart, managing partner of Raines. "I feel like we have a lot of support locally because people want to see this golf club get underway. Plus, it's critical because of the timing of the growing season, so I will say we've probably put a little more effort into accelerating this."
The iconic landmark was sold to development firm Raines for nearly $9 million in April, and plans for extensive rehabilitation were immediately announced for the 111-room hotel and the 27-hole golf course. The course will remain open during the 24-month project.
Raines' portfolio currently includes several upstate South Carolina hotels under the Best Western, Hilton, Hyatt and Marriott flags. The 87-room boutique Foundry Hotel in Asheville, and the Hotel Florence in Florence, South Carolina are also Raines properties and represent its more upscale "Woven" brand, which the Waynesville Inn will join as part of the Trademark by Wyndham family.
— Cory Vaillancourt
Leave a comment
3

comments
Sorry to see a great public golf course go private. Only a select few will now have access.

Tuesday, 07/20/2021

Sounds like progress coming with the hotels. Hopefully some upscale dining will be available. Love the eclectic dining downtown Waynesville but sometimes some upscale is desired. Another issue that needs immediate attention is the road and street between the golf club and downtown Waynesville. The street is in horrible condition especially just entering town by the big churches. A great smooth blacktop is a must!

Friday, 07/16/2021

Sounds like progress coming with the hotels. Hopefully some upscale dining will be available. Love the eclectic dining downtown Waynesville but sometimes some upscale is desired. Another issue that needs immediate attention is the road and street between the golf club and downtown Waynesville. The street is in horrible condition especially just entering town by the big churches. A great smooth blacktop is a must!

Friday, 07/16/2021