Latest
EBCI Council tightens transparency rules for tribal LLCs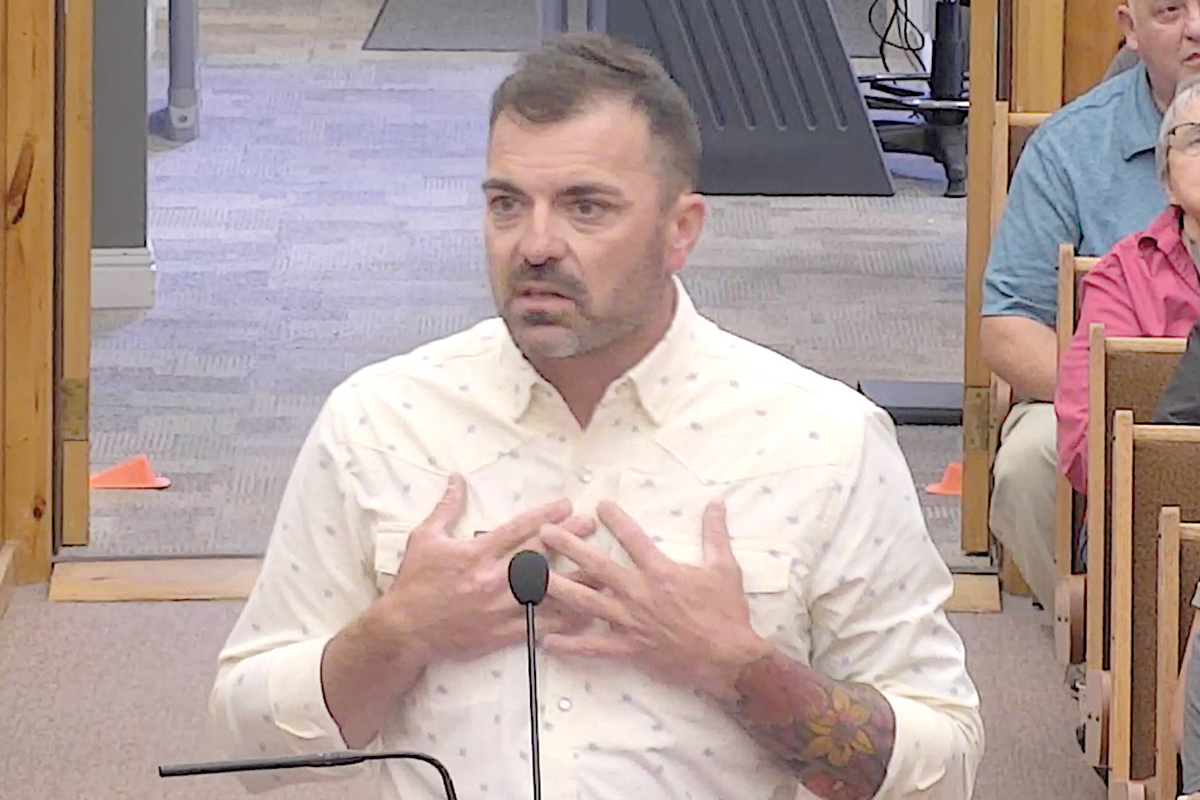 Qualla Enterprises General Manager Forrest Parker speaks during the Tribal Council discussion July 13. EBCI Livestream photo
In response to what he says are ongoing issues with transparency on the part of the tribe's cannabis business Qualla Enterprises LLC, Eastern Band of Cherokee Indians Principal Chief Richard Sneed introduced an ordinance during the July 13 Tribal Council session clarifying certain aspects of the relationship between tribal government and its LLCs.
After about 20 minutes of discussion, Tribal Council offered unanimous approval. The ordinance awaits Sneed's signature to become effective.
"This is directly related to my repeated requests of Qualla Enterprises for financial documents, for a budget, for a fiscal management policy, for invoices, for information on payroll, etc., none of which have been fulfilled at this point," Sneed told Tribal Council. "I've asked for three months now for documents. I was informed by the board that they're not required to provide those."
The ordinance governing tribal LLCs states that Tribal Council can inspect and copy LLC records but does not make the same provision for the principal chief and vice chief. Sneed's ordinance adds these executive offices to the list of those who can request records. The initial version said LLCs would have five days to produce the records, but after Council approved an amendment proposed by Yellowhill Rep. T.W. Saunooke, the final version states that LLCs have five days to either produce the records, or to provide a reason why more time is needed, along with a date by which they would be provided.
The ordinance also includes new provisions regarding tribal government oversight of its LLCs and distributions of LLC profits.
Under the new ordinance, LLCs in which the tribe or a tribal entity are the sole initial members may not add or change members without a resolution from Tribal Council that has either been signed by the principal chief or allowed to pass into law without a signature.
Additionally, the ordinance states, any such LLC will be considered a "component unit" of the tribe and must comply with its audit requirements. During a May Tribal Council session, Qualla Enterprises Chair Carolyn West and EBCI Finance Director Brandi Claxton had argued over whether the LLC was considered a component unit and therefore required to submit an annual audit to the tribe. West had maintained that Qualla Enterprises was not subject to that requirement.
Finally, the ordinance requires that LLCs state in their "operating agreement or other writing when, how and in what amount or percentage distributions of cash or other assets of the LLC shall be made to members." Such a statement must be approved by Tribal Council and ratified by the chief or allowed to pass into law without a signature. The current law does not require that the allocation be expressed in writing or that the tribe's elected leaders concur with the plan. Should the operating agreement be silent on the matter, it states, distributions will be made based on the value of contributions made by each member.
Forrest Parker, general manager for Qualla Enterprises, said that he had "no problem" with the proposed ordinance change but took issue with what he termed "misinformation" regarding transparency at the LLC. Parker said the law is "very clear" on who can and cannot receive information, and that Qualla Enterprises has merely been following that law.
"If the body wants to change the law, no problem, but we can't be hating on the board and Qualla for just adhering to [Cherokee Code] 55B as it stands now," Parker said. "The only thing I do want to say here, chief, and the one thing that's factually untrue is that there's no information. You guys know. You've seen it. There's binders and binders."
"If all of that has been provided, it has not been provided to my office," Sneed responded. "I can't speak for the vice chief's office. But if I'm being asked to ratify resolutions for appropriations in the tens of millions of dollars, then I need that information to inform my decision-making."
Vice Chairman Albert Rose said that it's not Qualla's fault that the current law does not name the chief as a person with whom it is required to share records. However, that information was shared and discussed during a recent meeting, Rose said, but Sneed wasn't there to hear it.
"I can't help it if you don't show up," Rose said.
"I was not invited," Sneed said. "I can't help it if I'm not invited."
"I invited you by text message," Rose replied.
"I already have a schedule," said Sneed. "So you call me on the day that it's going on."
Meanwhile, David Forester, a certified public accountant representing Tribal Council, said that his goal in this has been to "make sure there's full transparency and full communication to the best of my ability." To that end, he said, he provided a zip drive containing 14 files of documents Qualla Enterprises shared ahead of its meeting with Tribal Council to elected officials, including the executive branch, and also provided Sneed's office with hard copies.
Though Sneed's issues with Qualla Enterprises were the impetus for his drafting the legislation, the ordinance does not mention Qualla Enterprises specifically and applies to all tribal LLCs.