Latest
Chief vetoes cannabis enterprise funding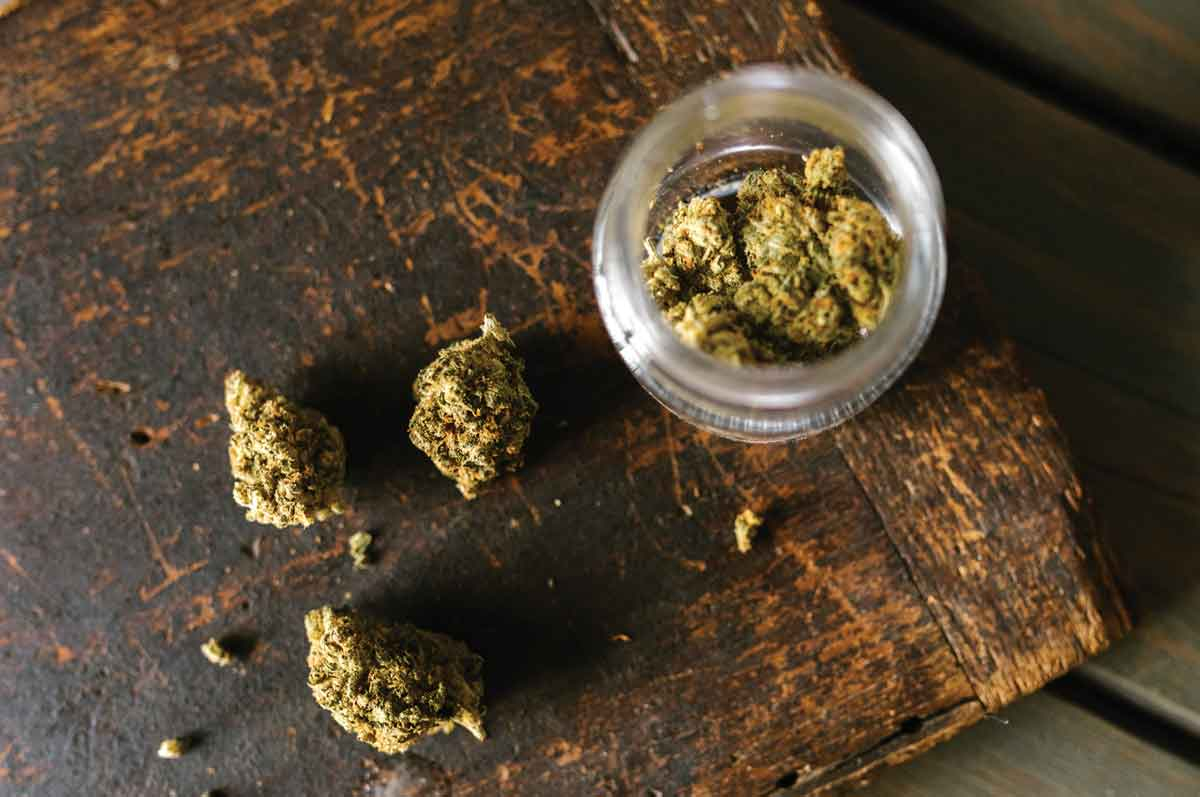 Principal Chief Richard Sneed vetoed the decision, citing concerns regarding the project's cost, as well as where the money may come from.
File photo
Following a veto from Principal Chief Richard Sneed, the Cherokee Tribal Council today reversed an April decision that allocated $64 million to the tribe's medical cannabis business. In his veto letter, Sneed expressed concern that the funding decision could jeopardize the tribe's casino business and called for a "full accounting" of the $31 million already provided before giving the enterprise more money.
The business, Qualla Enterprise, asked Council for $63 million in December 2022, but concern about potential repercussions from the National Indian Gaming Commission, which forbids use of gaming dollars to fund cannabis operations, caused Council to appropriate only the $10 million it could identify from funds not tied to gambling proceeds. Over the following months, Qualla Enterprise and Tribal Council went back and forth about how to gather the rest of the funding.
On April 6, Tribal Council approved an additional $64 million, ostensibly marking an end to months of uncertainty for Qualla Enterprise. The money was to come from the tribe's investment accounts and its general fund. Attorney Darian Stanford of Sovereign Solutions Carolina, which Qualla Enterprise had contracted to work on the project, said this was consistent with where the $31 million already allocated to the tribe had come from. If they didn't approve the request, several Tribal Council members said, the business would crumble, and they would lose the $31 million they had already invested.
Sneed was not present during the April 6 vote but in previous Council meetings had repeatedly argued against funding Qualla Enterprise with money derived from gaming revenues. The tribe's extremely lucrative casinos in Cherokee and Murphy operate under the National Indian Gaming Commission, which has released a memo stating that, because cultivation, sale and possession of cannabis is illegal under federal law, gaming revenue "should not be used to finance such an operation." According to a legal opinion from the tribe's outside legal counsel, Sneed wrote, gaming revenue doesn't lose its origin or character just because those funds have been placed into a recipient's bank account.
"While it remains to be seen what action the NIGC might take in response to a tribe using net gaming revenue for such an enterprise, I for one am not willing to risk hefty fines or the possibility of our casinos being shut down for violating NIGC regulations," Sneed wrote.
Sneed also argued against giving Qualla Enterprise any money at all until a "full accounting" could be made of the money expended thus far.
"While I fully support cannabis, both medical and adult use, and I am encouraged and inspired by the work I see happening at Cooper's Creek by our employees, I am very troubled by the lack of accountability for the managing of the business side of the operation," Sneed wrote.
During the April 6 meeting, in an answer to questions from the tribe's Finance Department, Qualla Enterprise Board Chair Carolyn West said the business had contracted with an auditing firm, which was in the process of gathering information, but there was no set date for the audit to be complete. Component units of the tribe must be rolled into the tribe's overall audit, said a representative from the Finance Department, and if those units don't submit their audit to the tribe by May 15, they're no longer eligible to receive tribal funding. West disputed that assessment, arguing that categorization as a component unit is based on whether an entity receives federal funding, which Qualla Enterprise does not.
When originally discussed, Sneed wrote, the combined project cost for outdoor grow, indoor grow and dispensary facilities was estimated at $50 million, but now the requested total is $95 million — an increase of nearly 100% from original projections.
In his letter, Sneed pointed specifically to the request for proposals under which Sovereign Solutions Carolina was hired. The RFP was for construction of NextGen Glass greenhouses, Sneed wrote, but instead, hoop houses covered in plastic have been built at the site on Cooper's Creek, projected to cost $66,000 each.
Eight of the 11 members present voted to uphold Sneed's veto, blocking the funding.
It remains to be seen how this decision will affect the future for Qualla Enterprise, which has already begun growing cannabis and had planned to start retail operations this year. During the reports and announcements portion of the agenda at the end of the day, Birdtown Rep. Boyd Owle assured tribal members that Tribal Council would fund the enterprise in increments as non-gaming money became available, and that Qualla Enterprise employees' jobs were safe.
"Nobody's going to lose their job. We'll get the money to them, and we'll keep it sustained," he said. "We hope it's going to be productive for our people there. I just didn't want to use gaming money for that."
Qualla Enterprise General Manager Forrest Parker was not present for today's Council meeting, but in previous discussions with Council he has said that the need for funding is urgent. During the Jan. 12 Tribal Council meeting, Parker said that Qualla Enterprise only had operating funds to continue through June 30, at which point it would need to start generating revenue to sustain payroll and production. Qualla Enterprise is "undercapitalized" Parker said April 6, hampering its ability to move forward strategically.
"We just want to get the infrastructure we need to grow the product we need, because if we don't, we're dead fish in the water," he said.
An earlier version of this story incorrectly stated that Tribal Council unanimously approved the measure in April. That is incorrect. The measure passed with a weighted vote of 63-31, and one member absent.