Archived News
Cherokee cannabis company receives $63 million from Council
Wednesday, December 14, 2022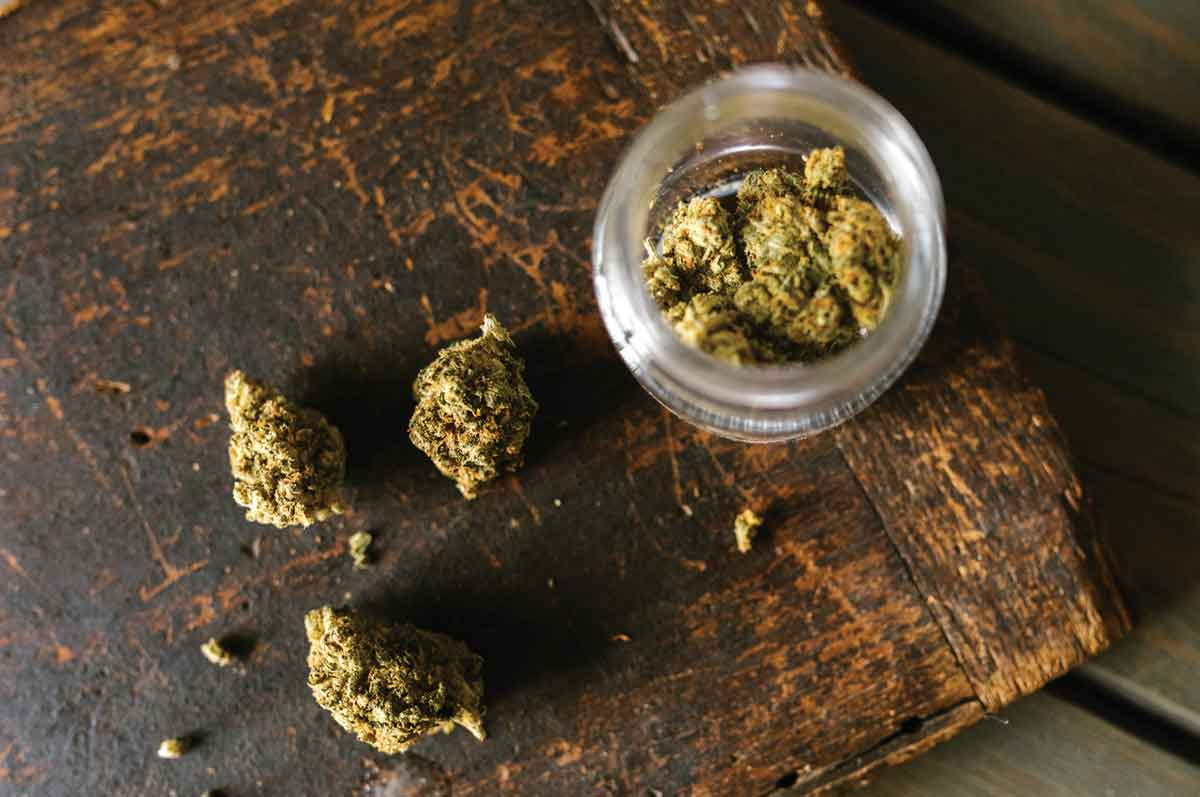 Tribal Council has authorized production of medical marijuana but is eyeing the potential of future expansion to general adult use.
Cherokee's recently created medical cannabis LLC will likely have $63 million at its disposal as it prepares for its first year of retail sales, thanks to a vote from Tribal Council Thursday, Dec. 8. The body also acted to set pay rates for the board of managers at Qualla Enterprises LLC and fill two vacant board seats.
"It gives us a lot of confidence that we're surrounded by people that have done this so many times, that have the experience, that have the understanding," Forrest Parker, general manager for Qualla Enterprises LLC, told Tribal Council. "This tribe, I'm so proud of us for putting us in a position to learn from other people's mistakes so that when we do this right, that number is precise. It's not $150 million because we're trying to cover all these things that we don't know. We actually feel like we actually know."
The Tribal Council voted in August 2021 to establish a medical marijuana program on the Qualla Boundary, passing an ordinance that created the Eastern Band of Cherokee Indians Cannabis Advisory Commission to study cannabis-related issues and make regulatory recommendations, as well as the EBCI Cannabis Control board to set regulations. The EBCI formed Qualla Enterprises on March 13, and it was registered with the N.C. Secretary of State Office on July 28, 2022.
While the tribe has thus far authorized production of medical marijuana only, Qualla Enterprises is eying the potential of future expansion to general adult use. In May 2021, Tribal Council voted to remove criminal penalties for possession of 1 ounce or less of marijuana or 0.15 ounces or less of hashish. Last week, Parker told Tribal Council that the company estimates it can produce and sell $50 million worth of medical marijuana but that sales could reach $350 million if the program opened to general adult use. The facilities planned with the $63 million would accommodate the larger capacity needed to reach the $350 million mark.
"We designed the infrastructure and facilities to be able to produce that, and to be real straight-up and honest with you and tell you that we feel confident that we can produce that," he said. "We know that in an adult use situation we can also sell that."
According to the resolution, the money will fund completion of a strategic plan that Qualla Enterprises has presented to Tribal Council. The plan calls for increased staffing, an indoor grow facility and a retail facility. Parker said the company expects to see an extremely high return on investment, around 60%.
"I've never seen that opportunity in my time here," Parker said.
Figuring out financing
The proposal earned widespread support around the horseshoe, but there was spirited disagreement as to how federal law should impact financial planning.
Principal Chief Richard Sneed was concerned about how marijuana's illegal status under federal law would impact the financial side of the business. He cited the Bank Secrecy Act of 1970, a federal law aimed at preventing money laundering that prohibits banks from accepting money derived from certain illegal activity, including the sale of marijuana.
"How are those funds going to come back to the tribe, and will our local bank accept that deposit?" Sneed asked.
Attorney Darian Stanford from Sovereign Solutions Carolina dismissed this concern, pointing to 2014 guidance from the U.S. Treasury Department stating that banking cannabis revenues can be done appropriately. As of a year ago, he said, 515 banks and 169 credit unions across the United States bank cannabis revenues.
"It's just more paperwork," he said. "It's more of a headache, but some banks, 515 and 169 credit unions, have chosen to do that and that is the future. So there is no question that it is OK to bank."
However, Sneed's other concern proved more difficult to dismiss. He told Tribal Council that the Indian Gaming Regulatory Act, which authorizes tribes to operate casinos on their land, does not allow gaming proceeds to be used to fund illegal activities. While federal policy has become more favorable toward cannabis over the past decade, it's still illegal.
"We don't have $62 million in non-gaming revenue sitting in the general revenue fund that we can give to Qualla LLC," Sneed said.
Big Cove Rep. Teresa McCoy bristled at the idea that the federal government could dictate how the tribe can or can't use its own money.
"Where we spend our money is none of your business, that's what needs to be told to them," she said. "That's my opinion. They don't get to come down here and tell us you get to make this money and here's where you have to spend it."
Sneed said he supports the cannabis project, but that there's no reason to risk shutting down the gaming operation to lift it up. Just under half of the tribe's $732.5 million budget for 2022-23 comes from gaming proceeds, which also provide twice-yearly distributions to tribal members.
"If we were to say that we're going to use gaming revenues to fund this, then what we put at risk is being shut down at our gaming operation by NIGC for being out of compliance with federal law," he said.
"I certainly want to make sure this succeeds as well, but I'm certainly not going to jeopardize closing down the casino using gaming money if it says that," agreed Birdtown Rep. Boyd Owl.
Carolyn West, chair of the Qualla Enterprises board, suggested an amendment to keep gaming revenues out of it — the $63 million would be funded with $10 million from tribal levy funds, which are not connected to gaming, and the tribe would guarantee a loan to cover the rest. Both the amendment and the ordinance passed, 8-2, with Painttown Rep. Dike Sneed and Yellowhill Rep. David Wolfe opposed.
Changes to the board
Later that day, Tribal Council made decisions regarding the board overseeing Qualla Enterprises. With four members voting to table and six to pass, the body approved a new compensation structure for the board. The chairman will receive an annual salary of $86,403, the vice chairman $83,491 and other members $80,600.
Voting to table the resolution were Painttown Rep. Dike Sneed, Yellowhill Rep. David Wolfe and Snowbird/Cherokee County Reps. Bucky Brown and Adam Wachacha. Voting to pass were Wolfetown Rep. Bo Crowe, Yellowhill Rep. T.W. Saunooke, Birdtown Reps. Albert Rose and Boyd Owle, and Big Cove Reps. Richard French and Teresa McCoy.
Sneed then presented names to fill vacant positions on the board. The Qualla Enterprises Board of Managers has five members, four of whom go through the nomination and appointment process. Vice Chairman Albert Rose and Yellowhill Rep. T.W. Saunooke had been sitting in two of the seats, serving temporary six-month terms with no compensation. Those terms ended Sept. 14, and there are now three vacancies.
There was disagreement around the horseshoe about whether to consider the legislation, which Sneed submitted. At the beginning of the day, Sneed approached Council to ask why the resolution was not on the agenda, given that he had submitted it on time and in the proper format.
Chairman Richard French said it was left off because Sneed had not submitted resumes for his recommended candidates until that morning and because no confirmation hearings had been held for the candidates. Sneed replied that since the board was formed, six people have been appointed to a seat, without a confirmation hearing held for any of them.
"The precedent has already been established that these board appointments for this particular board don't go through a confirmation process," he said.
Currently, there is no tribal law governing how appointments are made. Sneed added that, should confirmation hearings be required, it would be another two or three months before new members were seated.
"We need people on this board now," he said.
Three of the five positions are vacant, and none of the current members have a finance background. That's a sorely needed expertise, because, to date, the company has expended about $21 million and will soon have an additional $63 million at its disposal.
While there are three spots to be filled, Sneed recommended only two names, saying that his third candidate is still ensuring he will be able to take the position. Sneed nominated Jacob Reed, whole holds a master's degree in business administration, and Beth Grant, who has a bachelor's degree in business administration. Both are tribal members. Tribal Council ultimately approved Sneed's nominations without opposition, adding a six-month probationary period to the appointments.
The resolutions await action from Chief Sneed to become effective.