Latest
It's an 'honor system' — public records statute has troubling gap
Wednesday, April 26, 2023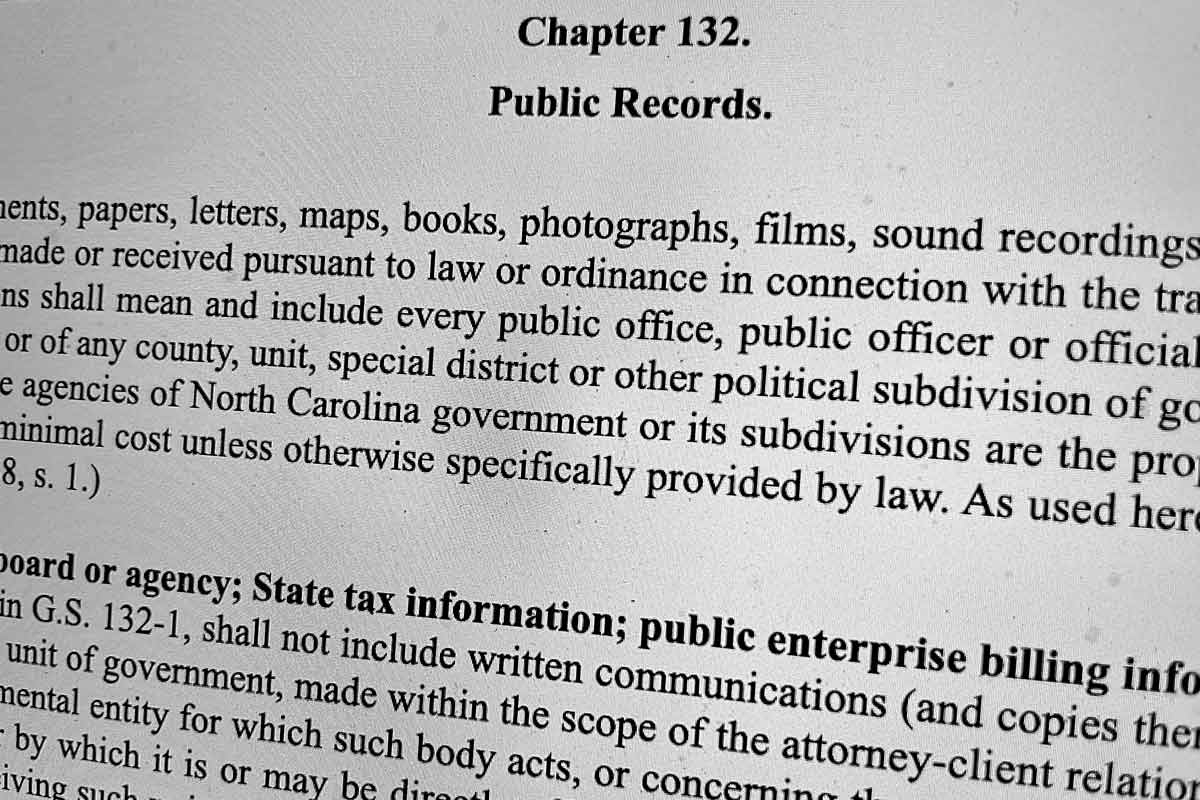 It's largely up to public servants to be knowledgable about, and to comply with, public records laws in North Carolina.
File photo
Across the state of North Carolina, the public's right to know what its elected leaders are doing remains foundational to the principles of open government. But when elected officials— especially those suspected of wrongdoing — are asked for copies of their government-related communications, there's absolutely no way to ensure that true and accurate records are being provided, and there's absolutely nothing anyone can do about it.
Over the last couple of months, The Smoky Mountain News has made a number of public records requests when investigating Haywood County Commissioner Terry Ramey's tax delinquencies.
Ramey has also parroted debunked claims made by Monroe Miller, a self-appointed local government watchdog best known for his conspiracy theories surrounding official misconduct. Among those is that there is $6 million missing from county coffers after a recent land deal, though there is no proof supporting this claim. This led SMN to also make public records requests for all of Ramey's communications that pertain to county business.
Through working to get those requests filled, many problems with the request process were uncovered. When it comes down to it, public officials are trusted to provide their own records, meaning there is nothing compelling them to comply with the statute.
North Carolina's public records statute is relatively broad; by definition it includes all physical or electronic records "made or received pursuant to law or ordinance in connection with the transaction of public business."

All public offices and public officers, along with any state-created agency, are subject to the statute.
Certain records can be withheld. Most commonly, those are the proceedings of closed sessions, economic development discussions, some law enforcement-related materials and communications regarding personnel matters.
Other records can be released so long as certain information is redacted, like signatures, bank account numbers and other sensitive personal data.
Anyone can make a public records request, for any reason, and statute prohibits agencies or officials from asking requestors why they want the records.
Statutes don't mention a deadline for the fulfillment of such requests but do stipulate they be completed "as promptly as possible."

Reasonable fees may be charged, but usually aren't unless the request involves significant staff time, photocopying or postage.
It's the custodian of those records' job to deliver the records.
As Haywood County's chief information officer, Joey Webb Jr. finds himself coordinating public records requests that involve data, especially emails. Webb said there's definitely been an uptick in the number of requests he's fielded in the last two or three years, but there's been no real way to measure the increase — until now.
Recently, the county purchased a request management system called NextRequest. Webb thinks the annual license costs about $6,000, but that could actually help save money and staff time by organizing requests so they can be fulfilled more efficiently.
"Sometimes people make really broad requests that just grind the staff almost to a halt," Webb said. "It almost monopolizes staff time, dealing with just a few public records requests while we still have the daily business that we have to do."

Buried on the Haywood County Government Website is a link to NextRequest. Requestors can start by creating an account and making their specific request through the portal.
Requestors can't be forced to use the portal, so the county must still accept requests delivered in any other legible way, but all requests will be routed through the portal so county administration can manage workflow. Likewise, the results will be delivered through the portal, although they can be fulfilled via an email or even with paper copies, at the requestor's discretion.
After signing up and making a request, requestors receive an immediate confirmation email and a link to a page that shows the status of the request.
NextRequest also displays an account management page for requestors, so they can keep track of every public records request they've ever made.
In the event that a request covers multiple departments with multiple custodians, the page shows who's been assigned to perform which parts of the task. The portal also sends reminder emails to administrators and elected officials who haven't yet completed their tasks.
One important time-saver included in the software is the ability to redact information on the documents as they're received.
In the past, it's been up to the custodian to use whatever means available — photo editing programs, or even a thick black marker — to obscure entries that contain restricted information.

This can be the most time-consuming part of any request, especially those that involve certain law enforcement records or information protected by the Health Insurance Portability and Protection Act of 1996.
"As an example, there was an out-of-town media outlet who made a very large request to the health department during the pandemic," Webb said. "So through that period, somebody had made a public records request for any email that contained certain keywords. The health department, dealing with HIPAA, had to review every individual record to make sure no confidential information was there. It was tens of thousands of emails."

As records become available, they can be uploaded to the portal in real time rather than waiting for the entire request to be fulfilled before the results are delivered, as is often the case. Email notifications are then provided to the requestor.
The portal provides not only accountability to the requestor, but also provides tracking for the county on the number of requests processed and the amount of time staff spends on those requests.
One of the major ways the public can keep abreast of the doings of their administrators and elected officials is to request a record of their communications.
"Government is always best when it is open," said Tom Boney, publisher of the Alamance News. "People are always better served by having open government."

Boney was recognized by the National Newspaper Association in 2021 with the First Amendment Award, which recognizes "valiant actions" by journalists after he was arrested and jailed for attempting to report on a courtroom hearing in 2020.
During the North Carolina Press Association's annual conference in 2022, Boney said he thought that the Raleigh News & Observer regularly used to request communications from county officials, and that it was a good idea.
Requesting communications from public officials, whether elected or appointed, is quite a bit different than requesting simple documents, like contracts, which are both known to exist and are clearly public records.
Like almost everyone else, public officials communicate in a variety of ways including emails, phone calls, texts or private messages on Facebook, Twitter or other apps and social networks.
Communication often takes place across a variety of devices – laptops and desktops, tablets and smartphones. Sometimes they're personal devices, sometimes they're government issue.
Usually, those communications are mixed in with personal messages about non-government business, like when a someone asks their spouse to pick up a gallon of milk on the way home from work. Such conversations are not public record, because they don't deal with government business.
When a request for communications is made, the custodian of records, which in this case is the elected or appointed official, delivers those records.
But there's absolutely no oversight of that process.
In short, requestors are left to rely on the official's knowledge of and desire to comply with the statute by providing all materials that are public records, in all formats, from all devices — even if the records are politically damaging or are evidence of illegal activity.
"Unfortunately, much of our legal system runs on the honor system. I get it, that that can be unsatisfactory," said Amanda Martin, general counsel to the North Carolina Press Association and a partner at Raleigh-based Stevens Martin Vaughn & Tadych. "There is no process to have someone look over the shoulder or verify that the right emails are being pulled and the right emails are being produced. You have a good case if you have some evidence otherwise, but in the abstract, we (perhaps foolishly) presume that people are following the law."

On Jan. 10, The Smoky Mountain News made a public records request for all communications made or received by Ramey from the time he was sworn in on Dec. 8, 2022, through Jan. 8, 2023. This particular request took place before the implementation of the county's NextRequest portal.
"We don't have an easy way to capture phone call logs," Webb said. "So the way we would do that is we would reach out to Ramey in this particular case, and say, 'Hey, can you send us screenshots of all your phone calls, so that we can put those in this request?'"

On Jan. 20, the request was delivered. Ramey himself provided 20 screenshots from his cell phone, listing calls made and received. Of the 20 screenshots, all were heavily redacted. Only two showed the dates upon which calls were made or received.
Assuming the records provided by Ramey are accurate, Ramey made or received only 26 phone calls pertaining to county business during his first month in office. Eight calls involved County Manager Bryant Morehead, seven involved Commissioner Brandon Rogers, four involved Webb and another four involved Commissioner Tommy Long. The final three calls were with Sheriff Bill Wilke, County Attorney Frank Queen and Commissioner Jennifer Best.
All of the calls were to or from elected officials or county administrators like Morehead, Queen and Webb. If the records provided by Ramey are accurate, that means Ramey did not make or take a single call from a constituent about county business during his entire first month in office.
Screenshots of Ramey's texts, provided by Ramey, reveal that his only text conversations took place between fellow commissioners, the county manager and the county board clerk.
Requests for emails are handled a little differently, according to Webb. Since they're stored on a county server, the county pulls a block of emails during a specific time frame and then sends them to the official — in this case, Ramey — who must then go through and redact anything they believe isn't public record.
Again, there's no oversight of this process to ensure that the official understands public records laws and is complying with them.
It's also impossible to tell if emails were redacted or deleted by Ramey, whether legally or illegally. Statute makes the destruction of a public record a crime.
Per the public records request delivered by the county, Ramey received 99 emails during that first month. Many were routine county business, including more than a dozen from the board clerk, but Ramey received more emails from Miller than from anyone else, a total of 31.
Of the 99 emails, one was sent to all commissioners asking for help with trash on Richland Creek Road. Others were from Miller, as well as Janet Presson and Sherry Morgan, both of whom commonly espouse debunked conspiracy theories during the public comment portions of commissioner meetings.
On Feb. 10, The Smoky Mountain News again requested communications from Ramey for his second month in office, a period from Jan. 9 through Feb. 8. Ramey produced screenshots for 100 calls made or received during that period.
None of the screenshots are dated, and there's no way to tell if the screenshots reflect all calls made or received by Ramey during that month.
Additionally, none of the screenshots provided by Ramey contain any redactions; of the 100 calls, 29 appear to involve family members, including Ramey's girlfriend. These calls are not likely government business, and therefore are not likely public records.
Another 10 appear to be robocalls and are not likely public records, and there are four missed calls from Citibank.
Ramey has refused to answer questions about his understanding of public records statutes and requests.

Screenshots further show 13 calls were either to or from elected officials or county administrators like Long, Rogers or Wilke and that 12 calls were to or from Miller, ostensibly about public business.
That leaves just 36 calls out of 100 that may or may not be true constituent concerns, not including Miller's.
A third request by The Smoky Mountain News made on March 15 asked for Ramey's communications during his third month in office, from Feb. 9 through March 8.
Ramey has so far refused to provide records of any telephone call activity for that month.