Archived News
More misinformation: Miller's 'missing' millions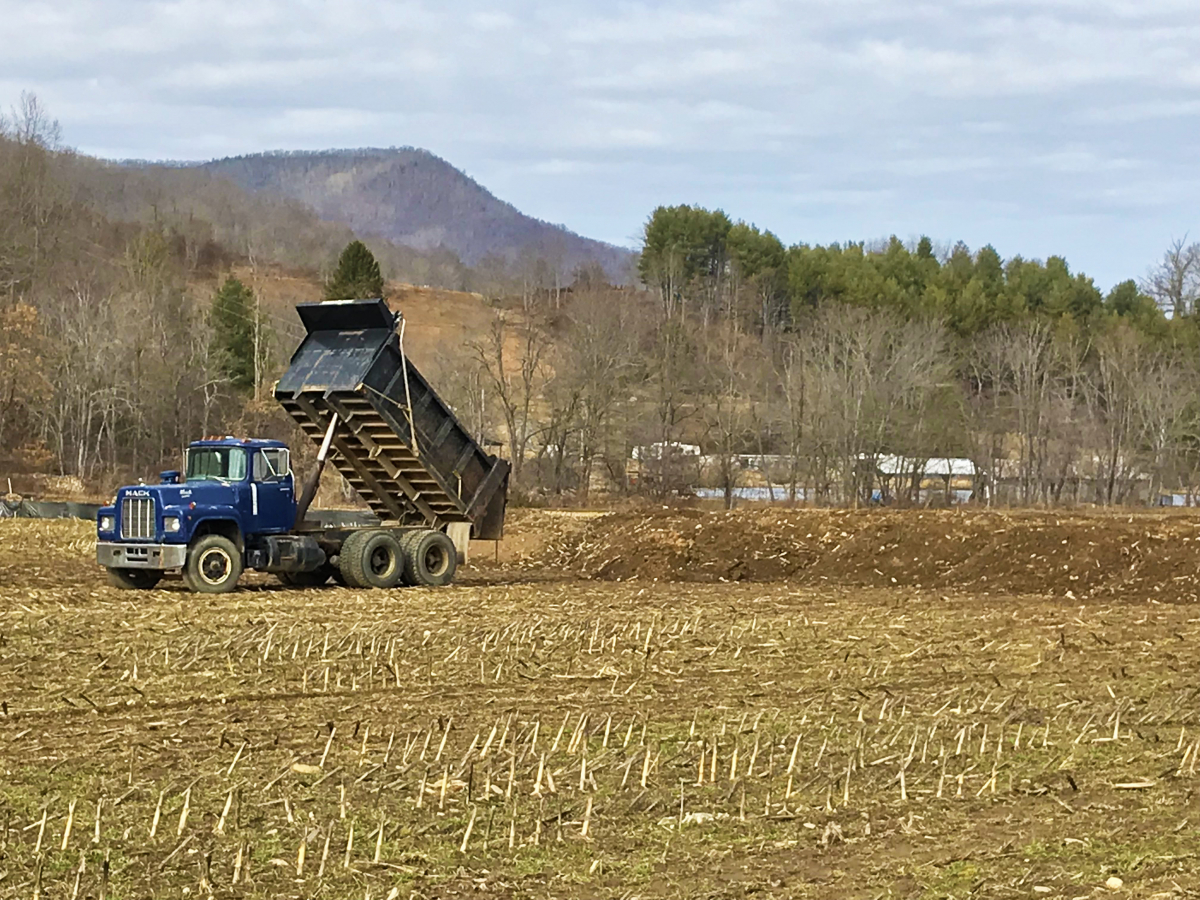 A dump truck spreads dirt — not misinformation — on the Jonathan Creek parcel in January, 2018.
Cory Vaillancourt
After a marathon misinformation session at an August Haywood County Commissioners meeting during which commissioners fought back against comments from the public that were not based in fact, the misinformation hasn't stopped — and neither has county government's fight against it.
Back in 2007, the county purchased a 22-acre parcel off Jonathan Creek with the intent of turning it into some sort of recreational amenity. During the auction, a number of upset bids drove the price to $1.1 million, leaving some to complain that the county had paid too much.
Then, the Great Recession set in, and as other localities constructed ball fields and sporting complexes, the idea of a large park became moot. The county sat on the parcel for years, renting it out for cattle grazing. Once the county started trying to sell the parcel, commissioners decided to add dirt to some areas, moving them out of the flood plain and increasing the usable area.
When dirt for the project was taken from the Waynesville site that is now home to the Publix grocery store on Russ Avenue, it was found to be unsuitable, so the county dumped more money into finding better dirt.
Throughout the process, local government gadfly Monroe Miller ridiculed the county's handling of the parcel, derisively calling it the "James Weaver 'Kirk' Kirkpatrick III Super-Duper sports complex" and the "David Francis dirt spreading project," after Community and Economic Development Director David Francis.
Finally, this past June, the county received an offer of $1.8 million on the troublesome parcel from Quiet Creek Properties LLC. The developer plans to construct around 80 residential units once closing occurs in early November.
Francis told commissioners at the time that the county purchased the parcel for $1,120,611 and spent another $462,722 on it, for a total of $1,583,333.
With the $1.8 million offer, the county will turn a small profit on the deal, although when adjusted for inflation, it's pretty much a wash or even a small loss.
Regardless, once sold the parcel will not only provide some badly needed housing inventory, but also will rejoin county tax rolls after a 15-year absence, netting the county around $100,000 a year in tax revenues, in perpetuity.
Miller, however, has apparently been haranguing commissioners with public records requests meant to prove that there's some nefarious scheme — he calls it a "rabbit hole" — to hide the parcel's true cost to the county, a figure he puts at an astonishing $6 million.
"This request was simple. How much had the county poured into the money pit called the Jonathan Creek property since the county purchased it in 2008," Miller told commissioners during public comment on Oct. 3. "The result I received multiple times was a little over $462,000."
Miller claims that during a recent meeting, Terry Ramey, a candidate for county commission in this year's election, brought up "multiple instances of expenses" that Commissioner Brandon Rogers "could not explain." Miller also claimed that Rogers offered to set up a meeting between him, the county's finance director, Ramey and Rogers.
Near the end of the Oct. 3 meeting, Rogers explained that he wouldn't let Miller waste any more taxpayer money by demanding time with county staff.
"A lot of our conversation revolved around whether or not he had evidence of the money he was asking about, which I think was close to $6 million," Rogers said. "We've asked for the evidence to be brought forward. No evidence has been brought forward as of yet. I would like to see that evidence if you've got it, Mr. Miller. Before I waste a lot more of our county staff's time, if he can bring the evidence forward, we'll set up a meeting."
On his blog, Miller claimed that Rogers was trying to implement a new public records policy by demanding evidence before scheduling a meeting, but this claim conflates two separate issues, public records and private meetings with elected officials.
Public records laws are quite specific about document production obligations by public bodies; however, elected officials are under no mandate to meet with anyone, ever, except at their own discretion.
Another of Miller's claims — that the county accounting system only goes back three years — is false. Francis said that when he went back through the system, year by year, he found an additional $17,000 expended on the parcel that had been inadvertently left off the total provided to Miller.
Unfortunately for Miller, $1,583,333 plus the waylaid $17,000 doesn't quite equal $6 million.
When given the opportunity by The Smoky Mountain News to participate in an interview and present evidence supporting his $6 million claim, Miller declined to do so.
Miller also claimed on his blog that the county failed to include a $385,000 expenditure to settle lifetime dowry claims on the parcel, and also failed to include a $106,000 expenditure for legal fees, which would have pushed the total cost of the parcel to more than $2 million — if it was true.
On Oct. 6, Francis emailed settlement documents to The Smoky Mountain News and commissioners, showing that the legal fees were actually $36,376.24.
These fees were not paid by the county, but rather by the estate of the man who sold the parcel to the county.
The documents also show that the $375,000 dowry claim on the property — not $385,000 as Miller alleged — was paid by the estate, not by the county.
Miller and Francis have a long history of animosity, as alluded to by Francis in closing his email.
"I've seen you struggle with accounting and legal issues for over a decade, as the County at no time paid $385,000 as you stated or the correct amount of $375,000 to Ferguson as that was paid by the estate of William Lucius Jones. The County did not pay any attorney fees in the amount of $106,000 or the actual amount of $36,376 as that was paid by the estate of William Lucius Jones as well. There are no expenses in 2007," Francis said. "Goodness gracious, the rabbit hole is closed."
Leave a comment
2

comments