Archived News
Former Rep. Bill Taylor shares struggle with alcoholism
Wednesday, February 15, 2023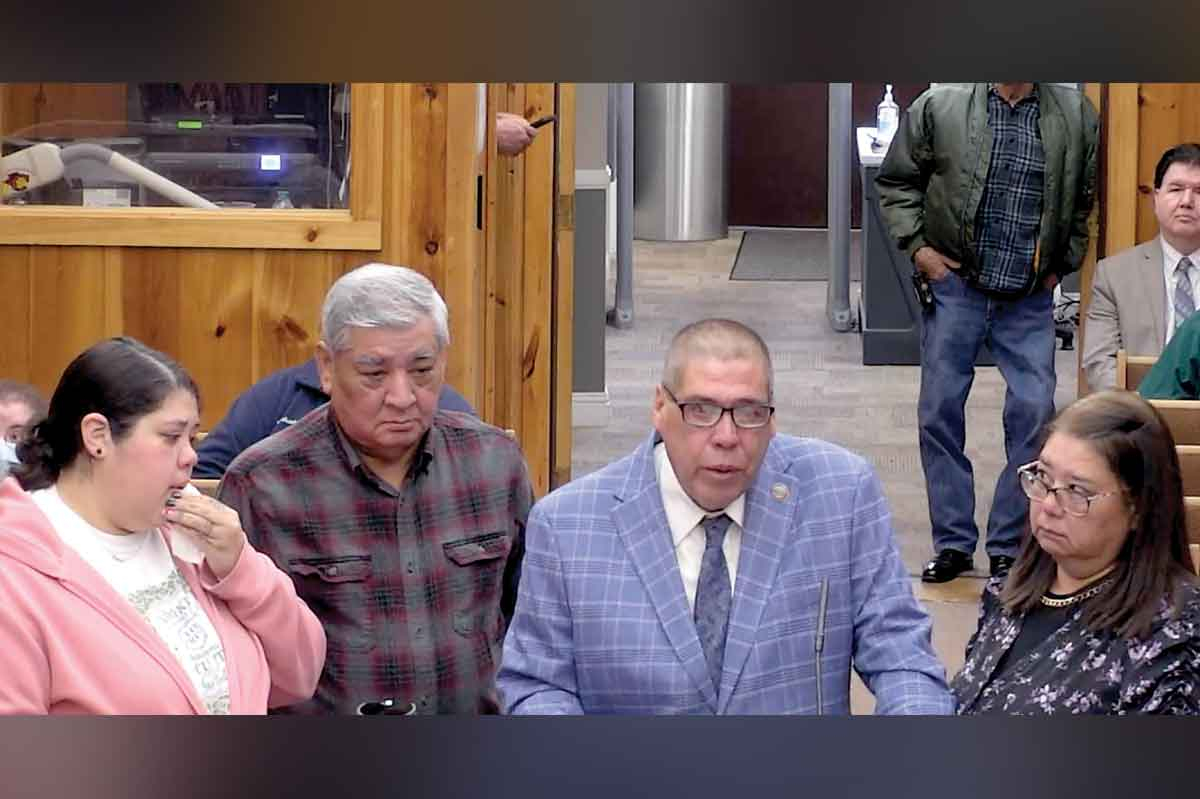 Bill Taylor addresses Tribal Council Feb. 1, surrounded by (from left) his daughter Nichole Roberts, father-in-law Morgan Calhoun and wife Katrina Taylor. EBCI photo
Appearing in Tribal Council chambers for the first time since facing criminal charges in October, former Wolfetown Rep. Bill Taylor gave an emotional testimony Wednesday, Feb. 1, to set the record straight on what did — and did not — happen the evening of Oct. 6, 2022.
"Today I stand before you a humbled and changing man," Taylor said as he stood surrounded by his wife, daughter and father-in-law. "Let me emphasize, a changing man. I stand before you an open book today with nothing to hide."
Taylor pleaded guilty Jan. 9 to reckless endangerment and reckless driving stemming from the incident in which he hit his wife's car with his truck while she was in it. Charges of impaired driving, assault on a female domestic violence and assault with a deadly weapon were dropped. He told Tribal Council that the incident was a "rock bottom" moment for him borne of an ongoing struggle with alcoholism — but that he never behaved violently toward his wife.
"It was an accident, a dangerous accident," he said. "It was no physical contact with my wife at all. If you know me and my wife, we've been together for 36 years. Been married for 34. Not one time in our marriage has there ever been domestic violence."
'Lowest of lows'
Taylor said that he'd been a functioning alcoholic for years, drinking daily ever since taking his first drink at the age of 13. He spent nearly 10 years on Tribal Council, two of them as chairman, and frequently traveled to Raleigh and Washington, D.C., to meet with high-profile decisionmakers — but was able to do that demanding job despite his habit. Last year, his dependency worsened, and by August 2022 his drinking had gotten so bad that his wife, son and daughter sat him down in the living room and delivered an ultimatum: get help, or lose his family.
"It got to the point where I guess beer wasn't doing enough. The last three days before I went to detox, I drank a case of beer a day and a gallon of moonshine on top of it. All three days," Taylor said, voice quavering. "Yeah, I know. I'm embarrassed. I'm ashamed, or I was at that time."
He went into detox on Labor Day weekend and stayed there for about a week, remaining sober for two months.
"Then came the week of the [Cherokee Indian] Fair," he said. "Now I'm already in my second year of my fifth term when I hit the lowest of lows. I hit rock bottom on October sixth. I relapsed to start drinking again."
He woke up two days later, home alone, and went to his son's house to look for his wife. She wasn't there but showed up as he was leaving. She "took off," and Taylor followed her — both of them driving recklessly, he said. As she turned into her parents' driveway, she stopped quickly in front of him, and he ran into her car.
Taylor said it was the wakeup call he needed to start turning his life around.
"I guess I'm glad it happened," he said. "I'm sober now, starting a new life."
Taylor said he's been sober for over 100 days, praying daily, reading recovery literature and going to meetings. Christmas 2022 was an important one for the Taylor family.
"My son is 19 and my daughter's 34," he said in a follow-up discussion with Council Feb. 2. "But I think this year may have been the first holidays I spent sober with my family."
Along with the tearful testimony, Taylor — as well as his wife, daughter and father-in-law — criticized how the incident was handled in Tribal Council and in the wider community.
"My biggest concern is that my dad was tried before y'all before he ever got a fair trial in a courtroom," said Taylor's daughter, Nichole Roberts. "He had to give up his livelihood before ever being convicted in front of a judge. He never put his hands on her. She's not even the one who called the police."
Morgan Calhoun, Taylor's father-in-law, reiterated that his daughter was never in any physical danger from her husband.
"A lot of people don't know the truth, but yet they're ready to start gossiping. That's wrong. That is wrong," he said. "But anyway, I'm just glad that Bill has took the steps to do something about his issue, and I hope that he continues it, and he's got our support."
"If y'all know me and Bill, he would never intentionally hurt me," said Taylor's wife, Katrina. "Never. Never has."
Pension affirmed
Taylor said he resigned his position because if he didn't he would likely have been impeached. With a pending criminal case, he would not have been able to defend himself in an impeachment hearing. Council needs a better process to handle such situations, he said, because each member of Tribal Council is one accusation away from losing their career and reputation.
"I was being tried here before I was being tried in court," he said. "And I couldn't say anything in here because my case was already in court."
Tribal law states that any Council member who resigns while under investigation for criminal activity "shall" forfeit their right to retirement benefits — pending Tribal Council passing a resolution to that effect by a two-thirds majority. However, Tribal Council never passed any such resolution, and following his speech Feb. 1 Taylor submitted a resolution of his own specifying that he should receive a pension based on 10 years of service. He resigned a couple weeks into his 10th year, but tribal law says the full year can be credited if an elected official resigns due to medical reasons.
The resolution cites the American Medical Association's recognition of alcoholism as a medical condition and says it has had a "far-reaching and harmful impact on his [Taylor's] health and on his ability to perform the duties of his office." It also points out that his court case has been resolved "to the satisfaction of all parties" and that he was neither charged with nor convicted of a felony.
Tribal Council passed the resolution unanimously. After the vote, members offered warm words for the former Wolfetown representative.
"I grew up in an alcoholic home," said Snowbird/Cherokee County Rep. Adam Wachacha. "Everybody knew my dad. He was wonderful here, but he wasn't so great at home. When he stopped drinking 10 years prior to his passing, that was probably the best 10 years of life that I had with him because I got to enjoy him being him."
Wachacha said that period of sobriety led to healing from past hurts, and he expressed confidence that Taylor's new lifestyle will be better for him and his family.
Rep. Andrew Oocumma, who won the seat Taylor vacated in a special election Dec. 15, said that he's proud to be in the seat but also proud to call Taylor a friend.
"I just hope I can live up to some of those standards because I know that you helped a lot of people and a lot of people do still support you in Wolfetown and Big Y," he said. "A lot of people will come to conclusions about things and discount folks' character, but I think you definitely brought a lot to the tribe and the seat. I still hope to learn from you moving forward."
While Taylor is out of office for the moment, he hinted heavily at hopes for a political future within the tribe, citing the strong relationships he's built over the years with various state, federal and tribal leaders.
"I'm not done," he said. "I'll be back. Heck, I might even run for chief — I don't know."