Latest
Mountain Projects Waynesville resale store sees early success
Wednesday, January 25, 2023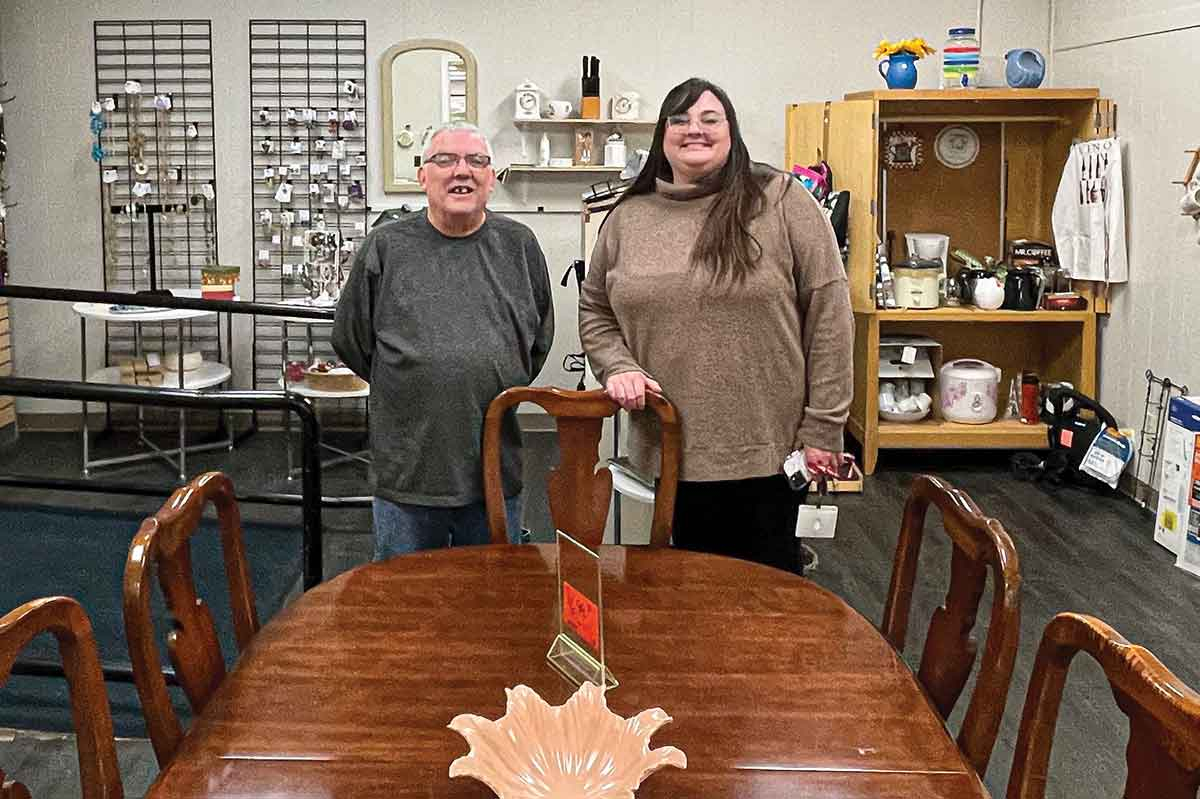 David Porter and Brooke Smith said they are thrilled with how Mountain Projects' resale store has done in its first two months. Kyle Perrotti photo
In the two months since the Mountain Projects resale store opened in Waynesville, it's already seen serious success in both the number of quality donations and customer traffic.
The store follows a similar shop Mountain Projects has in Jackson County called Sylva Linings, which has been in operation for about seven years. Mountain Projects Assistant Executive Director Brooke Smith said the folks from Sylva Linings were vital to the new store's successful opening.
"This couldn't have happened without the help from the people at the Sylva Linings," Smith said.
The idea for the store had been floated for a while before real work started on getting it open just before Thanksgiving. While things may have started slow, Smith said the store got busy during the heart of the holiday season.
"In Christmas, we kicked it into high gear," she said.
The building, which used to house offices, is broken into several rooms, each with its own department. The shop offers a surprising array of furniture and kitchen appliances with a wide range of values, including some high-quality items. It also features everything from clothes and linens to books to sporting goods to jewelry and even wall art.
David Porter, who has been with Mountain Projects since March and is the acting store manager, said people are often surprised at the selection.
"We've got a bit of everything; you never know what you're going to find," he said, adding that the stream of donations feeding that variety has been steady. "And the money made from selling these donated items goes back into the community."
Here's a look at one of the rooms at the Mountain Projects resale store in Waynesville. There are several similar rooms, each with their own department. Kyle Perrotti photo
Pam Cunningham, who works three to four days a week at the cash register agreed, noting that people have been impressed with the variety and quality of items, as well as the prices. Cunningham, who recently retired after a 33-year career, said she loves to shop and that part of the fun of working at the store is seeing what kinds of items come in. But while Cunningham enjoys her part-time gig, she was quick to point out that contributing to Mountain Projects' mission remains the thing that brings her the most joy.
"Mountain Projects is such an important organization," she said. "If you have roots in Haywood or Jackson county, you know someone whose life has been improved by Mountain Projects."
The store is open Monday through Saturday from 10 a.m. to 4 p.m. Smaller donations can be delivered directly to the store at 2177 Asheville Road in Waynesville. For larger donations, call Mountain Projects at 828.507.0837 to schedule a pickup.