Archived News
Two months after Lambert Wilson's death, officials remain silent
Wednesday, December 21, 2022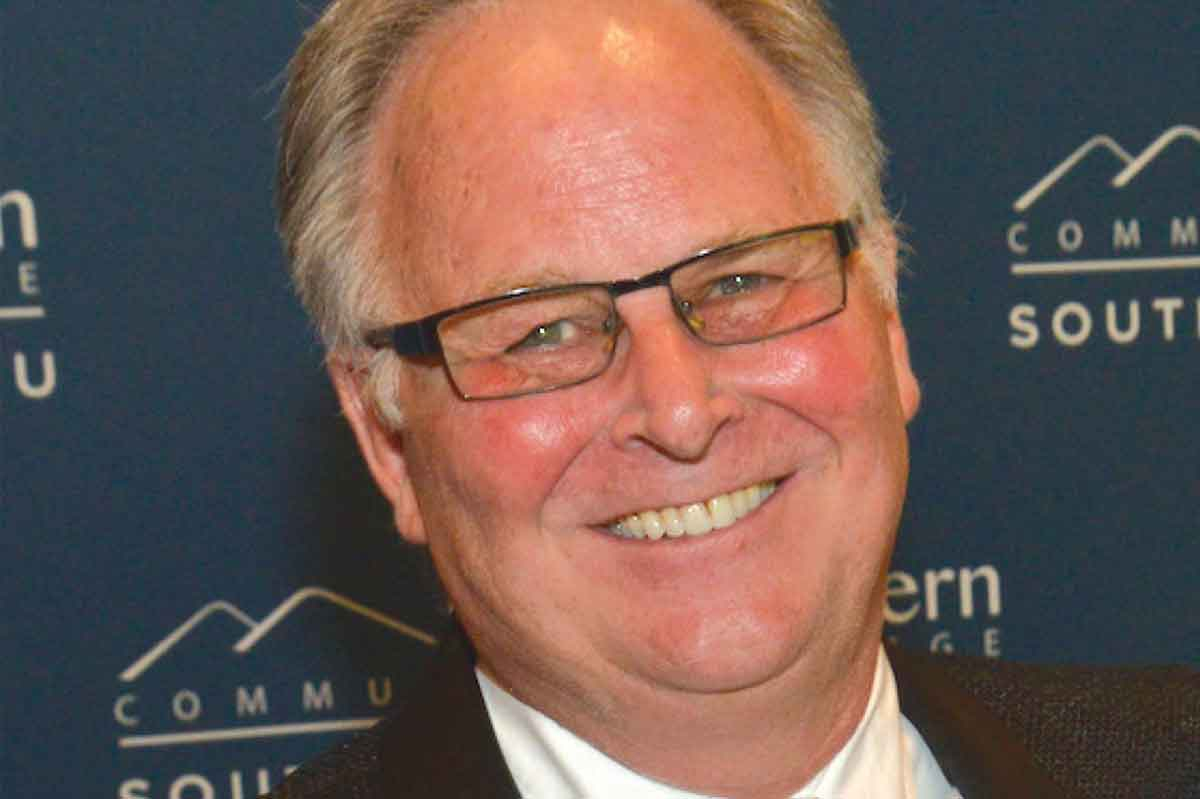 Lambert Wilson, 68, was a Swain County native and educator who served on the Swain County Board of Education and Southwestern Community College Board of Trustees. SCC photo
Update: Shortly after press time Dec. 20, the Jackson County Clerk of Court released an order sealing the 911 records for an additional 30 days. The order was filed at 3:18 p.m. Dec. 20, 31 hours after the previous sealing order had lifted and The Smoky Mountain News had submitted a renewed request to obtain them. The order, which this time was released as a public document, places both the 911 records and the state's petition to seal them under seal.
It's been two months since the shooting death of Lambert Wilson — a beloved educator, business owner and supporter of Native American art — but officials have remained tight-lipped about how it transpired. After The Smoky Mountain News requested public documents that could have shed light on the case, a court order was issued sealing them.
What we know
Wilson died on Thursday, Oct. 20. Swain County Schools, where he had served for decades as an elementary school principal and Board of Education member, was the first to publicly announce it, stating on Facebook that Wilson had been shot and killed at his motel in Cherokee — the El Camino Motel.
A certificate of death filed Nov. 1 in Jackson County confirms that Wilson died of gunshot wounds. According to the document, he was injured at 9:56 p.m. Oct. 20 at his place of work, a motel — the address matches El Camino — and died at approximately 10:10 p.m. The death certificate states that Wilson was shot by an assailant and sustained gunshot wounds to the neck, arms, chest and abdomen.
The death is recorded as a homicide, which in legal terms means only that one human being caused the death of another. The definition includes murder and manslaughter, but also killings justified by self-defense or insanity.
The Cherokee Indian Police Department has not released any information about the incident beyond the cryptic sentence it posted on Facebook at 1:16 a.m. Friday, Oct. 21.
"The Cherokee Indian Police Department and the North Carolina State Bureau of Investigations are on scene at the El Camino Motel investigating an incident," CIPD wrote. "There will be no additional information released at this time."
In the two months since, the CIPD has refused to confirm that the "incident" was a shooting, that anybody was injured or that Lambert Wilson was even involved. No criminal case has been filed, and no suspect arrested. The CIPD log does not show arrests of any kind for more than 48 hours after the time recorded on Wilson's death certificate. The Smoky Mountain News asked in an email whether a suspect was still at large in the community and received no reply. The CIPD did not reply to a request for comment to this story.
911 calls sealed
Even absent a criminal case, which would bring with it documents like indictments, search warrants and affidavits to paint a preliminary picture of what transpired, other types of public documents can help tell the story. In North Carolina, the contents of 911 calls are public record. However, SMN's Nov. 16 request for a copy of the 911 call made from the El Camino Motel Oct. 20 was declined. In a phone call Nov. 17, Misty Tabor of Swain County Emergency Management said that she could not release the call because CIPD had asked her not to — despite the record belonging to Swain County, not CIPD, and being subject to North Carolina Public Record Laws.
Swain County soon had a more durable reason to refuse the request. In an order entered later that day, at 3:07 p.m. Thursday, Nov. 17, Superior Court Judge Bradley Letts ruled in favor of a petition from the State of North Carolina to seal the 911 calls. Letts found that "a preponderance of the evidence" showed that releasing the calls "would undermine the ongoing investigation and would also jeopardize the right of the State to prosecute any potential defendant and the right of any such defendant to receive a fair trial." The order sealed the 911 calls for 30 days, expiring with the beginning of the day Monday, Dec. 19 — if no new petition had been filed by that date.
However, in response to SMN's request for a copy of the order sealing the calls, Assistant Clerk of Court Stevie Bradley said that the sealing order was itself sealed.
"Per Judge Letts administrative order only the log is available for public inspection," she wrote, attaching a document titled "Search Warrants/Court Orders Log." The document listed Letts as having entered a sealing order on Nov. 17 set to expire Dec. 19, but no file number or additional information other than the last name of the ADA was included.
SMN obtained a copy of the order not from the court, but from Swain County Emergency Management, attached to a Nov. 23 email from Tabor reiterating that the call would not be released.
Transparency concerns
Mike Tadych, attorney for Stevens Martin Vaughn & Tadych, PLLC, said that refusing to release the motion and order to seal a public document goes against established case law and an open courts provision in the state constitution.
"Sealing orders are not supposed to be sealed," he said. "There's abundant case law on that very point. Our courts are not permitted to operate in secret."
As an example of that case law, Tadych pointed to a 2009 N.C. Court of Appeals opinion in " re Search Warrants Issued in Connection with the Investigation into the Death of Nancy Cooper," stating that under certain circumstances a court can close a hearing or seal documents — but must publicly provide a reason for doing so.
"If a trial court decides to close a hearing or seal documents, it must state its reasons on the record, supported by specific findings," the opinion reads. "The trial court may explicitly adopt the facts that the government presents to justify sealing when the evidence appears creditable. But the decision to seal the papers must be made by the judicial officer."
The opinion goes on to state that the court must identify the interests to be protected by closing the proceedings or sealing the document, along with "findings specific enough that a reviewing court can determine whether the closure order was properly entered."
"I believe both a motion to seal and the order sealing whatever is sealed should be public — otherwise, they are not subject to appellate review," Tadych said.
The 2009 opinion draws on the conclusions of a 1986 case heard by the U.S. Court of Appeals Fourth Circuit, " In re Washington Post Co." That opinion states that "when the district court has been made aware of the desire of specific members of the public to be present, reasonable steps to afford them an opportunity to submit their views should be taken before closure."
"Under the circumstances, I think whoever asked for it to be sealed should have told you and the court should have confirmed that they told you," Tadych told SMN.
Sealing order expired, records still not delivered
Letts did not respond to an email seeking clarification on these points. As of press time SMN has not received a copy of the 911 calls or a timeframe by which they would be provided — despite renewed requests and the fact that the initial sealing order has expired.
The lack of answers surrounding Wilson's death has raised concern from members of the public and from other local media outlets. CIPD's initial post announcing the "incident" at El Camino Motel has attracted ongoing engagement in the weeks since, with commenters asking what happened and why no information has been released.
In an October editorial that was reprinted in The Cherokee One Feather, Smoky Mountain Times Editor Jessica Webb decried CIPD's "unacceptable" lack of transparency on the case.
"We believe CIPD has a duty to the community to release the basic facts of this case," she wrote. "Someone has been shot and killed and the individual was a pillar of our community. Regardless of who it was, CIPD should feel an obligation to the public to release information as to the circumstances of such a tragic event. As it currently stands, with a sweeping policy of 'no comment,' CIPD is failing to provide reason for the public to have full confidence in the agency.
"Instead of believing that CIPD is doing all it can, people are left to wonder: Why aren't they releasing any information? Is there something they are hiding? Do they just not know what happened and think people will forget about the case? Are they protecting someone?
"While SMT doesn't believe there is any suspicious activity behind the closed-lip approach, we do believe they are failing to live up to community expectations."
Leave a comment
2

comments
Lambert Wilson was at his second residence where he was shot and killed, murdered would be a more accurate term. The killer and his wife had ample time to get their stories together before calling CIPD. It is a disgrace the way the Cherokee Indian Police have handled this case. With the El Camino Motel, site of the murder, being next to Harrah's Casino, I guess they want it to go away. It is not going away. A great man was murdered in what appears to be an attempted robbery. It is similar to many murders on a reservation, unsolved and keep as quite as possible. Going into to Cherokee, NC is dangerous to your health and your family will not get justice without getting the FBI or another agency involved. Case in point, Brad Allison. If not for the persistence of his mother, no one would have been arrested.

Thursday, 12/29/2022

I've read many articles and watched many more tv shows to know that when law enforcement refuse to release any information concerning a particular case it's usually due to an ongoing investigation that could be compromised by giving out any pertinent information.

Sunday, 12/25/2022