Archived News
Moody's bond revoked for failure to appear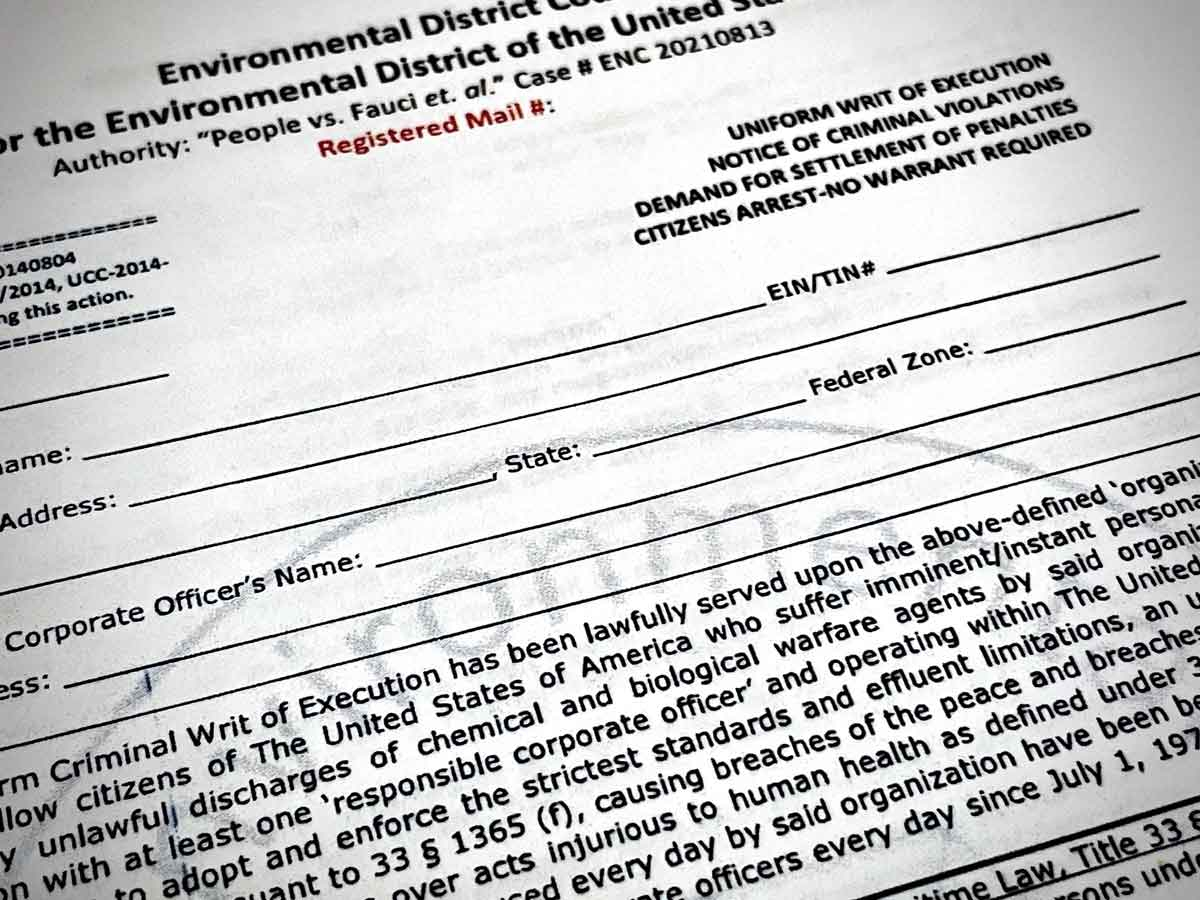 The Haywood County woman charged with 59 counts of interstate threats and conspiracy to kidnap after sending threatening letters to public officials will now await her trial in jail, after admitting on Oct. 26 that she'd violated the conditions of her pretrial release.
Darris Moody was arrested by the FBI on Sept. 7, after telling The Smoky Mountain News that she was the person behind a series of phony writs from a non-existent court. The writs were faxed to various public officials and offered bounties for their capture if they didn't comply with the terms.
"I have to admit that I've served a few, because my name was on it and it wasn't supposed to be," Moody said Sept. 2. "That's very, very, very unfortunate because these are coming from 'the people,' and I'm just one of the people."
Many of Moody's assertions during the call revolve around the discredited "sovereign citizen" ideology, and a fixation with the so-called "New World Order."
During a 45-minute phone call with SMN, Moody elaborated on a number of conspiracy theories, including that satanic pedophile cults traffic children for their organs, that COVID-19 is a psy-op, that the vaccine is a bioweapon, that masks are a tactic of the deep state to obscure the likeness of God and that President Joe Biden has been replaced by a body double.
In the writs, Moody alleged officials were guilty of treason and various other unsubstantiated environmental crimes, and demanded they pay a fine or surrender themselves to a tribunal.
After her initial arrest, Moody asked to represent herself. Upon advisement, she accepted appointed counsel, Asheville attorney Sean Devereux. Devereux is known for initially and briefly representing convicted Olympic Park bomber Eric Rudolph upon his arrest in 2003.
When Moody first appeared with Devereux in federal court on Sept. 12, FBI Special Agent Bill Gang testified that he'd executed a search warrant on her home and found a copy of one of the writs. Gang also said that at no time during his post-arrest interview with Moody did she disavow her actions or attempt to downplay them.
Gang also said that upon arrival at Moody's home, there were notices posted asserting that law enforcement had no jurisdiction over her. Moody has consistently maintained that she's "on common law" and that she does not recognize the authority of the government or the courts.
At the conclusion of that hearing Moody asked for pre-trial release on bond, promising that she would cooperate with the process and participate in her own defense.
Devereux told U.S. Magistrate Judge Carleton Metcalf he'd made very clear to Moody that if she wasn't going to "play by the rules," she was wasting her time, and his. Assistant U.S. Attorney Don Gast said he felt that there was no piece of paper that could compel Moody to appear before a court she repeatedly claimed she didn't recognize.
In considering Moody's request for release, Metcalf said he weighed Moody's lack of criminal history against the fact that Moody attempted to conceal her identity while serving the writs.
Metcalf called the decision a difficult one, but ultimately he opted to release Moody to home confinement, with all the usual conditions including her pledge to appear in court as directed.
When her next hearing came up at 10 a.m. on Oct. 14, Moody failed to appear as promised.
Devereux referenced the court's prior concerns about Moody's willingness to show up for proceedings and told Metcalf that he'd "bent over backwards" to ensure Moody understood that she had to comply.
Metcalf gave Moody another 45 minutes or so to present herself; however, that didn't happen, so she was arrested by the FBI in Haywood County later that day and transported to the Buncombe County Detention Center.
Five days later, Devereux withdrew from the case. Moody asked for appointed counsel. Emily Jones and Mary Ellen Coleman were assigned as federal public defenders.
On Oct. 26, Moody appeared in court for the arraignment that was supposed to take place on Oct. 14; however, Metcalf also conducted an inquiry into the status of her counsel as well as a bond revocation hearing in response to a government motion.
According to court records, Moody again asked to represent herself. Metcalf denied her request.
Moody then pleaded not guilty to the 59 counts against her, and also admitted to violating the conditions of her pre-trial release by failing to appear on Oct. 14. Metcalf revoked her bond and ordered her to be detained pending further proceedings.
Her trial won't take place until sometime next year, possibly as early as Jan. 4.