Archived News
FBI makes arrest in phony writs case
Thursday, September 08, 2022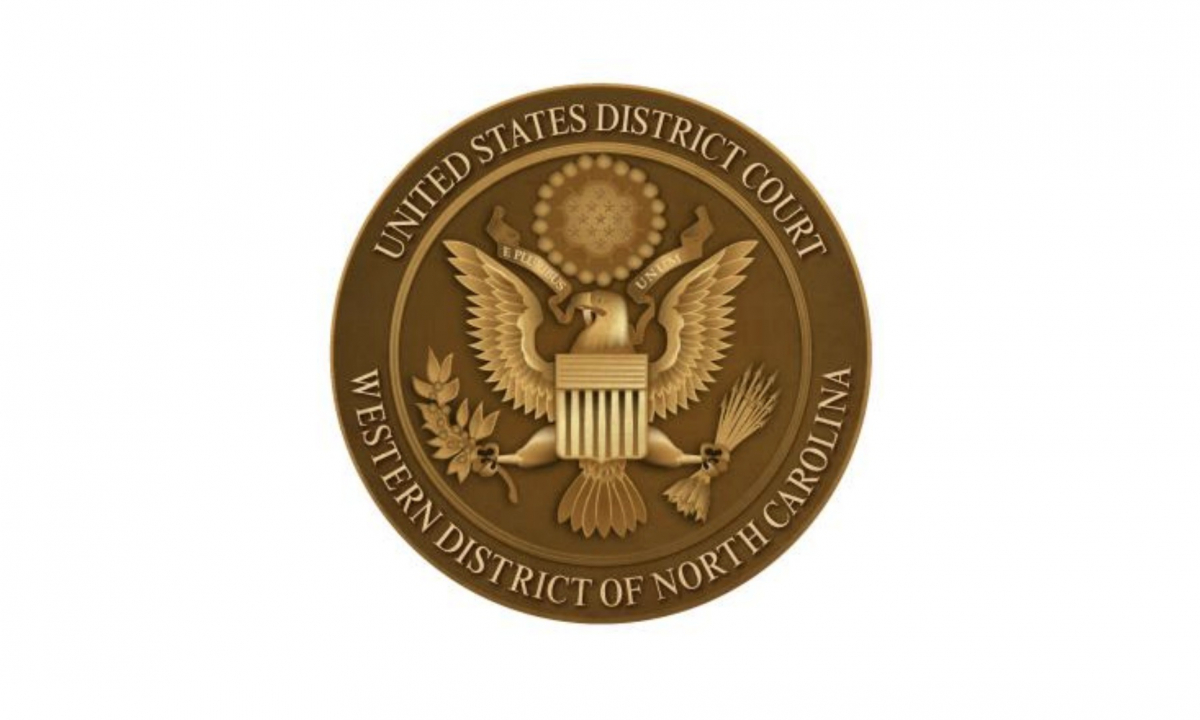 The case will be heard in the U.S. District Court for the Western District of North Carolina.
Wikipedia photo
A Haywood County woman who admitted to sending threatening letters that offered bounties on public officials will face felony federal charges after her arrest by the FBI on Sept. 7.
The arrest came just hours after the publication of a story in The Smoky Mountain News that revealed the identity of Darris Moody and contained her confession.
"I have to admit that I've served a few," Moody told SMN by phone on Sept. 2, "because my name was on it and it wasn't supposed to be."
U.S. Magistrate Judge W. Carleton Metcalf granted U.S. Attorney Dena King's motion to seal the criminal complaint application and other documents related to the case "to protect the secrecy of the ongoing nature of the investigation in this matter."
While specifics of the case aren't readily available, the criminal complaint sworn by FBI Special Agent Corey Zachman lists the offense as "transmission of threat in interstate or foreign commerce."
The charges listed on the docket sheet allege a violation of 18 U.S.C. 875, "Interstate communications – threat to kidnap."
Subsection (b) of 18 U.S.C. 875 states that "Whoever, with intent to extort from any person, firm, association, or corporation, any money or other thing of value, transmits in interstate or foreign commerce any communication containing any threat to kidnap any person or any threat to injure the person of another, shall be fined under this title or imprisoned not more than twenty years, or both."
Shortly after her arrest, Moody appeared at an initial hearing before Metcalf in Asheville, where she was advised of her rights and the charges against her.
Moody, who told SMN she considers herself a "digital soldier," asked to represent herself, but upon advisement moved for appointment of counsel.
The court approved Moody's request for appointed counsel, while also moving for detention.
According to available documents, Moody is currently being detained pending preliminary and detention hearings scheduled for 10 a.m. on Sept. 12.
A Sept. 8 call to Moody's appointed counsel, Assistant Federal Public Defender Emily Jones, wasn't immediately returned.
The phony writs, purportedly emanating from the bogus "U.S. Environmental District Court," were first brought to light during a mid-August investigation by The Smoky Mountain News after a number of local officials expressed concern over the language and tone of the documents.
More than 30 elected officials, judges and local government employees, along with prominent figures in the healthcare industry, were "served" the writs, which demanded the recipients surrender to a tribunal. The writs offered bounties of $10,000 to $20,000 for anyone who could deliver officials who refused to comply with the terms of the writs.
The first writs were supposedly served on Haywood County Sheriff Greg Christopher and Chief Deputy Jeff Haynes back on June 24.
Local officials who received the writs, through mid-July, expressed frustration that they hadn't seen or heard of any progress in the investigation into the threats.
A listing of everyone who's been "served" appears on self-reporting database hosted by a group called "The People's Bureau of investigation."
The PBI's website also makes templates of the writs available, so anyone can download and "serve" them.
When reached on Aug. 15, the Illinois man behind the PBI website, Tim Dever, told The Smoky Mountain News that he believed the writs were lawful.
Dever hasn't yet returned an email asking for comment on Moody's arrest for the phony writs.
This is a developing story. Look for updates in the next issue of The Smoky Mountain News, available online and on newsstands on Wednesday, Sept. 14.
Leave a comment
3

comments
PBI is about as legit as the FBI these days.

Monday, 09/12/2022

File under F around and find out

Monday, 09/12/2022

These people are lunatics

Thursday, 09/08/2022