Archived News
McMahan and Letson compete for commission chair 

Wednesday, September 21, 2022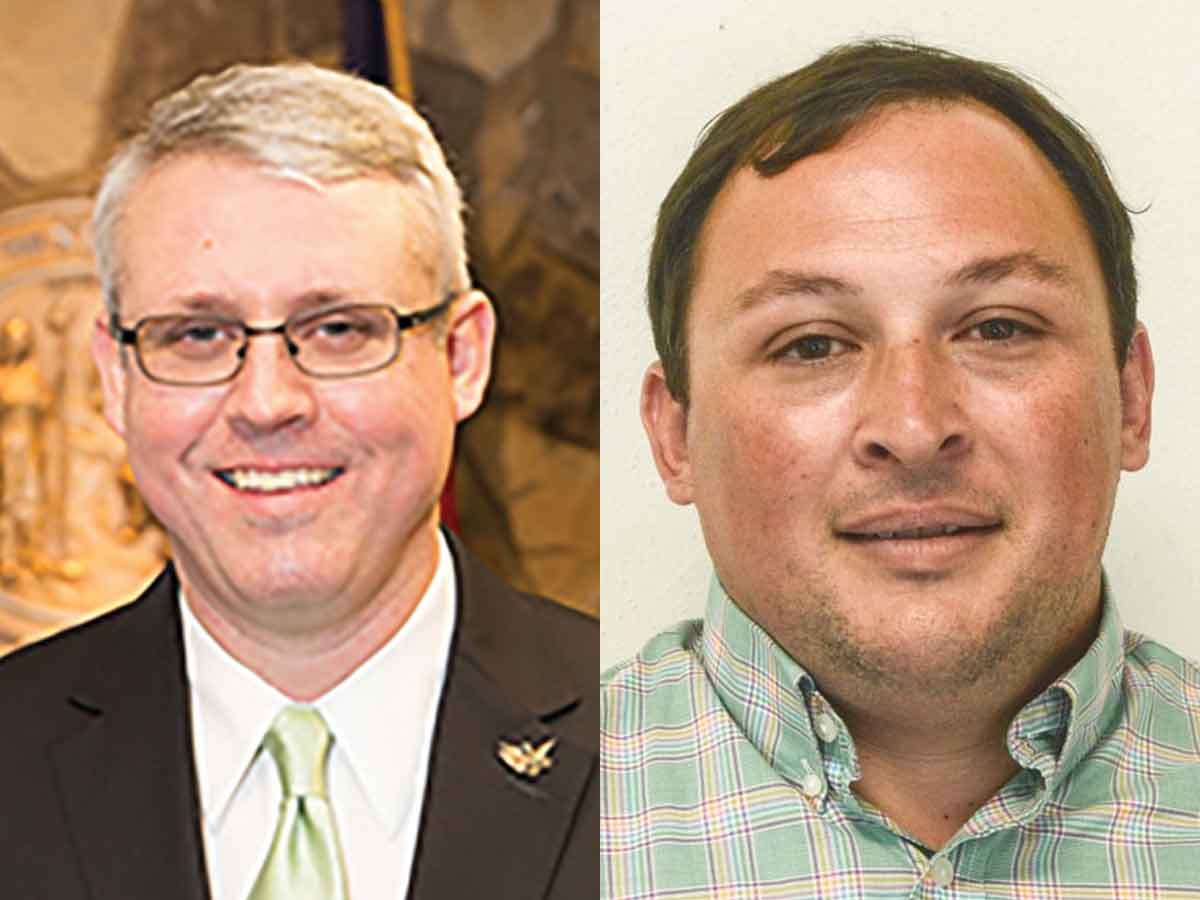 Brian McMahan (left) and Mark Letson.
This election season, there are three seats up for grabs on the Jackson County Commission, all held by Democrats, all of whom are seeking reelection. One of those seats is the commission chair. Voters will have the opportunity to choose between a candidate with ample experience as chairman and a newcomer to the field.
Brian McMahan is the incumbent commission chairman, and he is running for reelection as a Democrat. McMahan is challenged by Mark Letson in the General Election, after Letson beat out his only Republican primary opponent, Rick Wood.
In Jackson County, the chairman of the county commission is elected by the voters in the county, creating a unique opportunity for those voters to have input on board leadership. In most counties, the commission chairman is appointed by fellow board members.
McMahan is a volunteer firefighter currently serving as chief of the Balsam Fire Department, where he has worked for the past 25 years. He previously worked with Jackson County Emergency services.
"It's an important part of our community, it's an important service," said McMahan.
McMahan has served on the Board of Commissioners for almost 20 years, he was first elected to the district two seat in 2002. In 2005, he became chairman of the commission, where he served all but one term between 2010 and 2014 when he was defeated by Jack Debnam.
"I'm running again because we've got several projects that we've been working on that are unfinished and I think it's very important to see through some of those projects that we're passionate about and would like to see come to fruition," said McMahan.
By contrast, Letson has never served on the commission. He currently serves as the chairman of the Jackson County Planning Board, is a member of the Business and Industry Advisory Committee for Jackson County and previously served on the Cashiers Planning Council, all appointed boards. Letson and his wife have owned Cashiers Valley Pharmacy in Cashiers since 2006. He previously ran against Mark Jones in 2020 to represent district four on the commission.
"I hope to lower taxes, I hope to be able to bring our county into the 21st century with fiber access and utilities access that's not a burden on them," said Letson. "I hope to reduce our drug problem and our crime problem that is not just in one area, but spread across the county almost evenly."
Housing availability and affordability is a growing problem for Western North Carolina counties and Jackson County is no different.
"There is very little we can do," said McMahan. "The availability of land is one problem, there's just not a lot of available land that people are willing to sell for housing. Second would be contractors. We have a shortage of contractors. There's not a lot of contractors available who are willing to build what I would classify as middle income housing and low income housing."
McMahan did note that the county has partnered with nonprofits for some small projects, and has maintained the second lowest property tax rate in the state, making it cheaper to own property in Jackson County than other surrounding counties.
"That's the only thing right now that we can do to really have an impact on the broader housing crisis," McMahan said. "We've tried to do things on the periphery to help make this a better place to live and a place where people would want to come live, but ultimately we have no control over the home market. We try to make sure we have all the services in place that support the housing market, but as far as being able to do anything other than that right now, our hands are tied."
Letson, if elected, would try the route of direct outreach.
"I would probably call one of these larger companies, a larger developer that has the resources to say, 'I'm going to come in and there's 30 acres and I can put X amount of houses on it.' I really feel like that's how we're gonna really tackle some of this," said Letson. "They have the economies to scale. They have the plans to come into an area, assess it, determine how many homes are going to be on it and get it done relatively quickly."
Jackson County recently received its first of 18 payments in part of an opioid settlement that will total over $3 million. While there are certain restrictions for how the funds can be spent, the county commission will be in charge of deciding how to allocate that money.
"I think it should go to drug treatment," said Letson. "One of the biggest issues we have is mental health in this area, and that follows suit with drug treatment."
"Right now, we are being very slow to decide how to best use those funds," said McMahan. "At this point our plan is to take a look at the different ways that money can be spent and evaluate each of those components. We're going to bring people from each of those fields in to talk to the board. Most likely it will be a broad approach that will utilize a couple different options. The other thing I feel very strongly about personally is prevention. I think trying to promote and keep people from ever getting on drugs in the first place is a huge task and we ought to focus some effort on that."
The county has also floated the idea of forming a regional partnership to use the funds more effectively.
"We as a region recognize that working together in partnerships with our seven western counties, we stand a greater chance of being able to put that money to better use partnering together than we would to try to go it alone," said McMahan. "We might be able to leverage services that we would not be able to leverage on our own and we would help each other; we all share in this problem."
For McMahan, internet access is a vital need in Jackson County. Under his leadership the commission has set aside a significant amount of American Recovery funds to match broadband grants.
Human service needs are another priority for the incumbent chairman.
"We don't have a women and children's domestic violence shelter, but that is something that we are working on to try to make sure the community has those services in house," said McMahan. "Dealing with the homeless population, that's a need that is regional, trying to find an adequate way to help those people get on their feet."
One of Letson's priorities is helping businesses that are being affected by the NC 107 project. At least 35 businesses are having to relocate due to the construction that will widen the road and make it safer for vehicles and pedestrians. The county recently partnered with the Jackson County Chamber of Commerce to create a grant program for those affected businesses. Letson doesn't think this is enough.
"We've hit the point now where it's going to cost us more to move these businesses than it should've," said Letson. "Five years ago, it was under consideration, we should've been working with them from then. It is troublesome to think that we've waited until two months ago to start focusing on how we're gonna help these other businesses."
One stop early voting runs Oct. 8 through Nov. 5, Monday through Friday, 8 a.m. to 7:30 p.m. and Saturday, Oct. 29 and Nov. 5, 8 a.m. to 3 p.m. Election Day is Nov. 8, polling places are open 6:30 a.m. to 7:30 p.m. Check your voter registration, view your sample ballot and find your assigned Election Day polling place at jcncelections.org.