Archived News
After removing sensitive objects, Cherokee museum fills empty cases with artistic responses
Wednesday, September 14, 2022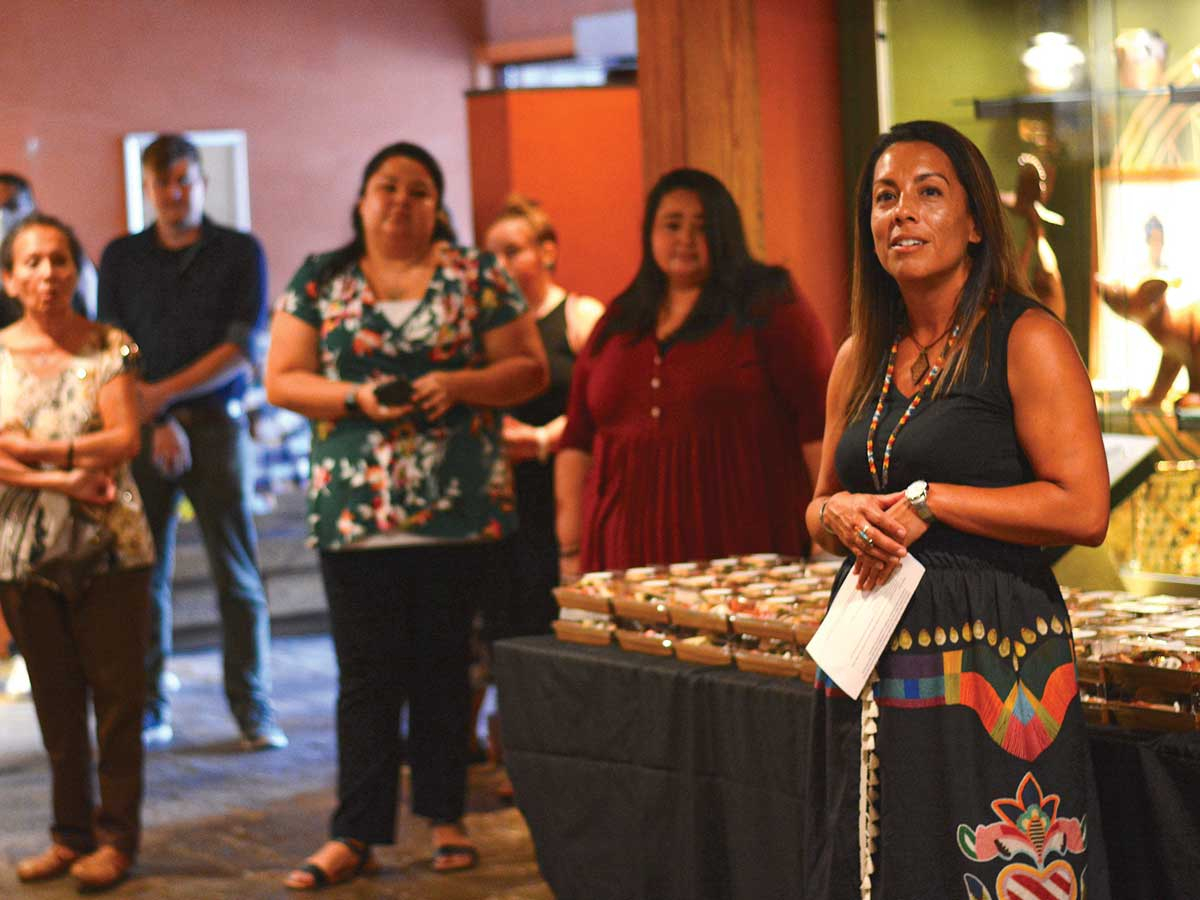 Museum Director Shana Bushyhead Condill addressed the community leaders and artists gathered for the opening of "Disruption" Sept. 7. Holly Kays photo
Navigating the darkened exhibit halls at the Museum of the Cherokee Indian is slow work on Wednesday evening, Sept. 7. Cherokee people — many wearing traditional ribbon skirts and beadwork — throng the halls, cluster around exhibit cases, and point proudly at the displays of brightly colored artwork that pop alongside the neutral color palette of the archeological objects surrounding them.
"This is the first time that I'm here that it's all Cherokee people," says Principal Chief Richard Sneed as he works his way through the exhibit. "It's like 95% Cherokee people. This should be the norm. This should be the place where our story is told — past, present, future."
On a typical Wednesday night, the museum would lock its doors at 5 p.m., but tonight it's open late for a special event celebrating a big change to the 24-year-old permanent exhibition. After a careful inventory of its collections, the museum removed pieces from display that are culturally sensitive or were once part of a gravesite. Instead of leaving empty cases behind, the museum reached out to 36 Cherokee artists to create an artistic response to that decision.
The result is "Disruption," an intervention on the museum's permanent exhibition that showcases contemporary art by members of the Eastern Band of Cherokee Indians and Cherokee Nation within the display cases previously occupied by removed objects. These newly created pieces of art stand out against the existing display, which tells the story of the Cherokee people within a chronological timeline.
"Rather than define objects by a time period, we want to define them by a culture and show how it's all tied together," said Evan Mathis, the museum's director of collections and exhibitions.
Tied together
"Tying it together" has been a focus for the museum's director, Shana Bushyhead Condill, since she took the job in April 2021. During a July 2021 interview, she commented that "one of the things we (Cherokee people) battle against all the time is being stuck in history." The lifestyle and cultural expression of European people and their descendants has evolved since the 1800s, and so has that of Native American people. But museums and educational materials don't often acknowledge that.
"Art to me is an expression of the soul, of the spirit," said Sneed. "I always think about the things that were done historically — and we will always hold on to that, and we will always do that — but what does it mean to be a Cherokee today in the 21st century, and how is that being expressed in art today? And I'm very grateful for the fact that Shana is bringing that to the forefront."
The exhibition ties the past and present together literally as well as figuratively.
The museum's timeline starts in the paleolithic area. Between a replica spear and a sign explaining Paleo-Indian hunting techniques, a pink case holding a beeswax sculpture by EBCI member Luzene Hill titled "Matrilineage" stands out from the ancient tools displayed around it. A metal cord tethered to the case rises to the ceiling and then wends its way through the hall, connecting the story across timelines.
Toward the end of the exhibition, the museum's assistant registrar, Atsei Cooper, stands with her husband, cradling their six-week-old baby. On the wall behind her hangs "Three Worlds," an acrylic painting that Cooper, an archeologist by training, created while pregnant with her son. Gold symbols depicting womanhood, pulled directly from artifacts and a vandalized cave art site, contrast against a dark background. It shows the female connection to the "three worlds," Cooper said — this world, the above world and the underworld.
"I really wanted to show how sacred the materials, the places that our ancestors were and left behind, how sacred that is," Cooper said. "How these are still living, sacred places to us, and that we are stewards of them. And it's sad because a lot of these sites have just been destroyed."
John Henry Gloyne, who is a member of the EBCI, Pawnee Nation and Osage Nation, painted this acrylic on canvas piece titled "Ouroboros Uk'tena." Museum of the Cherokee Indian photo
Artifact collecting and questionable ethics
In addition to showcasing local artistic talent, the exhibit asks visitors to consider what they're not seeing.
Next to Cooper's painting hangs a large sign titled "Looting and its Impact," explaining the importance of leaving Native American artifacts in the places their original owners left them. Objects removed from the museum displays include items retrieved from Cherokee gravesites or associated with sacred religious rituals — pieces that aren't appropriate for public display in a museum toured by an estimated 83,000 visitors each year.
Most museums derive their collections from the rush of artifact gathering that occurred in the 1800s, when the goal was simply to document what was then believed to be a dying culture, Condill said. At the time, people thought that Native Americans wouldn't be around for much longer, heightening the importance of documenting those cultures before they went extinct.
"I would question the ethics of all of it, of course, because digging up grave sites wasn't something that we ever gave permission for," Condill said. "That was a decision that was made for us. We would call that looting."
However, collections gleaned from old gravesites frequently ended up in museum display cases, because often those items were the most intact examples of Native American craft available.
"Those perfect pots, those beautiful necklaces, that sort of thing, they were intended to stay with our ancestors," Condill said. "To find those and then also put them on display, it's insulting to us and our sensibilities."
The same goes for items used in rituals for the native religion that Cherokee people still practice today.
"They weren't intended to be on view for the public," she said. "We still use ceremonial objects today, so this is not something that's past history. This is this is very current and meaningful for us. And there are specific protocols that are in place for ceremonial objects."
In 1990, passage of the federal Native American Graves Protection and Repatriation Act recognized this reality, stating that human remains of any ancestry "must at all times be treated with dignity and respect" and that human remains or other cultural items removed from federal or tribal lands must be returned to the tribes they belong to.
"NAGPRA was supposed to be the first step in the right direction, but there is a whole moral component that comes with caring for museum collections," said Dakota Brown, the museum's director of education. "As a tribal museum, we have even more of an obligation and responsibility to the objects, because we consider them ancestors, not just artifacts. The people who made these, who put their energy and creativity into those objects, used them, wore them — we're being respectful of them."
Titled "Matriarch," this piece by EBCI member Lori Reed is made with coil-built and kiln-fired clay, white clay slip, commercial tanned buckskin leather, sinew, wire ear hooks and dyed porcupine quills. Museum of the Cherokee Indian photo
Planning for the future
The effort to remove these items from display began in January, one month after Mathis started his job as director of collections and exhibitions. Mathis led an inventory of the museum's collections, consulting with Beau Carroll, lead archeologist at the Tribal Historic Preservation Office, as well as with numerous community members, to identify funerary and sacred objects to be removed from display.
"Once we started identifying objects that probably shouldn't be on view, we felt a real sense of responsibility to act," said Condill. "That's what this (Disruption) is. It's a temporary solution that we can feel good about."
"Disruption" is scheduled to remain on display through Sept. 11, 2023. In the interim, museum staff will work on planning for a complete renovation of the permanent exhibit, something that's been on Condill's mind since she took the director's job last spring. The current exhibition was an innovative display when first created in 1998, she said, but 24 years later much of it has an outdated appearance, not to mention that finding replacement parts for the 1990s-era technology is becoming increasingly difficult.
In February, Tribal Council approved a resolution that designates a portion of the Kituwah property in Swain County for a new permanent museum collections and archival facility. The facility will allow the museum to better care for its growing collections and will also create more space for a reimagined permanent exhibit at the downtown location.
The permanent collections and archive facility may also provide a new home for some of the objects pulled from public display. The museum is working with Carroll and THPO to review each removed object and decide what to do with it now. Some may be repatriated back to the tribe, while others might remain in museum custody, available for view by tribal members but not placed on public display.
"We just have to make those designations on a case-by-case basis," Condill said. "It'll take a lot of time."
However, after the community's enthusiastic response to last week's event, she's certain that the museum is moving along the right path — connecting the present with the past, and exuding relevance for the local community and tourist population alike.
"For Native people walking through the museum, I want them to feel welcome and seen, that this is for them," said Condill. "But for the non-Native folks walking through the museum, I want them to feel like we're bringing them along, that they can connect. And I think contemporary art is a really fabulous way to do that."
Leave a comment
3

comments
I recently visited your museum for the third time during my 63 years. I must admit that I was pretty confused as to what was going on there as we walked through the museum. I had hoped to view your movie as that is a good way to get an overall history, but it didn't appear to be functioning so after trying to figure out what you had to do to get it working, I gave up and moved on. As we walked through the exhibits, I was confused by the contemporary art mixed in with vintage artifacts etc. I noticed that some displays had audio as I saw what appeared to be a speaker but they didn't appear to be working either. I spent a little while trying to get it to work but to no avail. The experience left me with a feeling of frustration and confusion as to what was going on there.
As we were leaving I stopped and spoke to the man who took our payments and gave us our tickets as we entered. I asked about why the theatre wasn't working and why it appeared that modern art was replacing vintage artifacts. The man seemed disturbed and upset that I asked about this and angrily tried to explain why artifacts had been removed and very much in my face said that if the Cherokee had their way they might just take all of the artifacts away and we would never see them! I must admit that I was shocked by the fact that he was so upset that I had asked about the changes in the museum etc.
I thought to myself, instead of leaving the visitors to fend for themselves with the non-functioning exhibits, modern art, etc. wouldn't it be a good idea to give an overview of the changes taking place and what to expect to visitors before you take their money or at least before they enter?
I think it would also be great if someone asks about the current trends of the museum that the docent / ticket taker doesn't become emotionally charged and angry as if I am an enemy.
After a number of visits to this museum and the village over my lifetime, I have no desire to return after this experience or lack there of.

Tuesday, 10/04/2022

A'HO I wish you were closer so I could see. There are artifacts probably still underground at Antietam Creek near the Antietam battlefield in Maryland. I read in my cavng book that there was once an Native American home on one side of the creek and that they buried their loved ones on the other side. It also said that shards of pottery and other items were found there. I don't know where they ended up. I was curious if you knew anything about this, as I am part Cherokee and part. Much respect to all elders and ancestors. Iroquois

Wednesday, 09/21/2022

Hello!! I have a cabin in Sylva NC. Where is the museum ??

Thursday, 09/15/2022