Archived News
SMN wins prestigious honors at Press Association conference
Wednesday, August 31, 2022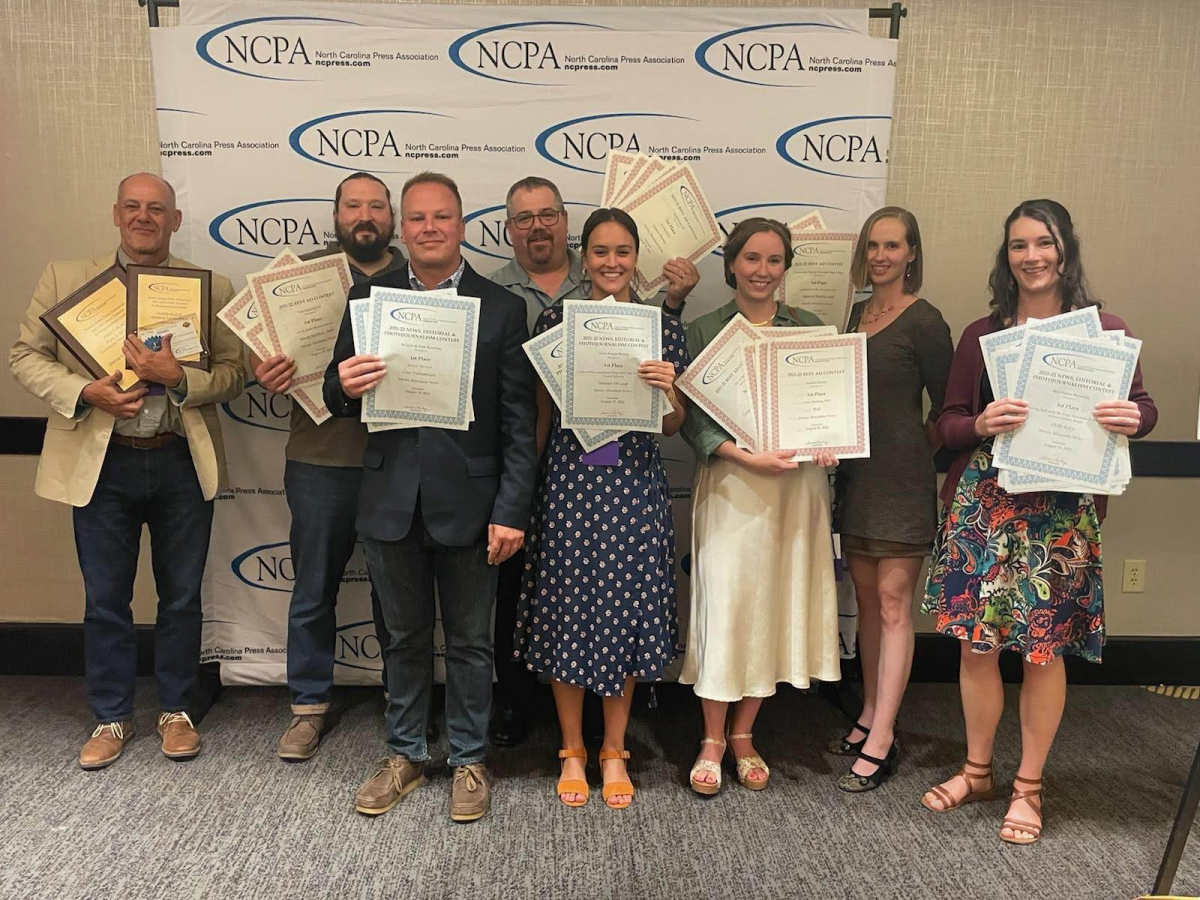 Smoky Mountain News staffers (from left) Scott McLeod, Kyle Perrotti, Cory Vaillancourt, Greg Boothroyd, Hannah McLeod, Sophia Burleigh, Jessica Murray and Holly Kays holding awards at the N.C. Press Association ceremony held Aug. 24 in Raleigh.
The Smoky Mountain News won 16 advertising awards and 20 editorial awards from the N.C. Press Association in a ceremony last week, including the prestigious Public Service Award for its coverage of the flooding from Tropical Storm Fred.
The Public Service Award is given to one daily, one non-daily and one online newspaper each year. Judges had this to say about the SMN's coverage of aftermath of the flooding: "Impressive, extensive reporting to the community. It was breaking as it needed to be, retrospective and the paper joined the community in its recovery efforts by offering ways to help, tips on where to get help and cosponsoring a concert to aid in relief. Great job."
"I can't be more proud of our staff as the community suffered through this disaster," said Publisher Scott McLeod. "Everyone who works here played a part in the coverage and in finding ways to help those affected in whatever way we could. This flood hurt, and recovery isn't over yet."
The newspaper also placed third in General Excellence, a category that ranks papers on all aspects of news coverage, writing, design, use of photographs and design.
The awards were handed out during an in-person ceremony held in Raleigh. Categories in the NCPA contest are based on circulation, and The Smoky Mountain News is in the largest non-daily category.
The Smoky Mountain News also won the Metro Award, given to the newspaper in each category that earns the most advertising awards. The SMN sales force and its designers won seven first-places, three second-places and five third-place awards for their creativity and design.
SMN Graphic Designer Jessica Murray won 8 awards including four first-place awards, one second-place and three third-places. Advertising salesperson Sophia Burleigh won two first-place awards and two second-place awards.
In the editorial division, SMN writers Holly Kays, Cory Vaillancourt, Hannah McLeod and Garret K. Woodward all won awards. First-place went to Kays for Feature Reporting, to McLeod for Feature Writing, and to Vaillancourt for Religion and Faith Reporting. In addition, Kays won second and third place for investigative reporting. Woodward won for his columns and in the Feature Writing category for a piece about Santa Claus. Vaillancourt and the news staff also placed second in News Feature writing for a combined story about the flooding from Fred.
The entire list of the awards won by The Smoky Mountain News staff is below:
Advertising:
1ST PLACE Community Service Signature Page, Greening Up the Mountains 2021, Amanda Bradly, Staff

1ST PLACE, Entertainment Ad, Grit & Grace Benefit Concert, Micah McClure and Staff

1ST PLACE, Motor Vehicle Ad, Waynesville Tire, Greg Boothroyd, Jessica Murray

1ST PLACE, Real Estate Ad, RCJ Building, Jessica Murray

1ST PLACE, Retail Ad, Valley Cigar & Wine, Greg Boothroyd, Jessica Murray

1ST PLACE, Small Ad, Blue Ridge Books, Sophia Burleigh, Jessica Murray

1ST PLACE, Special Section, Green Building 2021, Staff

2ND PLACE, Innovative Concept/Wild Card, Taste of the Mountains, Staff

2ND PLACE, Motor Vehicle Ad, Ensley Tire Service, Greg Boothroyd, Jessica Murray

2ND PLACE, Niche Publication, Aspire 2021, Staff

3RD PLACE, Entertainment Ad, Maggie Valley 4th, Jessica Murray, Sophia Burleigh

3RD PLACE, Institutional Ad, Lake Junaluska Assembly, Sophia Burleigh, Jessica Murray

3RD PLACE, Niche Publication, Smoky Mountain Living Magazine, Staff

3RD PLACE, Small Ad, Blue Ridge Books, Sophia Burleigh, Jessica Murray

3RD PLACE, Use of Humor, Butter My Biscuit, Greg Boothroyd, Jessica Murray
Editorial

1ST PLACE, Beat Feature Reporting, Living high with the hogs: Mountain hog farm revives historic breed, Holly Kays

1st PLACE, Education Reporting, Teaching diversity, Staff

1ST PLACE, News Feature Writing, Long overdue regulation bans rebel flag in Haywood County Schools, Hannah McLeod

1ST PLACE, Religion & Faith Reporting, Keepin' the faith, Cory Vaillancourt

2ND PLACE, Email newsletter, Blue Ridge Motorcycling Newsletter, Susanna Shetley, Michael Gouge

2ND PLACE, General News Reporting, 'And then it was too late': Flood warning timeline reveals challenges of mountain forecasting, Holly Kays

2ND PLACE, Investigative Reporting, Resident debate: Student, professor field death threats amid debate on diversity training, Holly Kays

2ND PLACE, Lighter Columns, This Must Be The Place, Garret K. Woodward

2ND PLACE, News Feature Writing, The Pigeon River Flood of 2001, Cory Vaillancourt & Staff

2ND PLACE, Serious Columns, Something to give, Scott McLeod

2ND PLACE, Sports Enterprise Reporting, Canton's catalyst: Chestnut Mountain aims for April open, Holly Kays

2ND PLACE, Sports Feature Writing, Paralyzed woman attempts Trail of Tears bike ride, Holly Kays

3RD PLACE, Beat Feature Reporting, ACAB, Cory Vaillancourt

3RD PLACE, Feature Writing, The Day Santa Came To Red Fox Loop, Garret K. Woodward

3RD PLACE, General News Reporting, Two injured in bear encounter, Holly Kays

3RD PLACE, Investigative Reporting, Sediment spill spurs dam removal efforts, Holly Kays

3RD PLACE, Profile Feature, Art of the invite: Brevard business aims to increase Black participation outdoors, Holly Kays

3RD PLACE, Religion & Faith Reporting, The Creative Though Center: For many, the final step on a spiritual journey, Hannah McLeod
Leave a comment
7

comments
Congratulations to all! Not surprised though!

Friday, 09/02/2022

Congratulations Scott, Kyle and everyone at SMN! Awards well deserved and there are many more articles that were award worthy IMHO! We so appreciate the breadth of what you cover and how you do...keep up the good work!

Friday, 09/02/2022

Congratulations Scott, Kyle and everyone at SMN! Awards well deserved and there are many more articles that were award worthy IMHO! We so appreciate the breadth of what you cover and how you do...keep up the good work!

Friday, 09/02/2022

Another impressive year at NCPAContest Awards gathering. We who read the SMN are the beneficiaries of your fine publication as we are informed and entertained weekly. Congratulations and thanks for your important contribution to the quality of life in our communities.

Friday, 09/02/2022

Well...of course. Always awesome! What an asset to the Western Carolina/Haywood County area!!!

Thursday, 09/01/2022

Congratulations, y'all! Excellent job!

Thursday, 09/01/2022

Congratulations to all! Love reading and keeping up with what's going on in the mountains of Western North Carolina.

Thursday, 09/01/2022