Archived News
Relax with cats at an Airbnb in Clyde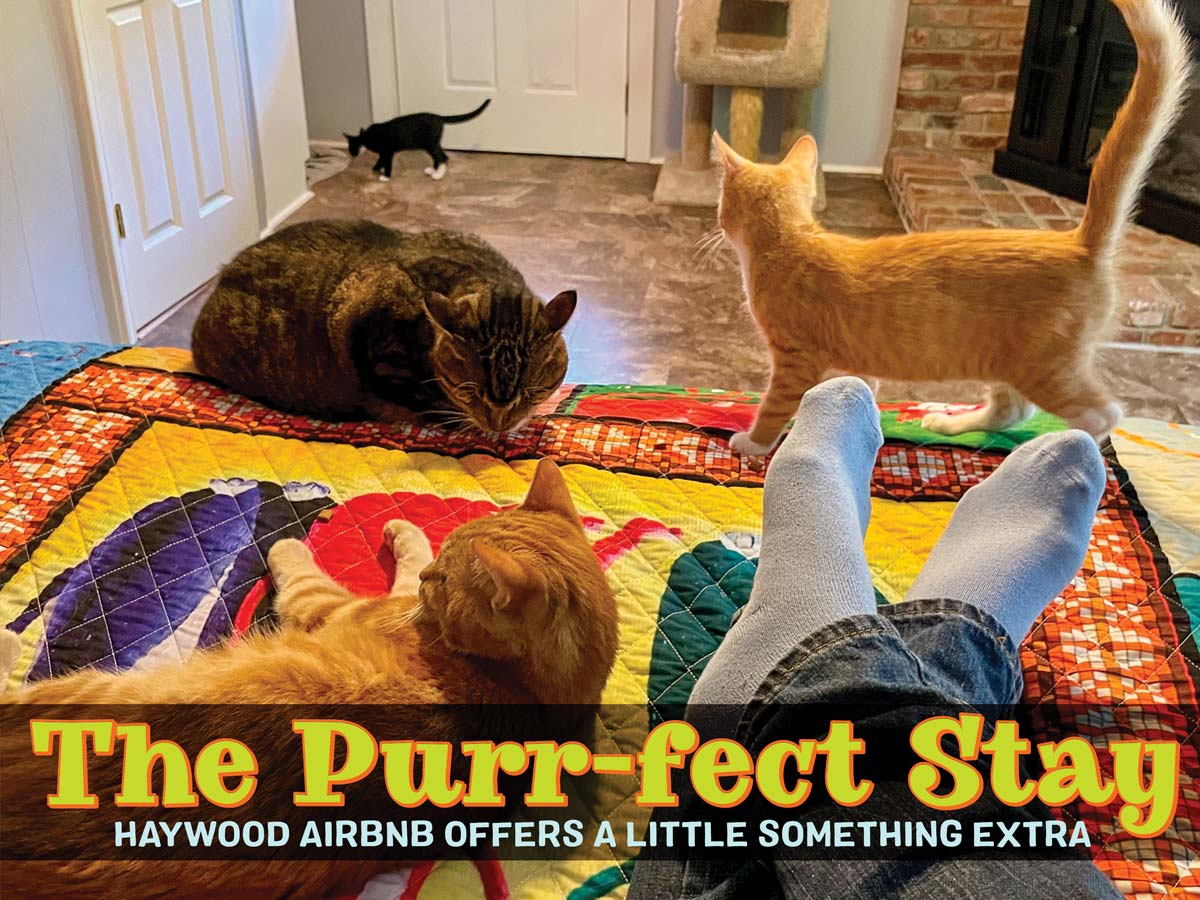 Sometimes, the trip isn't about the journey — it's about the destination.
When visitors come to Western North Carolina, there are scads of available short-term rentals sure to make any trip unique. Some have stunning mountain views or access to trout streams. Some are converted barns tucked away in isolated, idyllic coves. Some are tiny homes. Trailers. Tents. Yurts. Around here, there are even Airbnbs in the trees .
In Haywood County, there's one destination where it's not about the scenery or the fishing or the Instagram glamping scene.
"It's 100% cat-related," said Kim Dolan, a California native with the perfect mix of experience in disaster relief, hospitality and veterinary medicine.
Dolan's rental is a single-room, bright, colorful and clean, well-kept with modern furnishings and featuring a coffee nook, a two-top writing desk and a full bathroom with shower.
It's booked about 50% of the year.
"The leaf lovers come in droves, because it's so beautiful here. And it's close to everything. The Blue Ridge Parkway, Waynesville is 10 minutes, Asheville is 30 minutes," Dolan said.
As Dolan promised, there's cat décor everywhere. They're on the walls, on the curtains, on the big ol' comfy bed. But it doesn't stop there.
With the twist of a dial on a small cat door near the front entrance, a steady stream of curious kitties begins flowing into the room.
First, it's chonky, grumbling Alfie , a blind 7-year-old whose owner recently passed away. Then it's 4-year-old Riley, who slinks his way over to the bed and springs atop it in an instant. After them it's sweet Bella, a 14-year-old who loves guests.
Riley the cat sprawls out on the bed in an Airbnb in Clyde. Cory Vaillancourt photo
Others come and go, meowing a brief hello and sniffing around the place with indifference until they lose interest.
Behind that small cat door is Dolan's house, which doubles as Love and Purrs Sanctuary , a nonprofit dedicated to caring for at-risk cats and kittens and finding them forever homes.
"We're located on a cat sanctuary, so all of our guests pretty much love cats and they want interactions with cats," Dolan said. "The cats will come into the room if they want them to and sleep with them and snuggle with them. They think it's a great cause because the money helps support the sanctuary cats here."
About four years ago, Dolan opened a cat rescue in Nashville, Tennessee.
"When I started, I had a lot of cats there and one of my adopters was like, 'You should do an Airbnb,'" Dolan laughed. "So I started it, and it flew off the handle."
Two years ago, she moved near Clyde to be closer to her parents, daughter and grandson and brought her operation here.
"I work full time at the sanctuary and it's a 100% volunteer organization. Nobody gets paid any money, so I had to think of other avenues to sustain things because rescue is very expensive and we get all of our money from donors and adopters and vet bills are outrageous," she said. "I'm a pet sitter, and I also do this Airbnb to help sustain the more than 50 cats and kittens in our care right now."
Dolan's home, which is off-limits to guests, is neat and tidy despite the presence of her furry friends. Automated litterboxes help keep it that way.
Throughout the sanctuary the cats have plenty of options for sleeping, hiding out or playing with the others, which keeps them healthy and happy. They also embark on regular visits to the vet.
Sequestered in a small side room are the tiniest of kittens. Another small room segregates juveniles. Adult and senior cats roam freely, with access to the outdoors through another cat door, which in turn leads to an outdoor "catio" where guests are welcome.
Cats are free to move from the catio to the large, shady yard thanks to semi-rigid plastic cat fencing that bends inward about seven feet off the ground, keeping the most intrepid of climbers safely confined.
Several seating areas strewn about the yard offer guests the opportunity to gaze upon the profound beauty of nearby mountains, or just engage in a lazy afternoon of some good old-fashioned cat-watchin'.
Guest reviews of the sanctuary on Airbnb are filled with superlatives and support the rental's stellar 4.96 rating.
"This was my second stay at the cat sanctuary, and I'll be coming again next year as well," says Lyle from New York, who stayed with Dolan in July. "The kitties are so amazingly sweet, affectionate and well-behaved! You'll get visits from four or five or more each night and hate to say goodbye. Kim is a kind and gracious host who has done a tremendous job of saving these cats and helping them share their love and beauty with the world."
Dolan remembers the one guest who stayed the longest.
"He stayed for a week. He wrote his grad school thesis here. He said it was one of the best weeks he ever had," said Dolan. "We get compliments all the time. They always say it's so relaxing, how unique of a stay it is, how there's cats everywhere and they've never seen anything like it."
Not only does the rental support the sanctuary, it also exposes guests to cats they may or may not have been planning to adopt.
In fact, there's an adoption contract included in the welcome book for those who make a connection with one of the resident cats and can't bear the thought of saying goodbye once their stay is over.
"Because of Airbnb visitors, we've had 10 guests that have adopted, just from being guests," said Dolan, who screens applicants and checks references before placing cats with guests.
If all goes well, it's pretty likely you could show up catless, test drive a few, and leave cat-laden.
"I keep in contact with all my adopters. The cats are like my little children. One of my most special adoptions ever was a woman that stayed in the Airbnb in Nashville where we started," Dolan said. "She stayed for a week and she adopted a little kitten that nobody wanted. Her name was Beauty the Little Kitten. She flew the kitten all the way back with her to California and two years later, she moved from California to Nashville. I talk to them all the time and get updates. That kitten went full circle."
According to People for the Ethical Treatment of Animals, there are between 60 and 100 million feral cats living in the United States today. The American Society for the Prevention of Cruelty to Animals says that 3.4 million cats enter shelters every year. More than 40% are euthanized.
One doesn't have to adopt to contribute to the mission of Love and Purrs Sanctuary. Donations are accepted on the sanctuary's website. Likewise, one doesn't have to stay at Dolan's Airbnb to adopt — but it is a smart move.
"It helps if you stay here," Dolan said, "because I can meet you and see if the cats love you."
Find Dolan's rental on Airbnb , along with photos, reviews, rates and more. For additional information on Love and Purrs Sanctuary, visit loveandpurrssanctuary.org .