Archived News
Substantial voter fraud alleged in Lake Santeetlah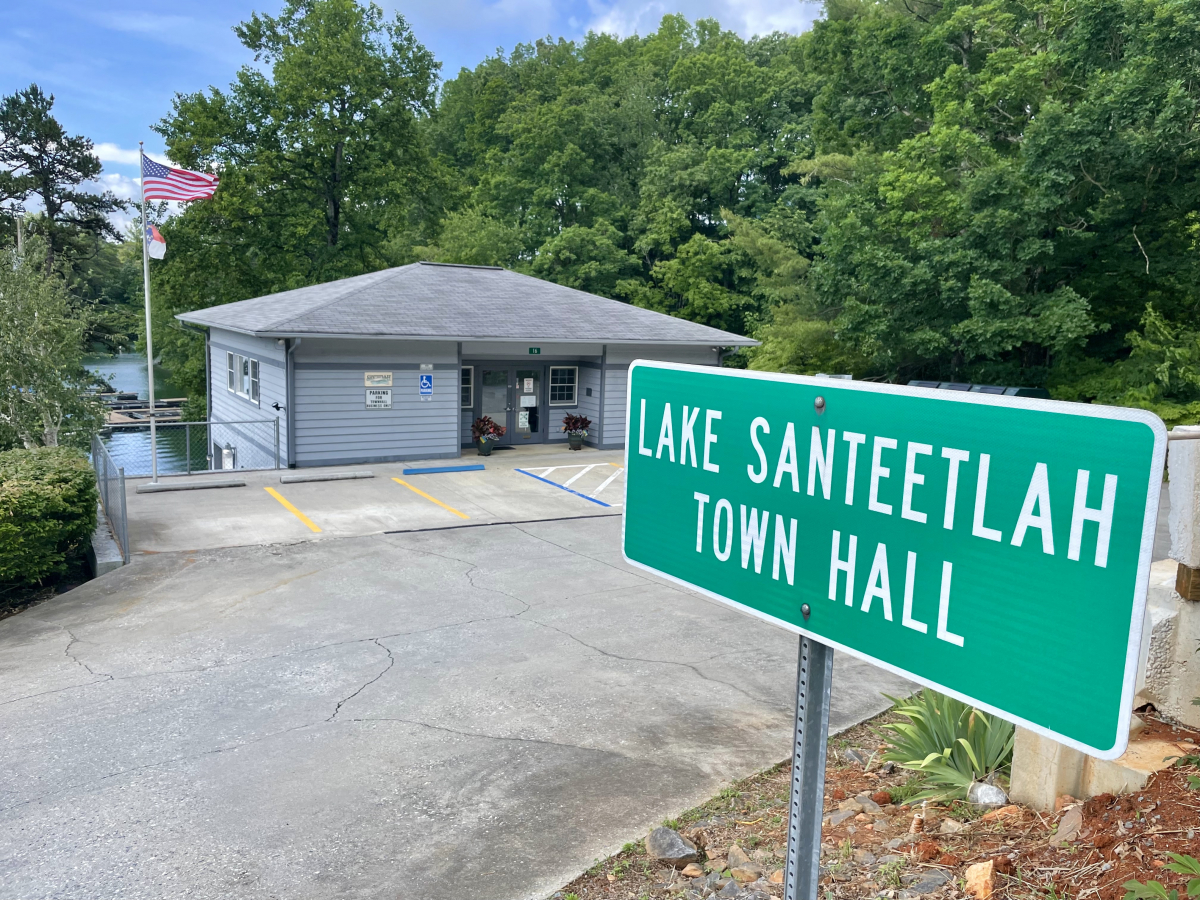 A series of voter registration challenges could mean big trouble in little Lake Santeetlah.
Cory Vaillancourt photo
It may look like any other rustic vacation community, but beneath the placid surface of Lake Santeetlah, division runs deep.
As one of North Carolina's smallest incorporated municipalities, voters are few but problems are many, pitting neighbor against neighbor, locals against seasonal residents and a town government acting as an entity unto itself plotting to subvert existing zoning regulations.
Those divisions may grow deeper after explosive allegations of voter fraud were filed by a member of the town council — against another member of the town council and seven others — earlier this month.
If the challenges are sustained, this tiny community's governing board could see huge consequences.
If they're not, the beloved lakeside retreat could be rendered unrecognizable.
Deep within Western North Carolina's Nantahala National Forest in rural Graham County lies scenic Lake Santeetlah, created in 1928 when aluminum giant Alcoa dammed the Cheoah River to produce hydroelectric power.
The lake boasts almost 80 miles of coastline, snaking through isolated coves and lapping at the shore far below knobby mountain peaks blanketed by old-growth forests.
During the 1960s, investors from Florida's east coast began to develop homesites around the lake, marketing to residents of Atlanta and Fort Lauderdale a refreshing mountain getaway from the stifling seasonal heat.
As summer vacation homes began to dot the hillsides — small campers or modest ranch-style homes, some with boat docks, crammed into every available cranny on the steeply sloping banks — it became increasingly clear that a certain sense of overriding order was needed to maintain the physical integrity of the settlement.
In 1989, the Town of Santeetlah was chartered by the North Carolina General Assembly, mostly to provide clean water and maintain the labyrinthine network of single-lane one-way roads winding around a half-mile long peninsula jutting out into the water.
At that time, a simple zoning ordinance was enacted to ensure slapdash construction practices wouldn't hamstring future development. In 1999, the town was renamed Lake Santeetlah and boasted a population of 67 permanent residents in 38 households. Today, the U.S. Census Bureau estimates that there are around 40 permanent residents and 192 homes.
The town is governed by an elected board of five councilmembers who serve four-year terms and choose their own mayor by vote from among their ranks. The town's most recent budget, passed on June 9, totals less than $380,000.
Roger Carlton is a former city manager and assistant county manager in Dade County, Florida, where he helped prepare the county's first billion-dollar budget. The Miami native has owned property at Lake Santeetlah for almost 20 years and became a permanent resident in 2013 after a five-decade career in local government administration.
Some years back, Carlton was appointed to fill a vacancy on the Lake Santeetlah town council.
"When I first got involved, and this is six years ago maybe," Carlton said, "I read the code and I said, you know, this is outdated."
Carlton left the council for two years to work briefly in Florida. When he returned, he was reappointed to fill another council vacancy.
"I had one goal when I went back on the council," Carlton said, "and that was to get the zoning thing done."
At the time, Lake Santeetlah was the only jurisdiction in Graham County that had zoning.
"The people who moved here, who invested here, by and large 95% of them had that as a major factor in their decision to buy here," he said. "They wanted the trees protected. They wanted the setbacks to be reasonable. They didn't want to live on the side of a mountain and have somebody build a house below them, blocking their view of the lake. It was that kind of stuff, but it was an old-fashioned code."
In 2019, Carlton won election to the council and tied Jim Hager for the most votes with 15.
"When I came back up and I got on the council, the work that was done [on zoning] became the basis for a fresh start, and it was done right this time," Carlton said, noting the completion of a comprehensive plan and the appointment of a planning board.
Through the summer and fall of 2021 the planning board and town council — Carlton, Mayor Hager, Vice Mayor Keith Predmore, Diana Simon and Kevin Haag — concentrated on passing the zoning update after completing more than two dozen public workshops.
Throughout the zoning update process, Carlton said, Tina Emerson and Jack Gross offered sustained disagreement.
A community survey issued by the planning board in late 2019 as part of the comprehensive planning process asked residents to choose the town's "three greatest weaknesses." The survey received input from more than 50% of the town.
The greatest, according to respondents, wasn't property management or zoning or security or residency issues. It was Jack Gross. Jack's wife Constance and Tina Emerson also received votes. No one else was mentioned by name.
"While we were working diligently to get the code right, Tina and Jack basically were constantly speaking," Carlton said. "I would say between the two of them, and this is a guess, it was probably 15 hours of opposition that we listened to respectfully, the planning board listened to respectfully."
A public hearing to consider the updates was held on Oct. 28, 2021, but was recessed due to problems with the internet connection.
Days later, in the Nov. 2 General Election, Carlton, Haag and Predmore were voted out.
When the public hearing resumed on Nov. 4, before the new council was sworn in on Dec. 9, the zoning update passed unanimously.
"We did it," Carlton said, "but none of us had really focused on the election."
While the 2019 Lake Santeetlah election saw only 75 total votes (voters could cast up to five votes for five council members), the 2021 election saw almost 130.
Tina Emerson, Constance Gross and Ralph Mitchell, a longtime resident of the lake, all tied with 14 votes — good for three seats on the board. From the previous council, only Simon and Hager were reelected.
On Nov. 17, 2021, the Graham County Board of Elections summarily dismissed residency challenges filed by Simon against councilmembers-elect Tina Emerson and Constance Gross due to what the board called incomplete filings, according to reporting by the Graham Star. The merits of the challenges were never heard.
"I filed candidate challenges, but my filings were only a couple of the numerous challenges filed in the 2021 Lake Santeetlah election," Simon told The Smoky Mountain News. "When I first saw the election results, they seemed irregular, and I asked Board of Elections staff to provide what I thought would be the correct paperwork needed to contest the outcome of the election. Not being a lawyer, however, I didn't understand or realize that the paperwork I was given wasn't the paperwork needed to challenge the votes of non-residents and the qualifications of those elected to hold office. As a result, my previous challenges were dismissed without being considered."
When the new council was sworn in on Dec. 9, Emerson commented that she had "rescinded" her residence in Matthews, North Carolina, which is in Mecklenburg County, just southeast of Charlotte.
Simon claimed that Emerson had been in Lake Santeetlah only three days since November 21, and asked that she resign from the town council immediately.
Incumbent Mayor Jim Hager then nominated leading vote-getter Simon to serve as the new mayor.
On boards that choose their own presiding officer, the person with the highest vote total is usually nominated, a practice enshrined in custom but not in statute.
According to meeting minutes, all three new council members — Emerson, Gross and Mitchell — voted no. Mayor Hager then nominated Mitchell, who declined. Emerson nominated Gross. Simon and Hager voted no, and Gross took control of the council with a 3-2 majority.
Simon then nominated Hager to serve as finance officer. Emerson, Gross and Mitchell voted no and instead installed Emerson.
Their takeover of the Town of Lake Santeetlah town government was now complete, and the Emerson-Gross-Mitchell faction of the council moved quickly to advance its agenda.
Lake Santeetlah councilmembers (left to right) Constance Gross, Ralph Mitchell and Tina Emerson were elected in 2021. Town of Lake Santeetlah photo
On Feb. 15, 2022, a resolution authored and presented by Emerson to lower the municipal room occupancy tax from 3% to 0% was presented to council.
Simon, the chair of the Tourism Development Authority charged with collecting and distributing the tax, asked Emerson to recuse herself from the vote due to an alleged financial interest. She didn't, and the resolution passed 3-2, over the opposition of Hager and Simon.
A subsequent April 21 budget workshop proposed defunding the town's zoning administrator.
At the outset of the May 12 council meeting, the ousted Predmore sarcastically "welcomed" Emerson back to Lake Santeetlah.
Simon made a motion to reverse the decision to defund the zoning administrator position, but because Hager wasn't at the meeting, her motion died for lack of a second.
Later in the meeting, a public hearing was called for May 26 to discuss repealing the town's zoning ordinance. More than 90 people attended that meeting, via Zoom.
Of the 25 or so who spoke only five supported the repeal of zoning, including Jack Gross, who said that the ordinance "cannot continue to exist." Stephanie Danforth implored council members not to "take our paradise away by putting so many regulations in place that we have to jump through hoops to get things done."
Another 18 people spoke in opposition to the idea of repealing the town's zoning. Jim Pittinger asked Vice Mayor Mitchell to "stand up" against the intent of a few individuals.
"Be a true statesman and don't blindly follow the direction of a few misguided individuals," Pittinger said, according to meeting minutes. "Any person holding public office, regardless of the means used to obtain that position would hopefully have moral and ethical standards when it comes to representing the majority of homeowners on this issue. Otherwise, we don't have a form of representative government but a form of dictatorship being forced on the homeowners that have no representation."
Pittinger also said that not one homeowner spoke in favor of defunding the zoning administrator position, but that the council majority of Gross, Emerson and Mitchell had ignored that fact.
Jonathan Keith, a property developer and resident of Lake Santeetlah, said he could not "responsibly plan and develop property without zoning and land use regulations."
Resident Betty LoBue said that by eliminating the existing zoning ordinance, "you will open the door to uncontrollable overbuilding … for the profit of a few."
Hager said that 97% of the emails received by the town on the zoning issue were against repeal.
Near the end of the meeting, Emerson called for the town's planning board to submit a written recommendation on zoning to the council for the town's June 9 regular council meeting.
At the meeting, the board passed the town's fiscal year 2022-23 budget, defunding the zoning administrator position, as well as kudzu removal and lake water quality testing. No planning board recommendation was mentioned, so the zoning repeal remains undecided.
The town's next regular meeting is scheduled for July 14, but if council member Diana Simon has her way, one of the current board members won't be there.
On June 1, Simon (above) filed a new series of challenges that could have a ripple effect on town government.
In North Carolina, any registered voter in a particular county can challenge the right of any other person to register, remain registered or vote in that county. Filing a fraudulent challenge is a felony.
Challenges are lodged with the county board of elections, which must schedule a preliminary hearing, take testimony and receive evidence. The burden of proof is on the challenger, and if the board finds probable cause, it must schedule a hearing on the matter.
Simon's challenges offer a series of parallels to a recent, well-publicized challenge involving former congressman and chief of staff to then-President Donald Trump, Mark Meadows.
In March, 2022, Charles Bethea, a writer for the New Yorker, revealed that Meadows had registered to vote at a rundown trailer in Macon County and along with his wife, Debbie, voted there in the 2020 General Election.
During his investigation Bethea spoke to Duke University adjunct public policy instructor Gerry Cohen, who was a staff attorney for the General Assembly when he wrote the state's voter challenge statute.
Cohen told Bethea that while you can have more than one residence, you can only have one domicile, and that's where you should be registered to vote. Cohen further explained that to qualify as a domicile, it must be a "place of abode" where you've spent at least a night, and where you plan to remain indefinitely "without a present intent to establish a domicile at some other place."
There's no single, definitive way to establish that intent, but there are a number of ways to bolster the claim like with a driver's license, utility bills or vehicle registration.
Meadows' alleged Macon County "residence" didn't even have a mailbox.
He's since been purged from Macon County voter rolls, and the case has drawn scrutiny from the State Bureau of Investigation.
A simple change in registration address is not sufficient grounds for filing a challenge; voter-specific evidence must be presented, which is exactly what Simon did.
After a public records request, the Graham County Board of Elections provided the challenges to SMN.
The first challenge targets councilmember Tina Emerson.
Voter records from the North Carolina State Board of Elections show that she registered at 124 Santeetlah Trail on Sept. 28, 2021, and voted in the Nov. 2, 2021, Santeetlah election as well as in the May 17, 2022, Primary Election.
Prior to that, she voted from a Mecklenburg County address on Swancroft Lane from 2020 all the way back to 2004. Mecklenburg County GIS records show the Swancroft property is owned by John J. and Tina M. Emerson.
Graham County property and tax records list the home at 124 Santeetlah Trail as being owned by John J. and Tina M. Emerson. The address listed in the owner's account information — where they receive their tax bill — is Swancroft Lane in Mecklenburg County.
But Graham County records also list another property, 106 Santeetlah Trail, as being owned by John J. and Tina M. Emerson. The owner's account address is likewise listed as the Swancroft Lane property in Mecklenburg County. Currently, that property is listed on a vacation rental site as being hosted by "Tina."
Guest reviews for that cabin mention "Tina and John" as owners, which is likely the basis of Simon's Feb. 15 request for Tina to recuse herself from the TDA tax vote.
Simon offers in support of her challenge a sworn affidavit, as well as 76 photographs of Emerson's house at 124 Santeetlah Trail taken between Nov. 11, 2021, and May 11, 2022. Simon claims the photographs all show a distinct lack of activity at the property.
Her affidavit states that she drives by the property "on an almost daily basis" and that she has "not observed any cars associated with the owners of the property at the Alleged Residence on a regular basis, and [has] not observed any lights or other use of the property that would indicate that someone was permanently residing at the Alleged Residence."
Councilmember and Former Mayor Jim Hager (left) filed an affidavit in support of Simon's challenge to Emerson, using the exact same language. The affidavit also presents a page from the Lake Santeetlah residential directory, in which Tina and John list the Swancroft Lane address in Mecklenburg County.
Simon, however, took an additional step in her voter challenge. According to her affidavit and evidence she presented, Simon sent two identical letters via certified mail (signature required) to both the Swancroft address and the 124 Santeetlah Trail address. John or Tina signed for the Swancroft letter, but the Santeetlah letter came back as undeliverable.
Per the voter challenge statute, "The presentation of a letter mailed by returnable first-class mail to the voter at the address listed on the voter registration card and returned because the person does not live at the address shall constitute prima facie evidence that the person no longer resides in the precinct."
Prima facie is a legal term which means that in the absence of a rebuttal, the evidence is sufficient to raise a presumption or establish a fact.
The second challenge filed by Simon, against Tina's husband John, contains the same allegations and evidence as the challenge filed against Tina.
Not included in the Emerson challenges is a corporate warranty deed from Florida, obtained by SMN, that lists John and Tina Emerson's address as of Oct. 1, 2021, as the Swancroft Lane address in Mecklenburg County.
The Emersons did not respond to a request for comment by SMN.
During his research on the Meadows registration case, Bethea also learned from Cohen a fairly self-evident problem with the Meadows' voter registrations — if you haven't moved into the building, you can't claim you live there.
That could be bad news for the targets of Simon's six other challenges, all of whom registered to vote at Lake Santeetlah in 2021 using the address of a house that burned down in 2019.
In the February, 2019 issue of the Fairview Town Crier, there appears a profile of the Fairview Animal Hospital in Buncombe County.
"In 1983, two young vets just out of school saw potential in a cornfield off Charlotte Highway. And 35 years later, the same two doctors — Dean Hutsell and Charles Lloyd —are still serving the Fairview community in the building they had constructed for their practice," it reads. "Reflecting back on 35 years, Dr. Hutsell said, 'Fairview has been a wonderful community and continues to be the best place to live. From the time Dr. Lloyd and I … established Fairview Animal Hospital, we have grown together with the community.'"
Buncombe County GIS shows four parcels owned since 2014 by Dean and Linda Hutsell on Lambeth Walk in Fairview.
Graham County GIS records indicate that a house at 310 Thunderbird Trail in Lake Santeetlah is also owned by Dean and his wife Linda as trustees of a revocable trust. Their account address for tax records is listed as the Lambeth Walk address in Buncombe County.
On Oct. 6, 2021, Dean, Linda and their four college-age children Olivia, Amelia, Savannah and Kaylee, all registered to vote at the Thunderbird Trail address in Lake Santeetlah.
Dean and Linda had voted only in Buncombe County from 1992 through 2020, but they, along with all four of their children, voted in the Nov. 2, 2021, Lake Santeetlah election from the Thunderbird Trail address.
Olivia has voting history in Buncombe County dating back to 2016. Her Facebook profile says she moved to Raleigh in 2021, although she's still registered to vote at Lake Santeetlah.
Amelia voted in Buncombe County in 2020. Her Facebook profile says she lives in Asheville, although she's still registered to vote at Lake Santeetlah.
Savannah voted in Buncombe County in 2018 and 2020. Her Facebook profile says she lives in Fairview. Another post by Savannah from May 5 of this year says she moved to Indianapolis for a job, although she's still registered to vote at Lake Santeetlah.
Kaylee does not appear to have an active Facebook profile and has no voting history prior to mailing in an absentee ballot for the Nov. 2 Lake Santeetlah election from the Thunderbird Trail address.
In the "notes" section of the county's property card for the Thunderbird Trail address, it says "house burnt 2019 total loss."
Indeed, when SMN visited the property on June 9, a small crew of laborers were working on the exterior of the house, which did not appear to have a front door and appeared to have an unfinished interior.
"It would be rather difficult to live in a house that burned to the ground and its replacement is still under construction, without a certificate of occupancy," Carlton told SMN on June 10.
In her challenge to Dean Hutsell's registration Simon provided photos from late November 2021 and early January 2022 showing the Thunderbird Trail house in varying stages of reconstruction.
A building permit issued by Graham County in August 2020 for the Thunderbird Trail reconstruction lists the Hutsells' address as the Lambeth Walk property in Buncombe County.
The Hutsells' listing in the Lake Santeetlah residential directory provides the Lambeth Walk address in Buncombe County, just as the Emersons' listing shows their Swancroft Lane address in Mecklenburg County.
Dean Hutsell's Nissan was registered to his veterinary practice address in Buncombe County in 2021.
In April, 2022, Dean Hutsell executed a deed of trust in Buncombe County and used the Lambeth Walk address.
"The Hutsells' vacation home burnt down years ago, and the new home is still under construction, and the Emersons are only in town occasionally," Simon said. "Folks should follow the law and I filed my voter challenges to ensure that occurs."
Dean and Linda Hutsell did not respond to a request for comment.
Now that Simon's eight separate voter challenges have been filed with the Graham County Board of Elections, it's up to the board to conduct a preliminary hearing and determine if there is probable cause for further proceedings.
Director of the Graham County Board of Elections Teresa Garland, however, has been elusive as to when that might preliminary hearing happen.
When contacted for an interview by The Smoky Mountain News on June 8, Garland replied by stating that SMN "may collaborate with the Editor of the Graham Star." Pressed for clarification on that statement several times, Garland offered none. Garland did not respond to further requests for an interview, so SMN visited the Graham County Board of Elections on June 9.
A knock at the door produced no answer, but later, a woman appeared from a side door to take delivery of a refrigerator. When told SMN was looking for Teresa Garland, the woman initially said she "hadn't seen her," but then confirmed that she herself was Teresa Garland.
Garland declined to conduct an interview at that time, referring questions to her board chair Juanita Colvard. Garland did say that she had no idea when the preliminary hearing might be scheduled. Colvard did not return a call from SMN.
Karen Brinson Bell, executive director of the North Carolina State Board of Elections, did offer some insight into what would happen if the voter challenges filed by Simon are successful.
First, the voters would be purged from the voter rolls in Graham County and could be referred to District Attorney Ashley Welch for prosecution, as has happened with Mark Meadows and his wife. Welch recused herself from that matter, and the SBI hasn't yet released any further information on Meadows.
However, in the case of Lake Santeetlah, even if all eight challenges are successful, the results of the Nov. 2 election wouldn't change.
"These challenges are post-election, and the process carried out in the fall for the municipal election was without [successful] challenge and the board reviewed and certified the election," Bell said. "So that stands."
Bell said that there wouldn't be any "re-do" of the election even if voter registration fraud is proven after the election, nor would there be any "recalculation" of vote totals to reflect the fraudulent votes.
"I know of no circumstance where we've done that," she said.
Instead, no matter the outcome of the challenges, it's likely Gross and Mitchell would remain on council since their qualifications to vote and to serve are not at issue.
The outcome for councilmember Tina Emerson would be different if she were to be found to be unqualified.
"Since the election is certified and the person has been sworn in, then if they are found to not be qualified for office then [removal] is a process by the council, not the board of elections," Bell said.
Gerry Cohen told SMN on June 13 that if a registration challenge against an elected official is successful, the council could simply declare the seat vacant, since an elected official has to be qualified to vote for the office they hold.
According to Bell and NCSBE attorneys, absent a local act — SMN couldn't find one — any council vacancy would be governed by NCGS 160A-63 and left to a deeply divided town council to fill.
In addition to the voter residency challenges, there are other potential consequences that could arise for anyone deemed to have fraudulently registered.
Voting fraudulently is a felony, and upon conviction, felons are neither allowed to hold elected office nor to vote until their active sentences are complete.
As to the council votes taken by an elected official before they're deemed to have been unqualified to hold their seat, there's nothing "automatic" about rescinding or disregarding those votes, but it's likely such circumstances could expose those votes — and their consequences — to legal challenges.
"In a town like Lake Santeetlah where less than 30 folks voted in the last municipal election, the registration and voting of non-residents threatens to change the outcome of elections and influence important community issues," Simon said.
Leave a comment
5

comments
"Director of the Graham County Board of Elections Teresa Garland, however, has been elusive"

My 1st thought about this line was:

SMN reporter in the woods with men standing around him with
one saying "You have a auful purty mouth mr. reporter boy"

Graham County was a "Sundown town/county" until the 70's...so
none of this should surprise us.

Great Work SMN!!!!! You are SOOOO needed in this day/time!!

Thursday, 06/16/2022

Excellent coverage of a travesty that is impacting our small community. Thank you for spending the time investigating this. Ms. Gross (and Mr. Gross by proxy), Ms. Emerson and Mr. Mitchell should be prosecuted. I hope the Graham County Board of Elections will do the right thing on July 7th when this is on the agenda.

Thursday, 06/16/2022

Jack and Constance Gross, Tina Emerson, and Ralph Mitchell should be ashamed of themselves for attempting to destroy an otherwise beautiful place to live with their corruption and fraud. Their willingness to repeal zoning regulations speaks volumes about their intelligence as no reasonable person with a functioning brain would want to do such a thing.

As for the people who illegally voted in the Lake Santeetlah election, well, that's a felony and their punishment will come.

Thursday, 06/16/2022

Excellent work...worthy of the best papers in the country.

Wednesday, 06/15/2022

Great reporting. Thank you for this important news item to the people here in Clay, Cherokee and Graham counties. People need to be held accountable for their actions. No one is above the law....

Wednesday, 06/15/2022