Archived News
What it means for NC if Roe v. Wade is overturned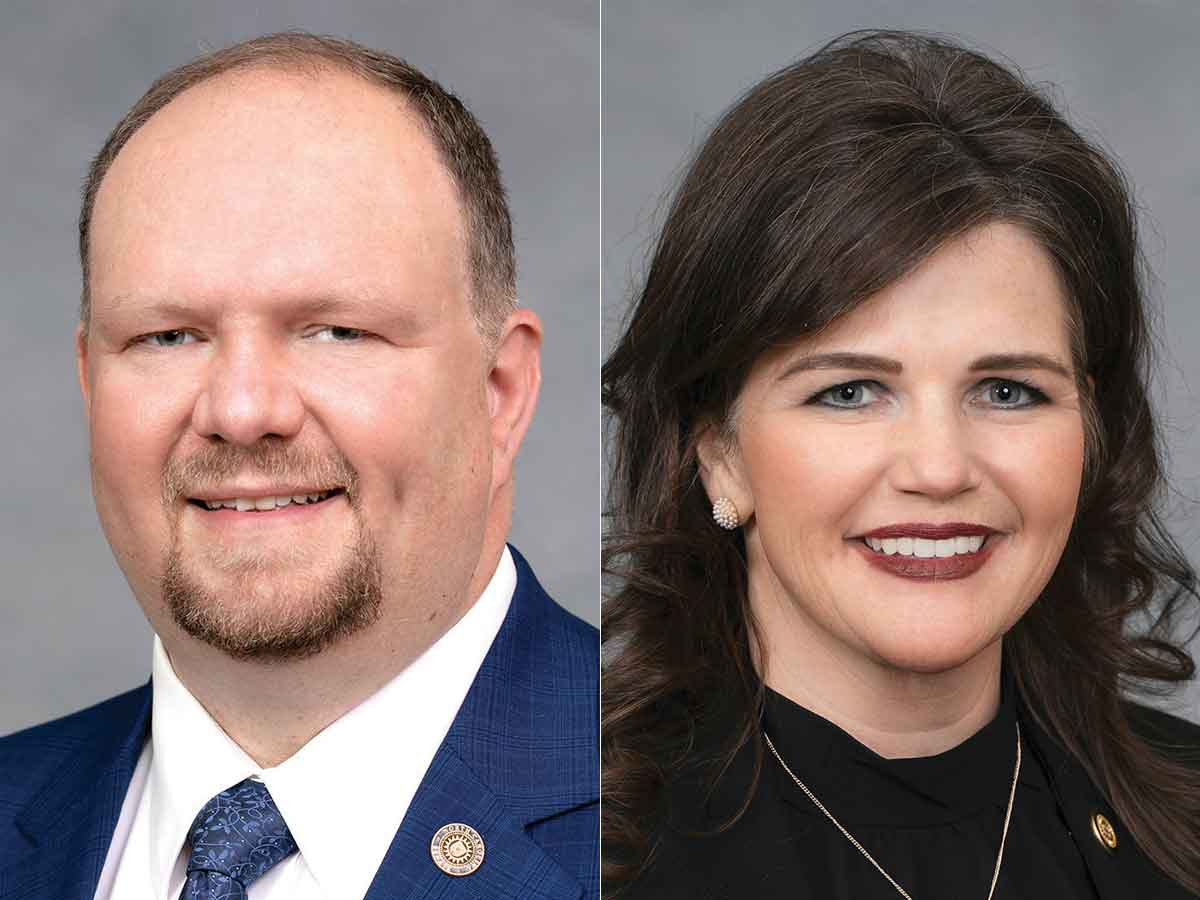 Ralph Hise and Deanna Ballard.
When President Donald Trump appointed conservative jurist Amy Coney Barrett to the United States Supreme Court, there was an outcry among pro-choice activists afraid Roe v. Wade — the 1973 case that protects a woman's right to an abortion — would be overturned.
Now, a leaked draft SCOTUS opinion seems to confirm those fears and would leave legislation regulating abortion up to individual states, including North Carolina, which has a Democratic governor but is likely to maintain its Republican majority in both its House and Senate.
A monumental decision
The draft opinion, first published alongside a Politico story, rules on a Mississippi law that would ban abortions after 15 weeks. Many pro-choice activists are afraid women will lose reproductive rights, while some voiced concern over the court's willingness to change what has long been held as established law. Conservative commentators lamented such a monumental leak may undermine the independent nature of the court.
However, as the nation waits to see what the final opinion may look like, the question remains: how will this affect North Carolina, an outlier among many other Southern states that would immediately be able to enforce strict anti-abortion laws upon overturning Roe?
The draft repudiates not only the precedent established by Roe, noting that "[it] was egregiously wrong from the start," but also the closely related Planned Parenthood v. Casey, which was published nearly two decades later and upheld Roe while allowing for some restrictions .
"The inescapable conclusion is that a right to abortion is not deeply rooted in the Nation's history and traditions," Alito's opinion reads.
It's important to note that the leaked document, which has been verified as authentic by Chief Justice John Roberts , is still only a draft and justices can change their votes. However, given the conservative makeup of the court, that seems unlikely. The Politico story notes that the other four justices appointed by Republican Presidents George W. Bush and Donald Trump had voted with Alito after hearing oral arguments in December of last year, a fact that remained "unchanged" at the time of publication. The three Democrat-appointed justices are working on one or more dissents. The article mentions that it's unclear how Roberts, who was the swing vote on the previous, more balanced court, will rule.
The Tar Heel perspective
In June of last year, a three-judge panel of the 4th Circuit U.S. Court of Appeals upheld a lower court's ruling that a North Carolina law banning abortions after 20 weeks that had been on the books since 1973 was unconstitutional. That law was challenged after the General Assembly voted in 2015 in favor of a bill that narrowed medical exemptions. Now, an even more restrictive law could be on the table if Roe is overturned.
Former North Carolina Supreme Court Associate Justice Bob Orr said that if Roe is overturned, if any new laws were appealed, the state Supreme Court would likely be the final arbiter.
"You would start out in the trial court, then through court of appeals and up to Supreme Court, which has the final say in matters of the North Carolina Constitution ," Orr said.
The focus of such challenges would likely be the state's "Law of the Land" clause, Section 19, which offers equal protection like the 14th Amendment. Orr noted that the argument regarding the "Law of the Land" that pro-choice advocates may make would be similar to one some conservatives made regarding a hot-button issue of the last two years.
"There's an implied right of privacy in the North Carolina Constitution, and it applies in a range of ways," Orr said. "If you think about it, if you brought a lawsuit claiming the government couldn't force you to wear a mask, you'd arguably say that's infringing on a constitutional right to privacy, a right to determine whether I want to use a mask."
Notably, there are two state Supreme Court seats up for election this year , both held by Democratic incumbents. If a Republican wins just one of those seats, it'll sway the balance of the court, likely making it far more likely to rule to uphold a restrictive anti-abortion law. The recent news regarding the leaked draft only heightens the importance of those races for voters who care about access to abortion.
"We've seen with both parties at different times a strong willingness to take their cases that deal with these kinds of hot-button constitutional issues to the Supreme Court," said Orr. "If you've lost in the legislature, you can accept it or you can litigate it. I certainly think there will be no hesitancy even if the makeup of the court shifts significantly."
The political angle
For a more restrictive anti-abortion bill to become law, Republicans will likely have to gain enough seats in the General Assembly to secure a supermajority capable of overriding any vetoes by Democratic Gov. Roy Cooper. Western Carolina University professor Chris Cooper, who heads up the school's political science department, said he thinks Republicans aren't likely to win enough of those elections to gain that veto-proof majority.
"I think everyone's expectations will be that Republicans will hold the majority in both chambers," Cooper said. "But they're not likely to get the super majority, and if they do get one, it'll be the Senate."
Cooper said you can expect to hear about this issue on the state level more in the coming months.
"This is the federal government making a decision that is going to change state politics in a fundamental way, so it reinforces importance of state politics in our lives," Cooper said. "The tough thing for state Republicans and Democrats is going to be to making that connection to voters. People will this as a SCOTUS decision, and average voters won't see it having to do with [WNC legislators] Kevin Corbin, Mike Clampitt and Brian Turner, but it has everything to do with Kevin Corbin, Mike Clampitt and Brian Turner."
Cooper said he expects to see each party use abortion, and specifically the impending SCOTUS opinion, as a rallying cry. While Democrats may be more inclined to make it a major issue leading up to November's General Election, it could even play a part in this week prior to the Republican primaries. Most notably, it may be talked about over the next week in the race for Senate District 47 , which runs from Clyde up to Sparta. Because of the way the new district was drawn, two high-profile incumbents, Ralph Hise and Deanna Ballard, will likely seek anything that can differentiate one from the other to gain an edge.
In interviews with The Smoky Mountain News, Hise and Ballard conveyed their strong anti-abortion stances.
"There is no sliding scale for me when it comes to life," Ballard said.
While Hise didn't make that kind of specific statement, he did note that he's been "100% pro-life" and that he's been a sponsor on multiple bills that would restrict abortion.
"I want to see no abortion in the state," he said, adding that he doesn't know of any proposals that would outright ban all abortions with no exceptions. "I would support any legislation that would reduce the killing of unborn babies in North Carolina."
When talking about the draft opinion, Ballard echoed a common sentiment expressed especially by conservatives that the leak of the draft itself was an egregious attempt to undermine the integrity of the court, one that Roberts mentioned in his statement.
"To the extent this betrayal of the confidences of the Court was intended to undermine the integrity of our operations, it will not succeed," Roberts said in the statement. "The work of the Court will not be affected in any way … This was a singular and egregious breach of that trust that is an affront to the Court and the community of public servants who work here."
"The whole leak itself is really sad," Ballard said.
Both Hise and Ballard mentioned that they will use their pro-life views in their campaigns but noted that isn't any different than what they'd already been doing.
"I have tried in every way through my record in the legislature, as well as my campaign, to show that I have a pro-life record," Hise said, adding that he's been endorsed by the highly conservative NC Values Coalition .
"I even had a mail page out [last] week speaking to what I've done as to bills I've sponsored," Ballard said. "I've been consistent with what I've said."
The Politico story notes that the final SCOTUS opinion regarding the Mississippi abortion law case is expected to be published in about two months.