Archived News
High stakes, high expectations in Senate race
Wednesday, April 13, 2022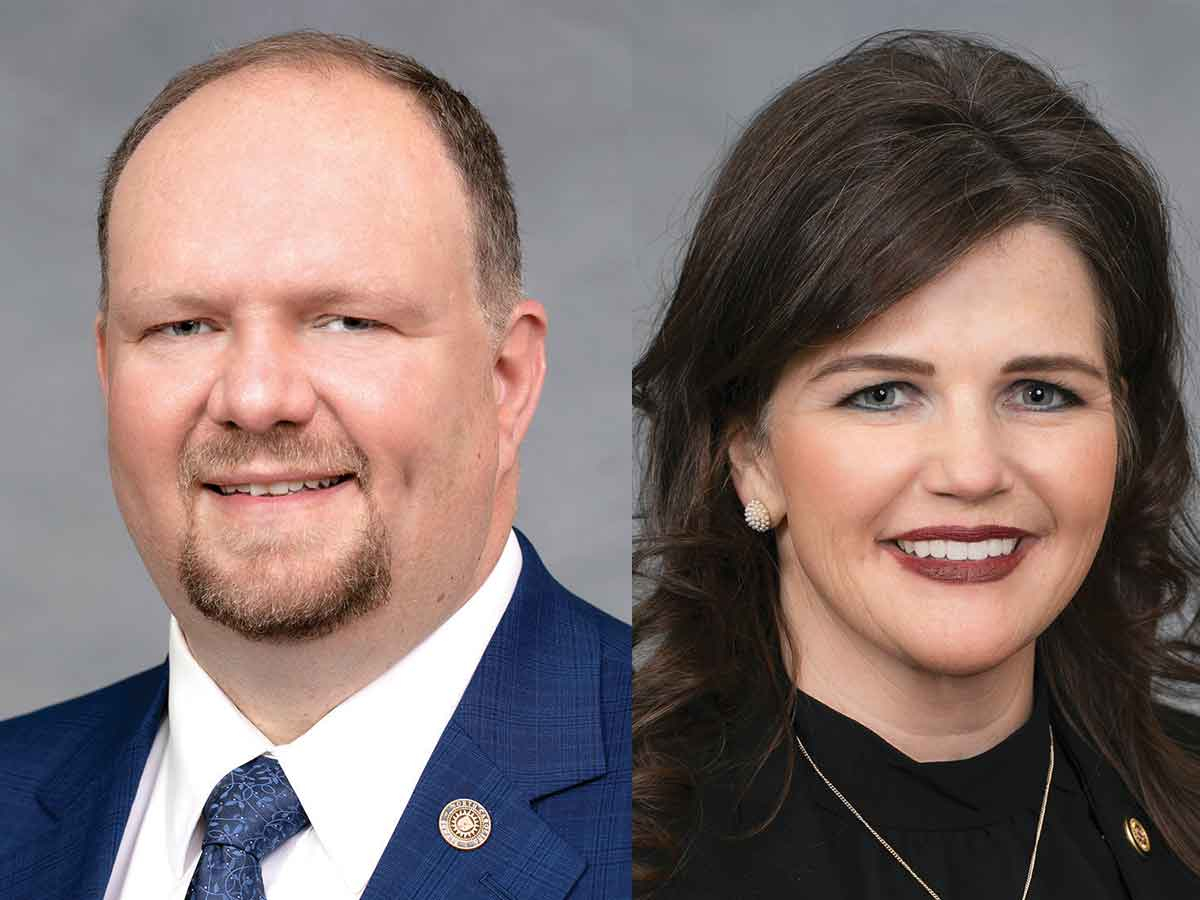 Ralph Hise and Deanna Ballard.
Redistricting brought small changes to many of Western North Carolina's legislative districts, but nowhere are those minor changes more major than eastern Haywood County.
A portion of Franklin Republican Sen. Kevin Corbin's 50th District — 12 precincts, to be exact — was chipped off and added into the sprawling new 47th District, which runs more than 120 miles northeast from Clyde to Sparta.
Those 12 precincts happen to have some unique and pressing needs above and beyond the usual; they're the epicenter of last summer's devastating floods that killed six and gutted Canton's police, fire and administrative infrastructure.
No Democrats filed to run in the 47th, which is about 61% Republican. However, due to a county clustering rule utilized in drawing the state's new maps, two veteran Republican senators must now compete against each other in one of the most closely watched Primary Election contests in the state.
The loser will go home, but the winner will wade into a river of problems.
Haywood County precincts in red now belong to the 47th Senate District. Those in blue remain in the 50th. davesredistricting.org map
Sen. Deanna Ballard was born in Denver, North Carolina, the daughter of an educator and a logger.
"My childhood experience was actually riding in logging trucks with my dad to the paper mill, staying in the truck with my hard hat on," Ballard said.
The experience, she said, taught her the strong work ethic that made her the first in her family to attend a four-year college, Belmont University. Initially, she studied music business, but she ended up with a business degree.
Currently, she serves as the director of public policy for Samaritan's Purse, an international Christian relief organization headed by Franklin Graham and headquartered in Boone.
In 2016, with no prior experience in electoral politics, Ballard won the March 15 Republican Primary by 6 points, after incumbent Republican Sen. Daniel Soucek announced he wouldn't run again. Soucek resigned six weeks later, and Ballard was appointed to fill the seat before winning it by 30 points in the General Election.
She's since won two more terms, is a member of the health and human services/base budget appropriations committees and also serves as chair of the committee on appropriations for education — handy credentials for a district that includes Appalachian State University as well as Haywood Community College.
"In education, there's always more work to be done," said Ballard. "COVID really poised the culture of education in North Carolina to change."
As a product of public schools, Ballard thinks more and more parents are looking for alternative options that best suit the needs of their children and that the expansion over the past decade of those options, like public charter schools and virtual academies, will continue.
"Believe it or not, there was never really kind of any framework or structure in place at the state level for virtual academies, so we've been working with DPI on what that could look like moving forward," she said.
Virtual academies, however, can't exist without consistent access to high-speed internet, which is probably the biggest problem in the mountains. Ballard's been a proponent of the GREAT grants touted by Corbin as a solution, and the nearly $1 billion dollars in the latest state budget that will expand access to them.
She's also open to the conversation around lifting the existing prohibitions on municipal or county-level service providers.
"I know the battle and the fight that's there," said Ballard. "It's not something I've shied away from, by any means."
The 50th Senate District, in dark blue, is relatively compact, but the 47th, in red, sprawls out toward the northeast. davesredistricting.org map
It's safe to say that Sen. Ralph Hise likes numbers. Born and raised in Spruce Pine, Hise graduated from the North Carolina School of Science and Mathematics, got a degree in statistics and worked as a statistician in the U.S. Census Bureau.
When he went back to grad school at N.C. State, he shifted focus slightly and earned his master's degree in higher education administration, worked in the local community college system and was elected mayor of Spruce Pine.
In 2010, Hise won his first term in the Senate by defeating Democratic Sen. Joe Sam Queen — that's right, part of Haywood County used to be in Hise's district, so Hise has represented the area before — and he was part of the Republican takeover of a General Assembly that had been in Democratic hands for 147 years.
"We really took a focus on a lot of things, some changes we wanted to make," he said. "When I took over, the state income tax was at 7.75% percent. What we've passed this year, it now will be down to 3.99%. We've eliminated the corporate income tax in North Carolina. We've cut the sales tax by 1 cent since I came in."
The state of education has also changed since Hise first took office and indeed since he taught math, both in community colleges and in prisons.
"One of the things that's clearly obvious to me is there is no such thing as a one-size-fits-all for all children," said Hise. "You have to create a system that allows parents to find for their children a system that is successful in education — whether it's public schools, whether it's charter schools, whether it's private schools, whether it's homeschooling, all of those types of things — different children will learn differently and you have to give the parent the authority to have choices for what is most successful for their child."
Like Ballard, Hise understands the challenges involved with delivering high-speed internet to mountain communities; he's a co-chair of the joint legislative oversight committee on information technology and says counties in his district also struggle with connectivity.
Unlike Ballard, Hise is not open to the idea of allowing local governments to compete in the internet service delivery marketplace, saying it actually blocks expansion to areas outside incorporated municipalities.
Both Ballard and Hise have experience and influence in critical areas that could be beneficial to Haywood County in the long run, but the winner will have more immediate needs to contend with in the new western outpost of the sprawling 47th District.
On Aug. 17, 2021, Ballard and Hise both quickly learned what was transpiring on the East Fork of the Pigeon River and in communities from Cruso to Canton to Clyde.
"Oh, man. I mean, I had called Corbin to check in. That's kind of what we do too. We all check in with each other," said Ballard, whose office is right next to Corbin's.
"It was something very much reported to the General Assembly," said Hise. "I had some partial flooding that was reported to me in Yancey County and several of my county leaders there began to call."
Despite a $9 million appropriation shepherded by Rep. Mark Pless (R-Haywood) that will shore up damage to Canton's water and sewer infrastructure, there's currently nothing coming to pay for the extensive damage to Canton's police and fire stations, and town hall.
Town officials are now faced with a choice — to rehab, to rebuild or to find a new location, up and away from the normally placid waters of the Pigeon that have catastrophically flooded downtown twice in the least two decades.
All three solutions would cost many millions.
Ballard said that her process is to brainstorm with partners, and consider public/private partnerships, matching funds, and the availability of funds at the state level.
"Understanding priority levels and understanding, I guess, 'skin in the game' that your local community or local officials have also kind of put out there and [are] willing to match or really rally around a group of donors or partners to help support the effort, too, is always helpful. But at the end of the day, it will depend at the state level on availability of funds, too," said Ballard.
Hise, who serves as the chair of the appropriations/base budget committee, has a slightly different view on how Canton might be able to recover from the flood.
"I've had a lot of opportunities in the districts I've had. A similar flood in Madison County, [they] nearly lost their entire stadium, slid off from a landslide from a storm that was near the same time as what was coming from Canton," he said. "We were able to get the direct appropriations to that. There is a budget process, but I think we we're in good position within the state, within the budget process to assist in addressing some of those needs and just need to get those at the forefront of the table."