Archived News
Crews quell fires as new weather system arrives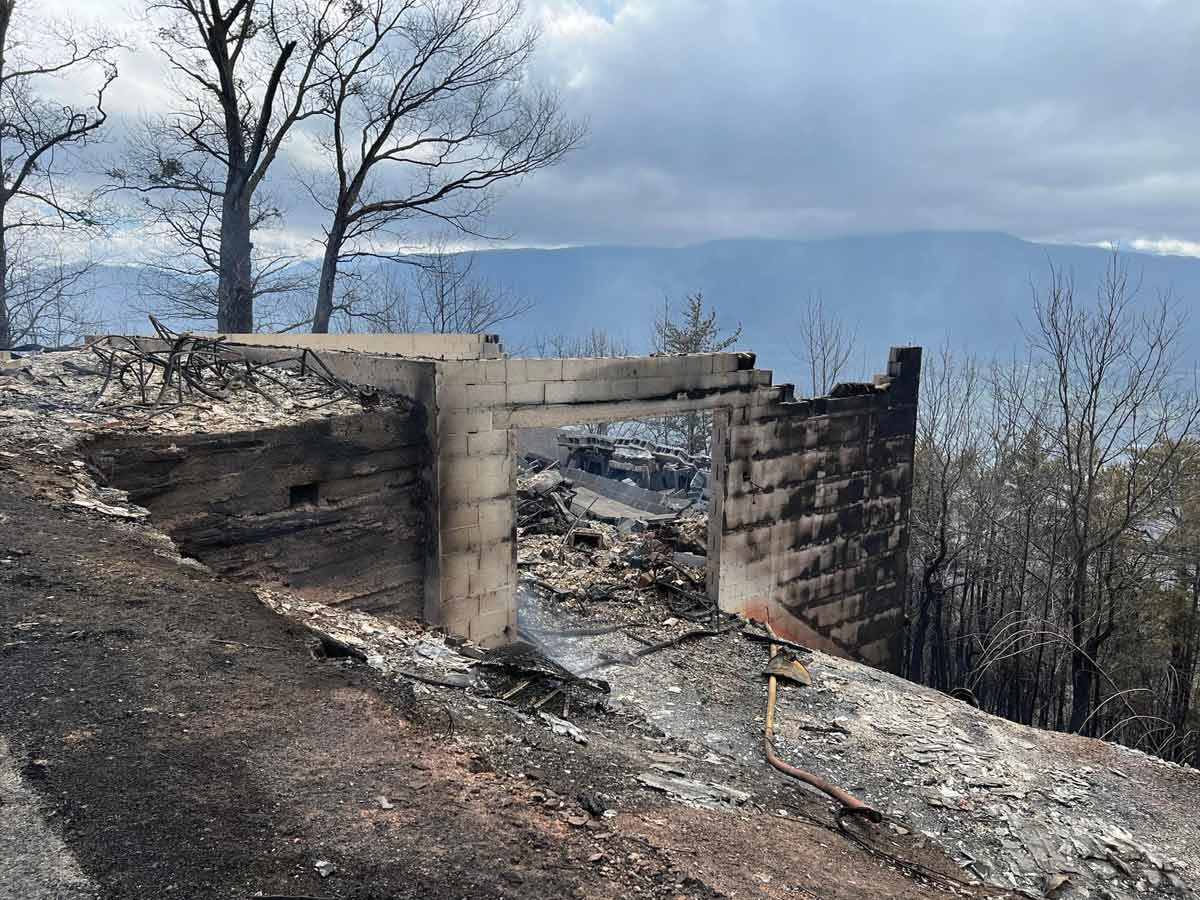 The Hatcher Mountain Road/Indigo Lane Fire in Sevier County damaged more than 300 structures. Sevier County Emergency Management photo
The wildfires that ripped through the mountains last week are now mostly under control, but as of Tuesday afternoon, April 5, fire danger remained high in Western North Carolina and Eastern Tennessee — even as the first drops of rain from a large system headed north began to blanket the region.
On Friday, April 1, the Great Smoky Mountains National Park reopened roads, trails and campsites that had been shut down starting March 26 following ignition of the Thomas Divide Fire Complex and subsequent high wind events. The fire spread to 941 acres, but by March 31, it had reached 80% containment with little additional fire activity expected. Crews demobilized April 1, and the fire is now 100% contained. Roughly one-third of the acreage was in the Great Smoky Mountains National Park with the remainder in Swain County jurisdiction. No structures were lost.
While the Thomas Divide Complex Fire did not cause any structure losses, a blaze that whipped up Wednesday, March 30, in Sevier County, Tennessee, burned a much larger area and caused extreme destruction. Now 98% contained, the Hatcher Mountain Road/Indigo Lane Fire covers 2,498 acres and affected more than 300 structures. On the Sevier/Blount County line the Seymour Fire is 75% contained at 678 acres, with at least two structures affected.
A separate fire started March 26, the Chimney Rock Fire in the Cherokee National Forest at Weavers Bend located about 5 miles northwest of Hot Springs. It is 90% contained at 180 acres and burning completely on national forest land, with no structures affected.
While the damage in Sevier County is significant — and, for some families, devastating — it is nevertheless on a much smaller scale than the Chimney Tops Fire that blazed through Gatlinburg and Pigeon Forge in November 2016, burning 17,006 acres, damaging nearly 2,000 structures and claiming 14 lives.
With rain beginning to fall across the region as of press time April 1, fire danger for Western North Carolina and eastern Tennessee was forecast as low to moderate for April 6. The National Weather Service forecast 0.5-1.5 inches of rain with locally higher amounts possible, but also risk of high winds.
The agency has issued a hazardous weather outlook for WNC, along with the piedmont region, northeast Georgia and upstate South Carolina, warning of locally heavy rainfall and isolated flooding, and a possibility of strong to severe storms with damaging winds and an isolated tornado, mostly south of Interstate 85. A subsequent round of thunderstorms is expected Wednesday afternoon and evening, with the greatest threat of damaging winds and isolated tornados west of I-26.
In eastern Tennessee, "strong gusty winds" were expected across the higher elevations and foothills Tuesday with speeds of 20-35 miles per hour and gusts up to 55 miles per hour. The National Weather Service warned severe storms are likely Wednesday afternoon and evening, with damaging winds the "main concern" and tornados and hail also possible.
Leave a comment
1

comment
Ok everyone here we go… wildfires have torn through sevier county and wanting to help anyway I can I have decided to donate proceeds from these tumblers to the sevierville volunteer fire dept message me for details

Thursday, 04/07/2022