Archived News
French theme park company in talks with EBCI for Exit 407 project
Friday, February 18, 2022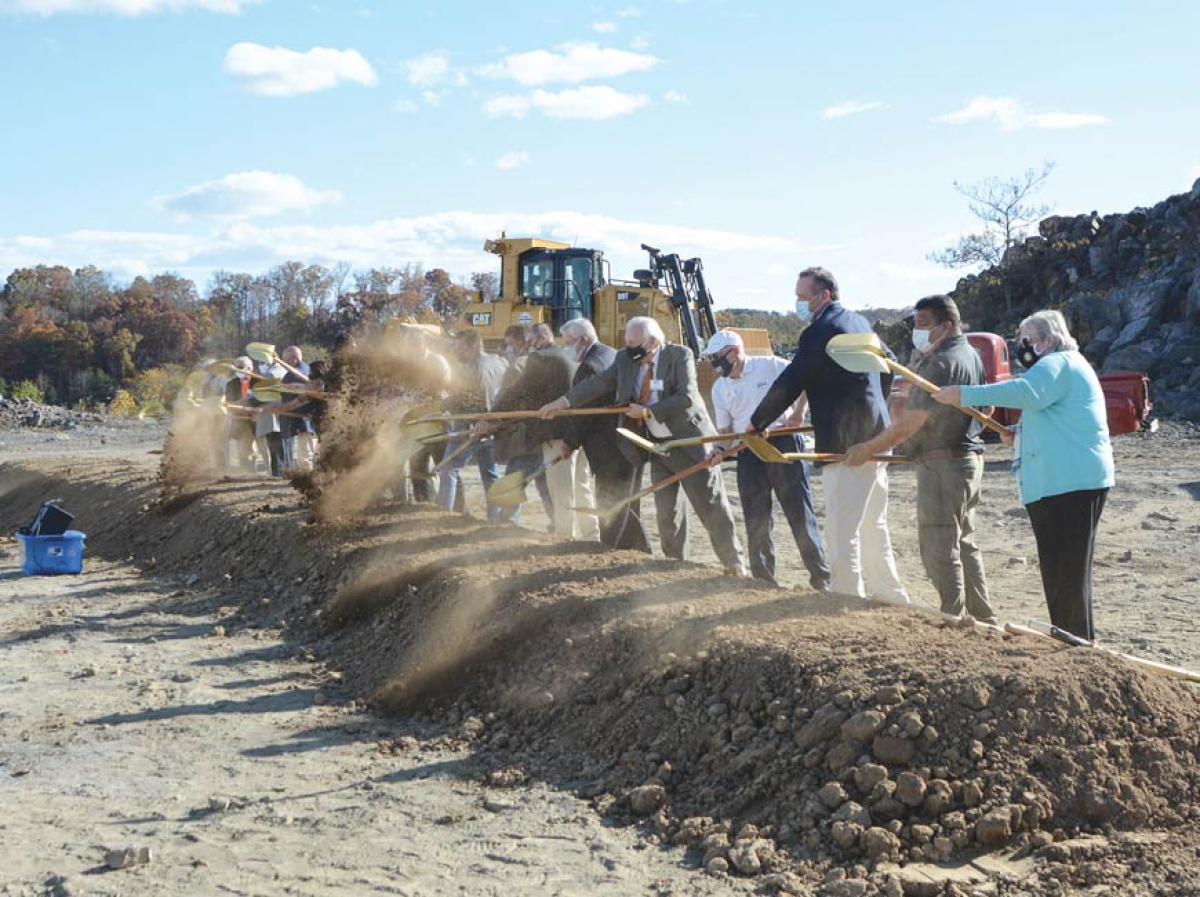 Tribal officials throw ceremonial shovelfuls of earth at a November 2020 groundbreaking ceremony on the Exit 407 property in Sevier County.
Holly Kays photo
Representatives of a world-renowned French theme park company met with the Eastern Band of Cherokee Indians Tribal Council this week to discuss a potential partnership at Exit 407 in Sevier County.
The historical theme park company Poy du Fou has twice been elected "Best Theme Park in the World" — first in Los Angeles in March 2012 and then in November 2014 in Orlando. It "draws from the collective imagination and stages legendary worlds in spectacular shows filled with universal emotion," according to the release, and "invented a unique artistic model in the world of leisure, a new type of experience where users discover spectacular world-class shows and are immersed in ultra-realistic realms infused with history and legend."
The exact nature of the proposed partnership between the EBCI and Puy du Fou is not yet clear, but the parties spent about two hours in a closed-door meeting Feb. 15, said EBCI Chief of Staff Ashleigh Stephens. The proposal will come before Tribal Council for a vote at an upcoming meeting, likely March 3 or April 7.
Dubbed "The 407: Gateway to Adventure," the 200-acre property sits along Interstate 40 north of Sevierville. It's being developed by the tribe's business arm Kituwah LLC after Tribal Council purchased it for $13.5 million in July 2019. Earlier that year, the tribe bought 122 acres on the opposite side of the highway for $7.5 million. Since then, Tribal Council has allocated an additional $60 million to develop the property.
The tribe broke ground on The 407 in November 2020, and in September 2021 the convenience store chain Buc-ees broke ground on its anchor tenant project there, which when complete will become the world's largest convenience store. A groundbreaking for a Courtyard Marriott on the hotel is likely to occur in the near future, and Kituwah LLC has nonbinding agreements for other attractions on the property, said the company's CEO Mark Hubble in an interview last month. In December, Tribal Council voted to allow another of its LLCs, EBCI Holdings, pursue construction of a sports betting bar on the property.
OE Experiences has represented Kituwah and The 407 globally to find ideal anchors for the entertainment-focused aspects of the development and to capture the benefits of the Smoky Mountains' exceptional tourism economy.
This story has been updated to reflect the date of the meeting between the EBCI and Puy du Fou.