Ask Leah! The Ingles Dietitian
Sponsored: Magnesium … why you need it and where to find it
Wednesday, October 20, 2021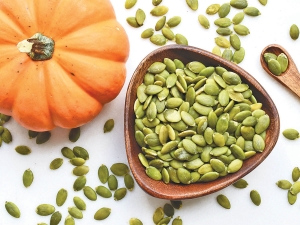 What is it and why do you need it?
Magnesium is a mineral (micronutrient) that's important in many processes in the body, from muscle and nerve function to regulating blood sugar levels.
How much do you need?
Adult males-420mg/day; Adult females: 320mg/day
What foods are a good source of magnesium?
Legumes, nuts, seeds, whole grains, green leafy vegetables, beans, milk and dairy products, fortified cereals, fortified soy milk, brown rice.
Example: 1oz roasted pumpkin seeds=156mg magnesium;
1 oz almonds=80mg magnesium; 1/2c cooked spinach-78mg magnesium; 1/2c cooked black beans=60mg magnesium; 1 c milk=24-27mg magnesium.
Should you take a magnesium supplement?
Your kidneys help retain magnesium so it's unusual for people to become deficient or need to take a supplement, especially if you eat a variety of foods. Certain diseases and factors may make it more likely to have a deficiency of magnesium. If you're an older adult or have Crohn's disease, celiac disease, other GI diseases, alcoholism, or Type 2 diabetes you can more easily become deficient in magnesium. If your diet excludes sources of magnesium or if you are an older adult or have any of those diseases or illnesses speak to your doctor about whether you might need a supplement or whether it will interact with any medications you're currently taking. (Note: if you are taking a supplement with magnesium it should not have more than 350mg of magnesium)
Source: https://ods.od.nih.gov/factsheets/Magnesium-HealthProfessional/
https://ods.od.nih.gov/factsheets/Magnesium-Consumer/
Leah McGrath, RDN, LDN
Ingles Markets Corporate Dietitian
facebook.com/LeahMcgrathDietitian
800-334-4936
Leave a comment
1

comment
Thank you Leah for that information. I found it helpful.

Wednesday, 11/17/2021