Ask Leah! The Ingles Dietitian
Sponsored: Looking for Local at Ingles Markets
Wednesday, October 06, 2021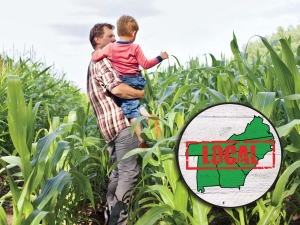 Once the weather starts to cool down and fall makes an appearance; you may think that you can no longer support local farmers and food makers - that couldn't be further from the truth!
You can shop local all year around at Ingles Markets. Be sure and look for our LOCAL food tags and seek out some of these local items you can find at Ingles all year around:
• Laura Lynn milk - Primarily sourced from dairy farmers within 150 miles of Asheville, Laura Lynn milk is pasteurized at our MILKCO facility in West Asheville and shipped out to all Ingles stores.
• Hickory Nut Gap meats, sausage and meat sticks (Fairview)
• Sunburst Trout (Waynesville)
• Sunny Creek Farm sprouts (Tryon)
• Annie's Breads (Asheville)
• City Bakery (Asheville)
• Condiments from Firewalker Hot Sauce, Crooked Condiments, Biscuit Head and more.
• Beers and Ciders from Asheville Brewing, Sierra Nevada, Highland Brewing, Pisgah Brewing, Boojum Brewing and many more!
• Frozen savory pies from Potpie
• Sunshine Sammies Ice Cream Sandwiches
• Buchi Kombucha
• Coffee from Pisgah Roaster, Appalachian Coffee Company and Dynamite Coffee Roasters
Leah McGrath, RDN, LDN
Ingles Markets Corporate Dietitian
facebook.com/LeahMcgrathDietitian
800-334-4936