Ask Leah! The Ingles Dietitian
Sponsored: Omega 3's and Fish
Wednesday, September 08, 2021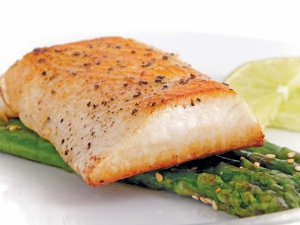 There is a lot of talk about the benefits of omega 3's when it comes our brains and cognitive health. Omega 3's may help reduce our risk of Alzheimer's disease and dementia.
Fish is one of the richest sources of omega 3's.
The fish with the highest amounts of omega 3's per 4 ounce serving are:
• Anchovies
• Herring
• Mackerel (Atlantic and Pacific)
• Sablefish (Black Cod)
• Salmon (Atlantic, Chinook, Coho)
• Sardines (Atlantic and Pacific)
• Swordfish
• Trout
Whether fresh, frozen or canned, eating seafood at least 2x per week is recommended by the US Dietary Guidelines.
Source: SeafoodNutrition.org
Leah McGrath, RDN, LDN
Ingles Markets Corporate Dietitian
facebook.com/LeahMcgrathDietitian
800-334-4936