Ask Leah! The Ingles Dietitian
Sponsored: Do vitamins and supplements help prevent COVID-19?
Wednesday, August 25, 2021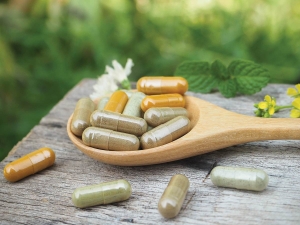 Q: Are there vitamin or herbal supplements I should be taking to prevent Covid19 or to boost my immune system?
A: While there's alot of buzz about taking supplements to prevent getting Covid19; the best way to avoid getting the virus, or at least not to become as ill, is to get vaccinated and wear a mask.
An overall healthy diet is beneficial for your immune system, but will not "boost" it, nor will supplements. This sort of language and claim about supplements is very seriously frowned on by the Federal Trade Commission (FTC). Companies have been warned and fined for claiming supplements can boost the immune system against Covid19.
The Office of Dietary Supplements (ODS) of the National Institutes of Health(NIH) has looked into many of the supplement claims. While there is promising research about some of them, particularly vitamins C & D and zinc; there are also a number of cautions about the lack of data or research to support any sorts of recommendations for prevention or treatment of Covid19.
Bottom Line: The immune system is complicated and can't be "boosted" by food or supplements. The best way you can help your immune system is to: Eat healthy meals, get enough sleep, stay active and exercise, wear a mask and get vaccinated. Instead of wasting money on useless supplements, talk to your doctor first to see if you need them.
Source: https://ods.od.nih.gov/factsheets/covid19-healthprofessional/?fbclid=iwar2fhu3qvbiojmqd4ic6dshc51hui5uqybh_c2vgkzp-zqrmqkpyo3p6ysa
Leah McGrath, RDN, LDN
Ingles Markets Corporate Dietitian
facebook.com/LeahMcgrathDietitian
800-334-4936
Leave a comment
1

comment
Good answer back in return of this query with
genuine arguments and telling the whole thing concerning that.

Friday, 10/08/2021