Archived News
Flood victim assistance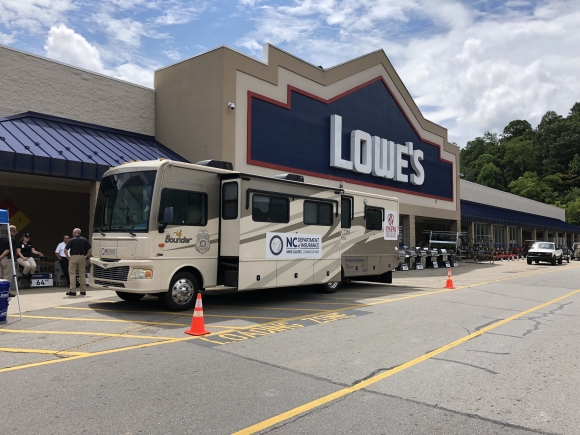 NC Department of Insurance photo
North Carolina Insurance Commissioner Mike Causey has set up a Victims' Assistance Center in Haywood County to answer questions of flood victims through the weekend.
The Victims' Assistance Center will be set up near the entrance of Lowe's Home Improvement at 100 Liner Cove Road, Waynesville, N.C. 28786 on Friday, Saturday and Sunday, Aug. 20-22. The center will be set up from 10 a.m. to 4 p.m. on Friday and Saturday and from 1 to 3 p.m. on Sunday.
Experts from the N.C. Department of Insurance will assist consumers and answer any questions residents have about the recent storm and their insurance.
Haywood Helpline
A helpline is in place for anyone seeking assistance related to the storm. The helpline number is 828-356-2022. The hours of operation are from 8 a.m. to 8 p.m.
Types of assistance available through the helpline:
Missing person information

Food, housing assistance

Special needs assistance

Volunteer or donation opportunities

Other storm-related needs
Residents with immediate life-threatening needs should call 911, otherwise use this number for all other needs.
These locations are distributing items to those need:
Bethel Baptist Church:

5868 Pigeon Rd, Canton, NC 28716

- clothing, children's clothing, food, water, toiletries

Canton First Baptist Church: 74 Academy Street Waynesville - food, water, toiletries

Faith Community Church: 289 Industrial Drive Waynesville - food, water, toiletries
Those affected by storm damage will find meals are available at Bethel Baptist Church:
5868 Pigeon Rd, Canton, NC 28716
Free Mudslides/Flooding Home Cleanup Hotline Available Now
Call 828-222-3975 for free help from local relief agencies
From now through September 3, 2021, several relief agencies are staffing a free hotline for debris removal and home cleanup after the recent mudslides and flooding. This hotline will connect affected residents with reputable and vetted relief agencies that will assist in chainsaw work, debris removal, drywall, flooring and appliance removal, roof tarping, and mold treatment, as they are able. All services are free, but service is not guaranteed due to the overwhelming need.
"North Carolina VOAD is committed to working with reputable, vetted relief organizations that have come to help," said Ann Huffman, President, North Carolina VOAD (Voluntary Organizations Active in Disaster). "Affected residents should simply dial 828-222-3975 for help."
Phone lines will be open until September 3, 2021. Hotline hours may be extended to the weekend as volunteers are available to answer phones. Importantly, this hotline cannot assist with social services such as food, clothing, shelter, insurance, or questions about FEMA registration.
Families affected by the disaster with home cleanup needs may dial 828-222-3975 through September 3 28, 2021.
Showers and laundry facilities:

• Crestview Baptist Church, 3258 Pisgah Dr Canton, NC 28716
• First Baptist Church, 74 Academy St Canton, NC 28716
Clothing, meals, food, water and toiletries:
• Bethel Baptist, 5868 Pigeon Rd Canton, NC
• First Baptist Church, 74 Academy St Canton, NC 28716
• Faith Community Church, 289 Industrial Dr Waynesville, NC 28786
• Cruso Community Center, 13186 Cruso Rd
Leave a comment
4

comments
Hope everyone is ok!

Friday, 03/04/2022

Hope everyone is ok!

Friday, 03/04/2022

Praying for everyone involved. Super thankful people are stepping up to help though!

Friday, 10/01/2021

Would like someone to put a list of houses or something up to let us know which way to go

Saturday, 09/11/2021