Archived News
UNC system president visits Cullowhee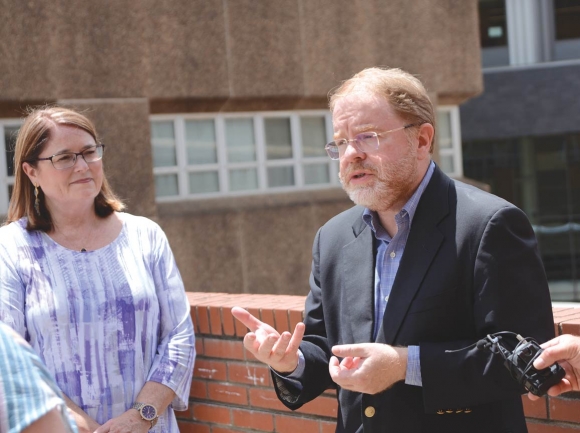 UNC System President Peter Hans answers media questions during a July 1 visit to Western Carolina University. Holly Kays photo
University of North Carolina System President Peter Hans toured institutional improvements at Western Carolina University July 1, marking his first visit to campus since the UNC Board of Governors elected him to the position in June 2020.
"It's thrilling to see 12,000 students strong here now in (this) N.C. Promise institution," Hans said. "I think that holds great appeal because of the access and the affordability of the 'Whee here without sacrificing any of the quality. And I only see onward and upward for Western from here."
Hans, who was president of the N.C. Community College System from 2018-2020, has visited WCU multiple times in the past while on the UNC Board of Governors from 2003-2015.
Hans rode the Cat-Tran around campus with Chancellor Kelli R. Brown, several administrative faculty members and members of the press. The tour began with a drive-by of the Lower Campus Residence Halls, which are under construction to replace the Scott and Walker residence halls, a half-century old when they were demolished last year. The first of the new residence buildings is expected to open for Fall 2022.
The new Apodaca Science Building stands adjacent to the old Natural Sciences Building.
The next stop was a hardhat tour of the $110 million Tom Apodaca Science Building , which is now nearly complete and slated to open for the fall semester. The new building will feature 185,000 square feet of state-of-the-art lab and classroom space. In August, the old Natural Science Building — which in places stands just a few feet away from the newly constructed building — will be demolished and remade into a quad area.
The Cat-Tran then took a loop around campus, passing by active and more recent projects such as Noble Hall, Laverne Hamlin Allen Residence Hall, a 1,000-space parking deck and the construction site for the new steam plant, an expensive project that university representatives spent years lobbying the General Assembly to fund.
The final stop was the Moore Building , which was completed in 1924 and is the oldest building on campus.
"This is the new steam plant," joked one member of the tour, pointing to the likelihood that the university will soon make renovations to the old brick building a priority when requesting funding.
Moore used to house the university's health and human sciences program, but it has been vacant since 2012, when the new HHS building opened on Little Savannah Road. Before that it was home to campus dining and originally served as a women's dormitory. Though old and in need of renovations, it's still functional and has "good bones," university representatives told Hans.