Archived News
N.C. Promise success celebrated at WCU
Wednesday, October 31, 2018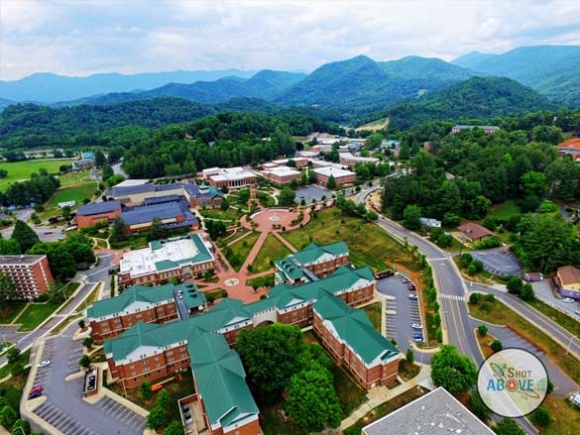 Western Carolina University students whose lives have been changed by the tuition reduction program N.C. Promise got to tell their stories to UNC System President Margaret Spellings during her visit to campus Wednesday, Oct. 24.
"Five hundred dollars for tuition — that is incredible," said freshman Noah Crawford, a construction management major. "It's really the only reason I'm here."
Crawford, a first-generation student from Rutherfordton, said that he spent his high school years working 40 or more hours per week on top of classes, earning money to pay for his car and other necessities. College was never anything his parents talked to him about, and his understanding was that college degrees were for people who wanted to work desk jobs. Crawford wanted a more hands-on career.
When he found out about the tuition reduction program — and opportunities available at WCU through the marching band and construction management program — everything changed.
"Band definitely got me interested in WCU, along with the construction management program, but the N.C. Promise plan is what made it possible," said Crawford. "So I just wanted to say thank you from the bottom of my heart for the ones who made it possible to open up so much incredible opportunity for me. You changed my life."
Crawford's fellow band member Marcy Sammons, a transfer student in the marketing program, agreed with those points, saying that her first reaction to hearing about the N.C. Promise program was that it couldn't be real. Junior political science major Gabriel Pope said that he was at Western because of N.C. Promise — he needed a low-cost undergraduate option because his goal is to go to law school, and law school is expensive. The same went for Student Government President Matt Opinski, a first-generation college student from a low-income family.
"It's not always rainbows and butterflies for many of us students," he said. "The reality is that many of us battle with financial insecurity every day, and N.C. Promise is the life preserver that's thrown overboard to help us get back to safety."
WCU has already been seeing enrollment growth as a result of N.C. Promise, now in its first year, enrolling a record 2,189 freshmen for the 2018-19 academic year and seeing a 40 percent increase in transfer students. A freshman class survey conducted this fall said that 83 percent of respondents saw affordability as the single most important factor or a large factor in deciding where to go to college — among respondents eligible for income-based Pell Grants, 30 percent said the would not have attended any college or university if not for N.C. Promise.
And all that's with only 14 percent of North Carolinians even knowing about N.C. Promise, according to a Gallup poll from the UNC system.
In her remarks, Spellings praised the legislature for instituting the program, calling North Carolina a "national leader" in college affordability.
"I shouldn't say this, but every time I'm here I think, 'Man I wish I could have gone to college here,'" said Spellings, a graduate of the University of Houston. "It's beautiful, it's excellent — the faculty, the administration. It's A-plus-plus on every level, and you're getting it at a super affordable price. It will change your life. My only advice to you is to pay it forward when you get a chance."
In a follow-up interview, Spellings said that the next step is to bring the program's success to the legislature's attention so they'll continue to fund it — and maybe even expand it.
"What happens next is we're going to go to the legislature and we're going to say, 'This thing is working really well,' and we're going to demonstrate this by the kind of folks that you heard from today and ask the legislature to continue to fund it. And frankly, lots of people around the state are saying, 'Wow, I wish we had that program here at Asheville or Winston-Salem State or anywhere else.'"
Senator Jim Davis, R-Franklin, attended the event and agreed with Spellings' perspective.
"It's more successful than we had dreamed, but we hope for continued success," he said, "and I see no reason why the state wouldn't continue to invest in a successful program."