Archived News
Cherokee recognized for leadership in healthcare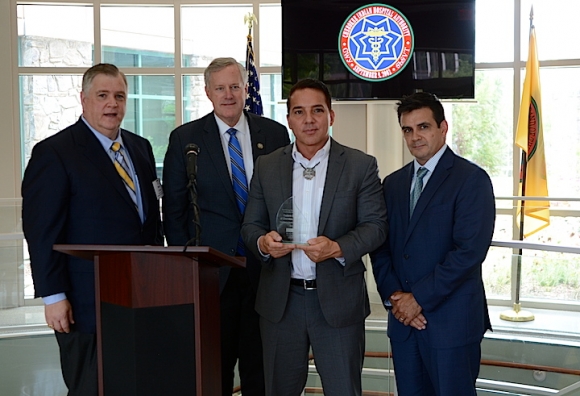 From left to right are Brad Crone of the Healthcare Leadership Council, Rep. Mark Meadows, Principal Chief Richard Sneed and Cherokee Indian Hospital Authority CEO Casey Cooper.
Holly Kays photo
In a ceremony held at the Cherokee Indian Hospital today, the Eastern Band of Cherokee Indians was awarded the Redefining American Healthcare award from the Healthcare Leadership Council.
Rep. Mark Meadows, R-Asheville, presented the award to Principal Chief Richard Sneed on behalf of the HLC.
"The Eastern Band's commitment to meeting the needs of its people is commendable," said Mary R. Grealy, president of the Healthcare Leadership Council. "We are recognizing this group because of the investment and initiative being taken to address serious health concerns. The priorities they have identified affect not just the local community but populations throughout the country, and I hope that other communities will witness the impact of the work being done here and be inspired to take similar steps."
Accomplishments mentioned during the ceremony were the tribe's new hospital facility, completed in 2015, the $14 million residential treatment facility recently built in Graham County and the $46 million crisis stabilization unit currently under construction adjacent to the hospital.
"You're continuing to advocate day in and day out to make sure that health care needs are met," Meadows said of the tribe during the ceremony. "It's not just a facility — it's a way of delivering health care. It's a way of truly addressing a crisis that has been thrust upon us. The opioid crisis, it knows no boundaries. It affects every family."
Spending so much tribal money on these projects was necessary, said hospital CEO Casey Cooper, because the chronic underfunding of Indian Health Services meant that the federal government wasn't going to build the needed facilities anytime soon.
"That's why the Eastern Band did this," said Cooper. "Because it was necessary to take care of our own and to do it in spite of the government's trust responsibility to American Indians and Alaska Natives, not because of it."
"The EBCI has set the standard across Indian Country," added Sneed. "In health care, in our judicial system, in the rest of our government. We are leaders and will continue to lead. From the heart of a grateful nation, I thank you."
Look for more on this story in The Smoky Mountains News' July 3 issue.