Archived News
Pretrial release program comes to Western NC
Wednesday, September 26, 2018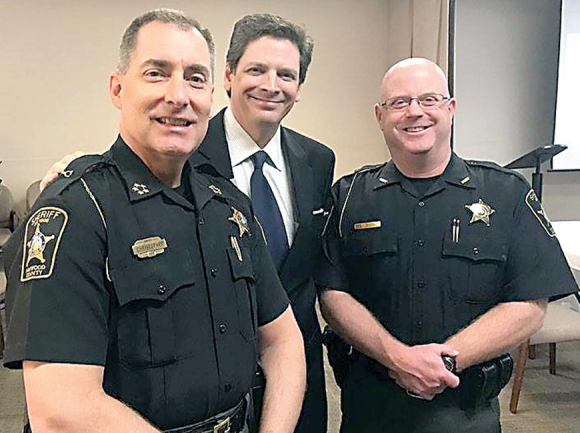 Superior Court Judge Bradley Letts (center) has worked closely with law enforcement, including Haywood Sheriff Greg Christopher and Chief Deputy Jeff Haynes, to implement a pretrial release program.
Donated photo
Beginning Jan. 1, 2019, Haywood and Jackson counties will be the first judicial district in the state to pilot a pretrial release program aimed at reducing the local jail populations, recidivism rates and increasing the efficiency of the court system.
The program will include a new policy encouraging judges to set more unsecured bonds for people charged with nonviolent, low-level offenses so they can be released from jail while they await their court date.
"No one is being soft on crime — we want to be smart on crime," said Superior Court Judge Bradley Letts, who is leading the implementation of the program in the 30B Judicial District. "This will provide stability and safety for the community but in a thoughtful way while also being mindful of the costs for the county and taxpayers."
According to the Pretrial Justice Institute, six out of 10 people sitting in jail — nearly half a million on any given day — are awaiting trial. Many accused low-level offenders stay in jail until their court date because they can't afford to pay their cash bond, which can range from $200 to a couple thousand dollars depending on the offense.
Pretrial services is a key discussion point when state lawmakers look at criminal justice reform, and as more jurisdictions deal with overcrowded jails and unsustainable budget increases, offering pretrial programs is becoming a necessity to safeguard local resources.
California announced last month it would be the first in the nation to do away with cash bonds to ensure people in the criminal justice system are treated equally whether they are rich or poor. New Jersey's pretrial justice reform essentially eliminated money bail as well by detaining pretrial defendants only if they are deemed a flight risk or a danger to the community.
While North Carolina may not be ready for that kind of drastic reform yet, a pretrial release program is an easy and inexpensive way to start. If it proves successful in Haywood and Jackson, the program could be expanded to all 100 counties in North Carolina.
Judge Letts has been at the forefront of the effort and has worked toward getting all the stakeholders on board, including the District Attorney's Office, defense attorneys, law enforcement, judges and clerks of court.
"I made a point in the beginning to get everyone involved in the process. We've had everyone at the table to get everyone's comments and feedback," he said. "Feedback has been positive — we feel like we have a good collaborative effort going."
Letts was invited to represent North Carolina last year at a pretrial release summit in Raleigh hosted by the North Carolina Administrative Office of the Courts that included leaders from other states throughout the Southeast.
"When it was all over, our team decided we needed to do a pretrial project to begin looking at reform," Letts said. "I'm excited to be a leader in this for the state pilot program."
During this transition, the judicial district is also receiving funds from the State Justice Institute, technical assistance from the Pretrial Justice Institute and support from Professor Jessica Smith at UNC School of Government and Professor Jamie Vaske at Western Carolina University.
Letts has seen firsthand the unintended consequences of people being detained pretrial, but the summit shed more light on the extent of the problems it creates in the system from overcrowded jails to clogging up the court system to how it impacts people's lives long after they're released.
According to an article in the Stanford Law Review, defendants detained before they go to trial are 25 percent more likely than their counterparts to plead guilty, 43 percent more likely to be sentenced to jail time and are more likely to commit future crimes.
"Finding that folks detained pretrial have bad outcomes is not surprising, but the magnitude of the bad outcomes is surprising," Letts said.
Because the court system is backlogged, it can take weeks or even months before a defendant goes to court. In that time, the defendant could lose their employment, have their children placed into foster care or experience other personal consequences that make it more difficult for them to stay out of the criminal justice system in the future.
The cost associated with pretrial incarceration continues to climb and local governments are having a hard time keeping up with the demand. Sheriffs throughout the region have said a vast majority of their inmates are awaiting trial. At an average of $80 a night to keep someone in jail, taxpayers are paying to keep people locked up who haven't been convicted of their charges.
How it will work
The pretrial release pilot program will only involve people charged with low-level offenses — things like simple drug possession, writing worthless checks, misdemeanor larceny or shoplifting. Beginning Jan. 1, the Judicial District 30B, which includes Haywood and Jackson counties, will have a new pretrial release policy that will allow judges to set an unsecured bond.
"We'll be dealing with folks committing nonviolent crimes and have small bond amounts. We're not talking about violent crime and serious offenses — those people will continue to receive secured bonds," Letts said.
A secured bond requires a defendant to pay it before they are released; they can do so by paying cash in full or by going through a bail bondsmen and paying 10 to 15 percent of the bond. The pilot program means that low-level offenders identified through the program will be given an unsecured bond, which means they will be released after booking and processing and only have to pay the bond if they fail to appear for their court date.
"The county and taxpayers have to pay to house those people in addition to accommodating their medical expenses, but also keeping them in jail is impacting them and their ability to work and provide for themselves and their families and everything else they have a responsibility to do."
In addition to setting more unsecured bonds for low-level offenses, Letts said he was exploring the idea of providing legal counsel sooner for indigent defendants. He said it's been typical for defendants not to get a court-appointed lawyer until their first court date, which could be a few days or a couple of weeks after being arrested and incarcerated.
However, he would like to implement a new 72-hour policy to make sure defendants charged with a misdemeanor or felony speak to a lawyer within 72 hours of arrest. Currently, there is only a rule to ensure people charged with a felony get a bond hearing within 96 hours.
"We're going to explore the possibility of providing counsel at an earlier stage to folks who have been charged so there can be a bond hearing to address the issues of pretrial release," he said. "We want to see everybody within 72 hours."
The 30th Judicial District doesn't have state-funded public defenders like many other counties do — it only has private attorneys who volunteer to be on the list of available court-appointed lawyers. It's a fairly short list, so Letts said he's working with N.C. Indigent Defense Services about contracting with attorneys to handle pre-trial hearings.
"They would not only assist the defendant charged but would also help the district attorney prosecutors and judge better understand the issues at hand — the person's stability, ties to the community, their criminal history and whether they're a flight risk," Letts said.
The pre-trial hearing lawyer might not be the lawyer defendant sees when they go to court, but having them on hand to meet the 72-hour hearing policy will hopefully mean a more streamlined court process. A more efficient court system will hopefully lead to fewer continuances and fewer people sitting in jail waiting for a court date — which will save the counties money on their sheriff's department and jail budgets.
Letts said a more efficient system would mean swift justice for victims who are waiting for closure.
"My hope is this will not only benefit people in cases but also benefit the court system by moving people through the court system quicker," Letts said. "It will also benefit victims if cases are heard sooner and resolved sooner. I hope it will increase the efficiency of the courts, which will benefit everybody."
Costs and savings
Many pretrial services do come with a cost, whether it's offering court date reminders to defendants or utilizing more probation officers and electronic monitoring devices in lieu of pretrial detention, but the policies chosen for this pilot program won't have a major impact on the court's budget.
Letts said the only cost would be working out a contract for the pretrial hearing lawyers who participate in the program. Another potential cost being explored is the purchase and installation of audio-video equipment inside the Jackson County Detention Center, which will make it easier for defendants to speak with legal counsel sooner.
"We don't have court every day in Sylva, but we do have District Court here in Haywood every single day. We could do video here for a defendant in Jackson County so we can still have a bond hearing within 72 hours," Letts said.
Even with some initial costs, most jurisdictions that have implemented pretrial services have found tremendous savings in the long run since it costs more to incarcerate people than it does for these services. For example, a night in jail costs about $80 a night while the average daily cost for pretrial supervision is about $7.17, according to Pretrial Justice Institute.
"Any cost there would be outweighed with savings in the future," Letts said.
Lucas County, Ohio, is one example of how pretrial services improves an entire judicial system. With the goal of advancing fair practices and reducing the jail population, Lucas County began participating in the Safety and Justice Challenge through the MacArthur Foundation in 2016, which provided grant funds.
With a county population of 440,000 people, Lucas County's 346-bed jail was constantly over capacity and the county was contemplating building a new jail. After implementing new pre-arrest and pretrial services, the county was able to reduce its jail population by 22 percent in just one year.
The 30th Judicial District may not have a $1.7 million grant to pour into reform programs, but between the pretrial release program being implement through the state, the LEAD jail diversion program being implemented in Haywood and a grant through Haywood Pathways Center to place case workers in the detention center to work with inmates, the county is well on its way to making improvements to the criminal justice system.
"This issues are being discussed around the country and everything I've been hearing about will be included in our policy changes," Letts said. "And these types of changes happening around the country are working based on the data we see."
Downstream consequences of misdemeanor pretrial detention
Detained defendants are:
- 25 percent more likely than similar released defendants to plead guilty
- 43 percent more likely to be sentenced to jail and receive jail sentences that are more than twice as long on average
- More likely to commit future crimes
Source: Stanford Law Review