The Cost of Incarceration
The cost of incarceration
Wednesday, August 01, 2018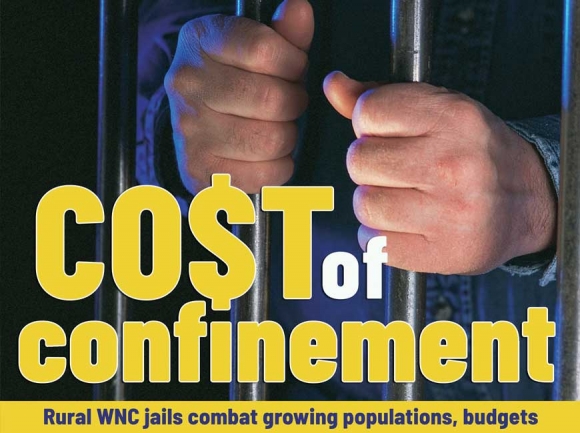 As The Smoky Mountain News embarks on a yearlong investigative project to explore the rural jail crisis, we wanted to first take a look at how much incarceration is costing the taxpayers in Western North Carolina.
Financial data was collected from the four counties in our coverage area — Haywood, Jackson, Macon and Swain — to analyze how much each spends annually on local detention centers and how it impacts the overall county budget. What we've found is that costs are rising annually and budgeting can be difficult with so many fluctuating expenses to consider.
Trying to estimate the costs of inmate transportation and medical expenses each year is often futile as one inmate's medical emergency can throw the entire budget out of whack.
If a sheriff's department arrests someone going through a mental health crisis, an officer has to stay with them in the emergency room until a behavioral health bed is available. Due to a lack of behavioral health facilities in Western North Carolina, that bed is usually hours away. Two officers are required to transport that person to the facility and are also responsible for returning that person back to their home county once they are stabilized.
According to the Vera Institute of Justice, America is home to 5 percent of the world's population but home to 25 percent of all inmates. There are about 2.3 million people incarcerated in the U.S. at any given time being held in 1,719 state prisons, 102 federal prisons, 1,852 juvenile correctional facilities, 3,163 local jails and 80 Indian Country jails.
While state prison reform will be discussed during this project, the main focus will be on the 615,000 people incarcerated in local county jails that are funded with taxpayer money. According to countywide data collected by Vera Institute, local incarceration rates are rising steadily and in some cases surpass state and federal incarceration rates.
What is driving this so-called rural jail crisis? Sheriffs in WNC say it's a number of factors at play, including a lack of mental health facilities, an increase in substance use and drug-related crimes, a backlogged criminal justice system and the state prison system sending its inmates to serve sentences in the local jails.
Here's a closer look at what law enforcement and incarceration is costing taxpayers in Western North Carolina.

Macon County Sheriff Robert Holland stands in front of the 20-year-old law enforcement center that has outgrown its 75-bed jail facilities. Jessi Stone photo
Macon jail consistently over capacity
Law enforcement costs in Macon County have skyrocketed in the last five years as the sheriff's department deals with an overcrowded jail. Since 2013, the Macon County Detention Center budget has nearly doubled as a result of a higher inmate population, unpredictable medical expenses and the cost of transporting inmates to be housed in other counties.
The Macon County commissioners approved a $2.6 million budget for the jail for 2018-19, which has gradually increased each year from $1.8 million in 2013-14. The county also approved a $4.5 million budget for the sheriff's office this year.
"You try your best to look to the future — we submit our budget request to the county in February but the new budget doesn't start until July so you have to think far ahead," said Macon County Sheriff Robert Holland. "It's difficult and things can change. We've gotten our meal costs down and we make a little money on commissary and phone calls, but all that's so minimal — it's nothing compared to actual cost."
When the Macon County Law Enforcement Center was built in 1999, it was built for the current need and not for the future needs of the county. The 75-bed facility off Lakeshore Drive in Franklin is only 20 years old now and is consistently over capacity. In 2013-14, the jail had an average daily population of 52.5 inmates — 10.6 of whom were female. In 2016-17, the average daily population has increased to 98.25 inmates — with 22.3 of those being female. This 88 percent increase in average daily population during a three-year period means the sheriff's office has the additional expense of transporting inmates to other county jails and paying those counties to house them.
Last week, Macon County had 108 inmates in custody, but 33 of those had to be housed in Cherokee and Clay county jails at the cost of $50 a day. That's $1,650 a day to house those 33 inmates until they are released or go to trial. The jail has budgeted $350,000 for 2018-19 to cover transporting costs, which also includes transporting inmates from jail to court.
Jail standards do mandate that female inmates have to be separated "sight and sound" from the male population. Macon's jail has only one female dorm that houses 12 inmates, and last week 22 women were in Macon's custody, including a pregnant woman in her third trimester.
An overcrowded jail also means paying more for medical expenses for an array of inmates with different needs from prenatal care to diabetes, heart disease, mental illness and addiction. Holland said most of the inmates are indigent, meaning taxpayers have to foot the bill for their medical needs. For example, one man came to court drunk and had to be held in contempt in the jail. He then had a heart attack while in custody and cost the detention center $50,000.
"With medical expenses, there's a lot of variables. A lot of it is due to addiction and people not taking care of themselves," he said. "When they're in our jail, we take them to the hospital if they need to go. But it's astronomical the amount we spend on medical services."
In 2012-13, the costs associated with inmate medical treatment reached an all-time high totaling $291,753 in Macon County.
Involuntary committals are another volatile cost for the department. If someone is arrested and deemed by a judge to be mentally unstable, an involuntary commitment is ordered and the sheriff's office has to take the person to the emergency room for evaluation. Because of the shortage of behavioral health beds in the region, the deputy often has to wait hours and even days for a bed to open up somewhere for the patient. It doesn't matter if that bed is an hour away or five hours away, the sheriff's deputy has to transport the patient there and come back to pick them up once they are stabilized. In 2014 alone, Macon County Sheriff's Office spent 8,299 hours and $253,625 on 247 involuntary committals.
In an effort to bring costs down, the sheriff's office began contracting with Correction Risk Services (CRS) to review each medical bill coming into the jail and challenge those that are erroneous or duplicated. CRS also negotiates prices with medical facilities on behalf of the detention center.
"They go in and wash the bills — we may get an $80,000 bill and they negotiate with the hospital and it may end up being $30,000 and of course they get a percentage of that savings," Holland said.
It's not a contract service the detention center ever thought it would have to utilize but it has helped bring about some savings even though the medical bill totals keep increasing. In 2018-19, the county budgeted $275,000 for medical expenses.
Holland has also found some cost savings by switching its jail meals contract from Angel Medical Center to Summit Food Service. Since 2013, the actual food costs in the Macon jail increased by 18 percent to $340,685, which is $4.85 per meal. Holland looked around to see what other jails do and found Clay County was pleased with its contractor Summit. The new contract reduced the price per meal to $3.90, which means the county can now budget $232,594 to feed inmates.
In addition to a growing inmate population, the sheriff's department in general is receiving more emergency and non-emergency calls. In 2017, the sheriff's office responded to more than 16,000 emergency calls — that's up from about 14,000 in 2013 and 2014.
Deputies also responded to another 12,450 non-emergency calls in 2017. Macon County's population has only increased from 33,922 in 2010 to an estimated 34,732 in 2017, but the incarceration rate has almost doubled from 2013 to 2017.
When asked about the driving factors behind the increase, Holland said a majority of it has to do with the opioid epidemic and the lack of mental health facilities in the region.
"Opioid addiction, a lack of services for folks and bad choices by individuals," he said. "The immediate thing that needs to happen is we need to have more availability for long-term rehabilitation."
On the other hand, Holland said, it's nearly impossible to help people suffering from substance addiction unless they accept they have a problem and are willing to get help. He's talked to parents desperate for their child to seek help with addiction before it takes their lives. Sometimes the only sleep those parents get is when they know their child is in jail and not at risk of overdosing somewhere.
"When an individual is ready for help that's when they need help because if you wait they're going to end up giving into the addiction because they start hurting," Holland said.
While Holland and his staff do what they can to divert people to rehab, he said sometimes it may take a person getting arrested and sitting in the jail for a month or two before they're open to receiving treatment.
"You have a right to be safe and if these people are threatening and hurting people, I have an obligation to keep them in jail and to keep the community safe and if that means keeping an addict in jail, so be it," Holland said.
With a population of about 34,732, Macon County's cost for law enforcement and incarceration is about $204 per resident.
Corp. Crane puts away the orange and white uniforms worn by inmates at Macon County Detention Center. Jessi Stone photo
Swain jail offsets costs by housing federal inmates
Swain County's new $10 million detention center was completed in the fall of 2008, but was already in the works when Sheriff Curtis Cochran took office in 2006.
Though Swain County's population is just over 14,000, the jail was built four times the size necessary to accommodate its own inmates. The purpose of building a 109-bed facility was to be able to house overflow inmates from other counties as well as federal inmates to subsidize the cost of the jail.
The jail hasn't been the cash cow the county thought, but housing federal inmates does help recoup some jail costs. On average, the jail houses 15 to 20 federal inmates per day and the federal government pays Swain County above and beyond the jail's actual cost per inmate.
"It impacts us tremendously for revenues — we get $63 a day for federal inmates and they (U.S. Marshall Service) are responsible for their medical and transportation costs," Cochran said. "To transport inmates, they pay $23 an hour and we have to have two officers for that and it's a four-hour minimum — most trips average six hours so that generates a lot of money."
Each year the county budgets for increased revenue from the federal inmate contract — $300,000 in 2016-17, $320,000 in 2017-18 and $360,000 for the current 2018-19 budget.
When the new Swain County jail was being constructed, the Qualla Boundary didn't have its own jail facility to house tribal member inmates and had to send them to Swain's jail. Cochran said the jail was averaging 30 tribal inmates a day, but that revenue source dried up in 2014 when the Eastern Band of Cherokee Indians built its own $26 million jail and justice center.
"Construction started in 2005 so I inherited the new jail. It was built bigger than needed but at the time we were also having to house all Cherokee tribal inmates," Cochran said. "When Cherokee built their own jail a couple years ago we lost half a million a year in revenue, but it's about balanced itself out again."
Surrounding counties were also in the process of constructing new jails just as Swain was planning its build out. Cherokee County constructed a 150-bed facility and Haywood had completed a 148-bed facility around the same time Swain's was being completed.
Cochran said the Swain jail is occasionally close to or over capacity, but that the average jail population is 75 to 80 inmates a day. Occasional overflow is usually due to an increasing female population. The detention center can house only 25 female inmates, and that's if they utilize cells that are intended to isolate inmates who are sick.
In addition to local and federal inmates, Cochran said Swain gets overflow from neighboring Graham County, which has only an eight-bed jail. Swain is also one of the many county jails that participate in the Statewide Misdemeanant Confinement Program. A result of policy reform to reduce state prison populations, the program allows certain people who have a misdemeanor conviction, including DWI, and a sentence of more than 90 days to serve the sentence in a county jail.
The state program brings in about $100,000 a year to offset Swain's jail budget, and housing for other counties brings in about $60,000 a year. Two years ago, the sheriff's office entered into a contract with the U.S. Forest Service to patrol the Nantahala Gorge during the summer months. Cochran said money from that contract goes toward funding overtime pay for his deputies.
Cochran said the sheriff's office also recoups a little money from the inmate commissary, phone cards for inmates and offering a concealed carry permit training class.
Similar to other jails in the region, medical expenses are hard to predict and one inmate can eat up a large percentage of what was budgeted for the year. Cochran recently had to ask the commissioners for a $70,000 budget amendment to cover medical expenses for one inmate, though he's hopeful a pending negotiation with the hospital will result in a lower bill.
In 2013, the county spent $270,000 on inmate medical services, but in recent years has been able to keep it at about $160,000 a year. The jail contracts with Smoky Mountain Urgent Care for a nurse who is on site five days a week for four hours.
"We have a jail nurse and she tries to keep those numbers down," Cochran said. "She sees most of the inmates complaints and if they go to a doctor it has to be a very needed thing. Of course we're not going to stop people from going to the hospital if they have to."
The cost of operating the Swain County Detention Center has increased some over the last few years, but not as substantially as some other counties. The jail budget in 2016-17 was about $1.23 million; it increased to $1.26 in 2017-18 but decreased to $1.25 for the current fiscal year. The sheriff's department budget has increased slightly each year from $1.9 million in 2016-17 to nearly $2.1 million for 2018-19.
Though the increases might seem low compared to other counties, Swain County's per capita cost for law enforcement and incarceration is $224 per resident — the highest out of the four counties examined. That doesn't include the $473,000 annual debt service on the jail that the county will be paying for another 30 years.

One of three pods at Haywood County Detention Center can house up to 24 male inmates. Lindsay Regner photo
Haywood proactively manages jail population
While some jailers may consider incarceration as their main responsibly, Haywood County Detention Capt. Glen Matayabas says his No. 1 priority is to get people out of the jail as quickly and efficiently as possible.
"My job is to manage our jail population and get people out of custody that shouldn't be in jail," he said.
As for the ones who need to be in jail, Matayabas' job is to make sure he's doing everything in his power to get them into court for sentencing — which can prove challenging in a clogged-up criminal justice system.
Haywood County Detention Center was constructed in 2005 for about $12 million. With a 148-bed capacity, the average inmate population hovers around 100, though it does fluctuate. In 2013 the average population was 102 but in 2017 it was 115.
"I'm proud of the fact we're hanging in around 100 — it's a much more manageable number through the entire jail process," he said.
Matayabas said the goal is to manage the population proactively so that the detention center never reaches capacity because operating at or over capacity only presents more challenges for his staff. He and Sheriff Greg Christopher also know the impact it can have on their bottom line and the cost to taxpayers.
But even 100 inmates is a strain on resources — the main jail can house 108 inmates and a detached annex (that used to serve as a juvenile facility) can house another 40 inmates who are considered low risk. Matayabas said he just recently had to open the annex back up to accommodate 13 inmates and place two detention officers out there to supervise them.
Even though the number of inmates and the average length of stay (11.6 days) have remained relatively stagnant in the last five years, the cost of housing inmates has increased due to the cost of medical services and transporting inmates. The average cost to house an inmate for one day has increased from $58 in 2013 to $72 in 2017, and the jail budget has increased from $2.14 million in 2013 to just over $3 million in 2017.
Christopher said it's more than the opioid epidemic that's driving up the cost of incarceration.
"It's not completely opioids — meth is back and it's come back with vengeance and it's cheaper than it's ever been on the street," he said. "Pills are expensive — about $1 a milligram — and meth dealers know that and reduced their prices. Heroin is also extremely cheap and making a comeback."
He said mental health issues and a lack of rehabilitation beds have also played a large part in the higher number of bookings at the jail. Most people in Haywood County experiencing a problem with addiction or mental health crisis don't have insurance and can't afford a private-pay rehab facility.
"People who normally come into our facility don't have any kind of insurance, which makes it extremely difficult. They can't pay $5,000 a month for a rehab," Christopher said. "We either need to reduce the cost of rehab beds or we need more services for people through the state."
Similar to Macon County, involuntary committals are also taking a lot of time and money in Haywood — 2017 was a record year for involuntary commitments. Medical expenses have increased from $167,000 in 2013 to $258,000 in 2017. Whether an inmate has to go to the hospital for an involuntary commitment or any other medical need, a deputy has to stay with that inmate the entire time.
"We do our best to create a hypothesis to work on for the budget, but it's a shot in the dark a lot of times because of medical costs more than anything else," Matayabas said.
Haywood jail contracts with a nurse to provide everyday medical services for its inmates. The nurse is on site from 8 a.m. to 5 p.m. each day and a physician's assistant comes in every Monday to help with certain medical needs.
Haywood jail also participates in the state misdemeanant program and currently houses five females and five males for the state. At $40 a day per inmate, Christopher said the program does generate some revenue to offset expenses. Any other revenues from commissary and phone calls go back into the county general fund to offset overall expenses.
Even with a county population of over 61,000, Haywood County Detention Center has one of the lowest per capita costs for law enforcement and incarceration at $129 per person. Haywood also offers the most programs and services for its inmates.
Capt. Glen Matayabas (above, left) has been the jail administrator at Haywood County Detention Center for more than a year. Lindsay Regner photo
Jackson jail makes do with limited resources
The Jackson County Detention Center sometimes struggles to meet the needs of a growing inmate population with limited resources, but Sheriff Chip Hall and his staff say they are making do with what they have.
As the average inmate population has increased from 58 in 2013-14 to 64 in 2017-18, the jail budget has also crept up from 1.4 million in 2013-14 to $2.1 million in 2017-18. At the same time, the jail still has 20 detention officers — the same number it had when the jail opened in 2003.
"It is what it is — we can run the jail with five people on a shift and we make it work but we could use more," said Jail Administrator John Buchanan, adding that the jail is trying to fill two open positions right now.
The overall average population hasn't overwhelmed Jackson's 72-bed facility, but the exploding female inmate population has forced the jail to house females in other counties. Buchanan said the jail has only eight beds for females, but currently has 18 in custody as of Tuesday. Charges range from probation violations to murder for the females in the Jackson County jail.
"The biggest challenge we have is the female population. When the jail was designed it was not big enough to handle the exploding female population we've seen in the last 10 years," he said. "If you look at the numbers, we were housing three to six females when we opened and had eight beds."
Buchanan said female inmates have to be sent to whichever surrounding county has room for them — most often Cherokee, Transylvania, Haywood or Swain counties. The cost is $50 a day plus the cost of transport and medical costs. The average cost to keep an inmate in the Jackson County jail is $85 a day.
"I try to house with jails that have the same medical contract as we do so we don't have to step out of the medical contractors, which only makes more paperwork for us," he said.
While contracting with Southwestern Correctional Medical Group since 2015 hasn't necessarily been a cost savings to the jail budget, Buchanan said it's one of the best decisions the sheriff has made.
"It's a major expense but you get what you pay for," he said. "This company is phenomenal. They see inmates on a daily basis and they do mental assessments, monitor inmates and look for any red flags. They're here seven days a week. Medical and mental health needs are always our biggest worry."
The jail does participate in the Misdemeanant Confinement Program in an effort to offset expenses. Buchanan said the jail has five male inmate beds dedicated to housing those state inmates for $40 a day.
Jackson County Detention Center has the lowest per capita cost of $95 for its 43,000 residents.
Leave a comment
1

comment
Two Questions:
1. Do all the people in jail need to be there? How many would be out of we did not have outdated laws requiring folks to pay bail money to get out of jail and many cannot pay to be released. So the poor are being punished even before being tried and convicted of a crime. I was told today that people have resided in jail for as long as 5 years before being tried for a crime!!

2. How many of the people being incarcerated have behavioral health issues and need treatment instead of punishment? That includes incarcerating people with drug dependencies instead of providing treatment and supervision. I heard a professional say we need longer sentences. No we need more counselors and drug treatment centers.

Wednesday, 02/02/2022