Archived Arts & Entertainment
Folkmoot guides play critical role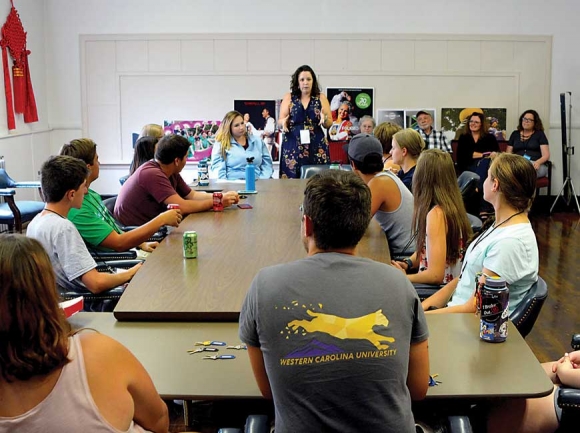 Group Relations Coordinator Elizabeth Burson (standing) takes Folkmoot guides through a training session. Cory Vaillancourt photo
As approximately 200 international performers descend on Hazelwood in the coming days, much of the public — from Franklin to Hickory and everywhere in between — will see them flawlessly execute their demanding dance routines in elaborate wardrobes, often accompanied by substantial live instrumentation.
What they probably won't see, however, is the small army of people behind the scenes working to make sure more than two dozen different events spread out over 10 days and almost 150 miles all go off without a hitch.
Language, culture and even geopolitics can sometimes be a barrier, but as a new group of locals carries on the 35-year tradition of welcoming performers from across the globe to lil' ol' Waynesville, they're also learning lessons about tolerance and community-building that will stay with them for life.
Take eight international performing groups, house and feed them in a 40,000-square-foot historic Western North Carolina schoolhouse for nearly two weeks, transport them to and from 25 separate events, add a smattering of local festival staffers, and what do you have?
Of course you have the Folkmoot Festival, but you also have a huge logistical challenge backdropped with what at times seems like a sociological experiment in human nature. It's a wonder it doesn't all devolve into The Lord of the Flies, but in this case, the thin line between order and chaos is held by a group of young people known in Folkmoot parlance as "guides."
"Every time Folkmoot brings in a group from another country, they expect that we provide them with an ambassador or a guide who helps them get to their events on time, or even find their shoelaces," said Angie Schwab, executive director of Folkmoot.
Although they can be of diverse ages and from anywhere in the county — or world — guides are usually local to Haywood County and tend to be high school or college-age young people who more or less volunteer for the two-week assignment. They're paid a small stipend, but it's not about the money, Schwab says, it's about the richness of the experience.
"We have 47 people that work with us every year to produce this festival," she said, adding that this year there are about 25 guides who will be profoundly affected by the experience.
"A lot of times they decide they want to travel the world. They make choices for their work that includes international culture," said Schwab. "I think this year we have three or four kids that are in international business that want to have this experience. They're coming back from N.C. State and Appalachian State and the University of South Carolina. They want to experience all of these cultures together."
To call it immersive is an understatement; guides over 18 stay in the dorm-style housing at the Folkmoot Friendship Center for the duration of the festival. They eat with the groups. They sleep with the groups. They travel with the groups.
Sometimes, guides speak the language of a foreign group. Sometimes they don't. Whatever the case, guides ensure performers have everything they need to do their jobs — that includes coordinating mealtimes and ensuring access to medical care, when needed, but can also include running minor errands or procuring necessary supplies.
Over the past 35 years more than 10,000 performers have passed through these parts, all of them assigned at least one guide; indeed the learning experience and the cultural exchange seems to go both ways — there are more than a few humans walking this earth who owe their very existence to a parent who at one time served as a Folkmoot guide.
One doesn't simply show up at the Folkmoot Friendship Center in Hazelwood and begin working as a guide.
During the festival, the sprawling brick schoolhouse is a dynamic and harried environment where one might hear more than a dozen foreign tongues at any given moment. People are stressed, sleep is in short supply and of dubious quality, and there's always another performance or event looming on the schedule.
"It's fairly discombobulating at first, but after a day or two it's really joyful because we see lots of people with significant differences — whether it's language, or religion or historical experiences — that may have caused their countries not to get along," said Schwab. "We see all of those folks coming together and I don't know if there's another experience, at least in Western North Carolina or maybe the Southeast, that creates that environment. It's lovely."
Lovely, but demanding, and it doesn't just sail smoothly along on its own; about 50 percent of applications for guides are rejected, and those who make the cut are subject to an intensive five-day training that gives them the tools they need to manage their environment.
"What we say is that when we have good guides we have a good festival, and when we have bad guides we have a not-so-great festival, so we work very hard to prepare them for anything they might experience," said Schwab, who's now heading up her fourth fest. "Based on my experiences in the first year working for Folkmoot, I realized the kids needed more guidance to be successful. They needed to be more prepared for Folkmoot to grow, and for them to grow themselves."
Coursework includes not only team-building exercises meant to build cohesiveness within this year's cohort, but also includes sessions on conflict resolution and global politics.
"This year, Ingrid Bego a WCU professor of political science, teaches that to the kids," said Schwab. "What they'll learn from that is a lot of relationship information between the groups that are attending."
Safety is also obviously a concern, not solely due to the international nature of the fest and not solely due to potential conflicts among performers or staff.
Also given that many performers — and assistant guides — are minors, guides receive training from law enforcement on spotting trouble before it becomes trouble.
Waynesville Police Department Captain Brian Beck has served as a captain for seven years but has been with the department since 1990 and has worked with Folkmoot the whole time. He has extensive training in SWAT tactics and even serves as an instructor on some law enforcement topics, like he did the morning of July 14 when he addressed a group about 60 Folkmoot guides, staff and volunteers.
"I snuck in here around midnight last night and put something under your seats," Beck told them. "Did you check before you sat down?"
As everyone in the room nervously reached down between the legs of their blue plastic cafeteria chairs, Beck's lesson in situational awareness began with a confession.
"I didn't," he said. "But you didn't check."
He then made everyone take out their cellphones and enter the number of the Waynesville Police Department, while discussing how to handle suspicious persons — "Where's your lanyard?" — and suspicious packages or baggage.
He also said he'd already been talking to his officers about the fest.
"I told them I want them here a lot," he said. "But you have to serve as the eyes and ears of the Waynesville Police Department."
Guides also serve another important role, according to Canton resident Vivian Poppas.
"They kind of take each group under their wing and they help him with anything that comes up that needs to be done," said Poppas, who has been involved with Folkmoot for 29 years. "But they're also a representative of the United States, for each group that travels so far to get here."
Despite the seriousness of the training, the importance of the role, the long hours, the low pay and the muggy July heat, serving as a Folkmoot guide brings a lot of people back year after year, like Spartanburg schoolteacher Heather Davidson.
"My mother lives in the area and I visit her every summer, and that's how I first got involved with Folkmoot," said Davidson.
That was about a decade ago, and Davidson is just 22, but she's served in the kitchen, worked in the office, and done "a little bit of everything" during the fest. This year, she's the gal who guides the guides.
"I think this is my second year being lead guide," she said. "It's been a challenge but I've endured it."
Waynesville native Grace Feichter appears to be on the same path as Davidson; she's just 17, but is in her third year as an assistant guide.
"I remember watching the parade as a child, and when I was about seven years old, there was a group from Mexico and I was standing on the side of the street with my eyes wide in awe," Feichter said. "She asked me if I wanted to dance with her in the street. I hope that as an assistant guide, I'm helping other people to have the same experience."
Feichter calls taking part in the whole festival experience "life-changing." Haywood County native Vivian Poppas, who had already been working with Folkmoot for 12 years before Feichter was even born, can certainly testify to that.
"[For] people that become involved internally with this festival, the cultural awakening is just overwhelming at times," said Poppas. "I've learned so much about different countries, different people, different religions, but the bottom line is, we're all just alike."