Ask Leah! The Ingles Dietitian
Sponsored: Have a Listen to "Ingles Information Aisle"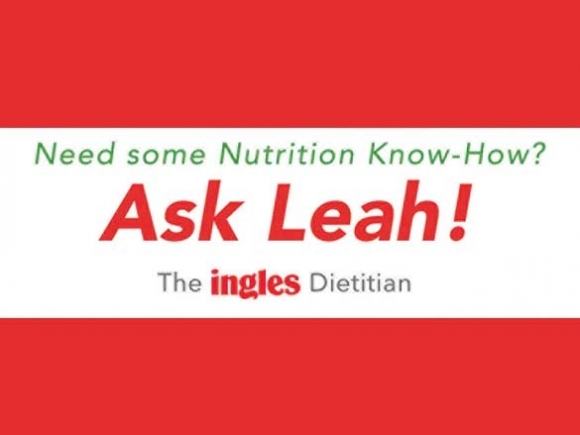 For the past 11 years I've been the host of the "Ingles Information Aisle" that airs every Saturday morning on News Radio 570 am (WWNC 570am) at 8am-8:30am ET. This station is part of the "iheart" radio network (www.iheart.com) so you can listen to it on the radio in your car, home or on-line or even with the iheart "app" on your smart phone.
I usually record the shows on Wednesdays in the WWNC 570am studio in West Asheville and set up the guests myself. The guests and topics usually pertain in some way to Ingles Markets, food, health or nutrition. Often the shows feature interviews with some of our local farmers and vendors.
Over the years I've had a variety of different guests and many of their interviews are archived on inglesinfoaisle.com/podcast.
Here are just a few:
Sherry Coleman Collins Dietitian for the Peanut Board - Who talked about when and how to introduce peanuts to infants.
Gretchen Brown Owner of Munkii Foods, a "globally inspired" trail mix.
Meredith Leigh - butcher, public speaker and author of the book the "Ethical Meat Handbook" - who talked about her journey from being a vegan/vegetarian to becoming a butcher.
Tony Haywood - Retail Marketing Specialist for the North Carolina Department of Agriculture on the "Got To Be NC" program
Michele Miller ( aka "The Farm Babe") - Michele lives on a farm in Iowa but blogs and speaks publicly on a variety of farming issues to try and dispel myths about farming.
Rachel Laudan - Author and food historian.
Greg Jaffe of the Center for Science in the Public Interest (CSPI) and author of the Biotechnology Project who talked about the safety of genetically engineered crops.
Leah McGrath, RDN, LDN
Ingles Markets Corporate Dietitian
facebook.com/LeahMcgrathDietitian
800-334-4936