Archived News
Affordable housing development looks for resources
Wednesday, August 24, 2016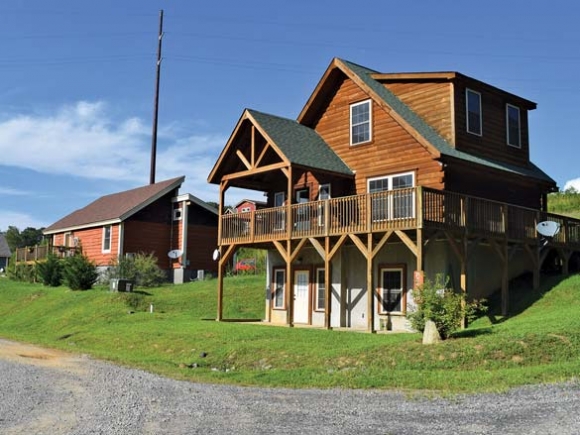 Passersby probably don't give a second thought to seeing news houses being built on the hillside when traveling up Jonathan Creek Road, but the development has quite a story to tell.
A developer with big plans to build vacation condominiums originally purchased the 50 acres with gorgeous views of Hemphill Mountain, but it didn't pan out. That developer's flop ended up being a Richard Bates' good fortune. Bates, a local philanthropist, was able to snag the property for a bargain rate in 2013 with dreams of building affordable houses for people in the community.
Now that dream has become a reality. Three years later, 15 homes have been constructed at Bethel Village. Seeing the limited housing options available for working families, single parents and elderly residents of Haywood County, Bates wanted to offer a better option — something in between a 30-year-old mobile home and a high-priced home rental. He also wanted to fill a gap by helping people who can't qualify for a conventional loan but also may not qualify for government assistance or Habitat for Humanity.
Bates set off on his plan to build 75 energy-efficient affordable homes on the property with the help of volunteers and donations so he could sell the homes at cost — about $80,000. Churches and other nonprofits have all lent their hands in the project and the results speak for themselves.
Just like with Habitat for Humanity or Mountain Projects, there are certain requirements needed to qualify for a home in Bethel Village. Applicants must reside in North Carolina, be employed, qualify for a mortgage, participate in a homeownership course and commit to 200 volunteer hours toward constructing a home.
There are also income guidelines. To qualify, a household can't make more than $35,435 for one person; $40,470 for two people; $45,505 for three people; $50,540 for four people; or $54,635 for five people.
While much progress has been made, Bates said the project is in somewhat of a holding pattern as he tries to figure out his next move.
"Right now we're looking for partnerships to move it forward," he said. "We look forward to partnering with other entities to keep it going and also raise awareness."
Haywood Pathways Center in Hazelwood, which provides emergency housing for homeless and a short-term residency program, is one entity Bethel Village is looking to partner with, but no concrete plan has been laid out yet.
Jeremy Parton, director of the Pathways Center, said the organization is trying to figure out what its role will be in improving the affordable housing crisis in Haywood County. He hopes to have a clearer picture of what that will look like in the next 30 to 60 days.