A&E Latest
Down home radio: WPTL celebrates 60 years on the air
Wednesday, September 06, 2023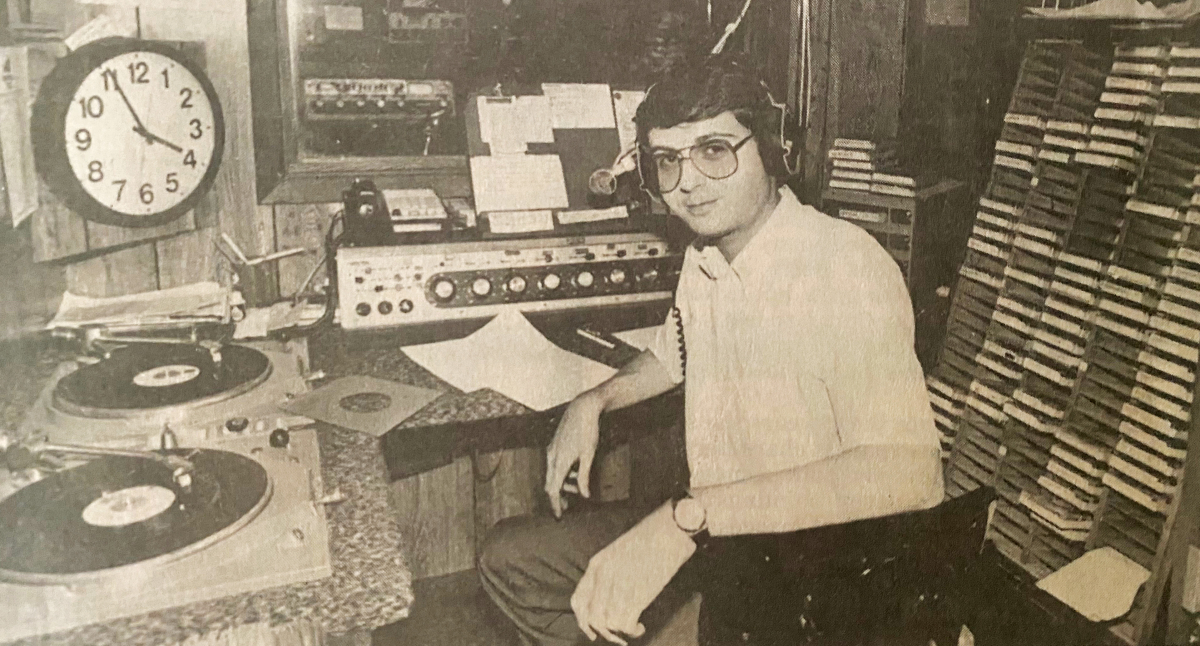 In the winter of 1978, Terryll Evans was a ninth grader in Orlando, Florida. But, by March, she and her family would pack up everything and move hundreds of miles away to the mountains of Haywood County — an unknown landscape for the teenager.
"When we moved here, there was probably six inches of snow on the ground," Evans reminisced with a chuckle. "It was the year that it snowed really bad, so the kids hadn't gone to school most of the winter."
For Evans, it was initially hard to leave fun in the sun for mountain adventure. But, that feeling quickly dissipated as her family assimilated itself into its new role in the small, tight-knit community of Canton — running the WPTL radio station.
"We are the social hub for the community," Evans said. "We have all walks of life and diversity in Haywood County, so we're part of a lot of households here — in the car, in the home, wherever you can stream us online."
Last month, WPTL celebrated its 60th anniversary on-air. Launched on Aug. 3, 1963, the call letters (supposedly) stand for "We Please the Listener," a deeply-held ethos and attitude that remains at the core of the company this many decades later.
"We want to be part of anything that's going on — local news, school sports, concerts, benefits, yard sales," Evans said. "And we even do an obituary report, which is a sad time, but it's an important part of Haywood County. We're here for everyone and anything — we're the continuation of the community."
The long, ongoing journey of WPTL starts with Charles R. Price and Clay H. Cline creating the station in 1963. Originally located on Main Street in Canton, WPTL was 920 AM on the radio dial. At that time, the county had three stations: WPTL, WHCC (easy listening) and WWIT (Top 40).
"And we're the only ones left in Haywood," Evans said.
Throughout the years on-air, there were several notable WPTL disc jockeys — Jimmy Haney, Chuck King, Richard Hurley, Charlie Worsham, Pat Hurley, Cliff Hannah and so forth.
By 1972, Charles R. Price Jr. sold the station to Vernon E. Pressley, only to then transfer the station to Evans' father, William (Bill) A. Reck, in 1978, who bought WPTL with Evans' grandfather, Myron A. Reck.
To note, the Recks owned the popular WTRR station in Sanford, Florida, from 1945 to 1977. When the Recks sold WTRR, they ended up in Western North Carolina due to the location of WPTL being right outside the radius of the non-compete clause the father-and-son signed when selling WTRR.
By 1979, the Recks moved WPTL to its current location at 131 Pisgah Drive in Canton. And even though Evans left Haywood County not long after high school graduation, WPTL was always somewhere in the ether of her existence. The company was a family business, though Evans swore she'd never take over.
"I moved away in 1982 and I said, 'I'll never do radio,'" Evans laughed. "But, I always stayed in touch with mom and dad. I was living in Alabama when mom passed away in 2013. Not long after, dad asked me if I was interested in coming back to Canton and helping him run the station — I said I was."
Bill Reck owned and operated WPTL until declining health forced him to retire in 2020. It was at that juncture where he handed the reins of the station over to Evans. Eventually, WPTL was able to launch an FM component, known as 101.7 FM. The station also grew its online presence in that time (wptlradio.net).
Bill Reck. Donated photo
"The FM translator opened so many doors for us," Evans said. "With AM radio, you sometimes have to power down at certain times. But, with FM, WPTL goes all the way to Franklin, Cherokee and Bryson City."
In October 2021, Bill passed away, with Evans left at the helm to steer the WPTL ship into its next, unwritten chapter.
"My father taught me well. He was a very good professor, you might say," Evans noted. "He was wonderful and I learned so much from him. I feel very honored to carry on the family business into the third generation. I just hope I'm doing as good of a job as he did in the past — I'm proud to continue the family tradition."
These days, in an era of incessant white noise and mainstream media, WPTL has come full circle in its intent — community radio for, well, the community itself. Popular broadcasts include the Christmas parades, local gatherings and happenings.
But, the king of kings on-air for WPTL remains Pisgah High School football, with each game broadcasted live every Friday night.
"We've tracked the numbers and we'll have over 55,000 people listening on the internet to Pisgah football," Evans marveled. "And there's no way to tell how many are also listening on the radio in their cars or homes."
Another extremely popular WPTL program is "Papertown Roots Radio." The twice-weekly program is hosted by Canton native and musical legend Tim Surrett, most notable for his work in the award-winning group Balsam Range — a juggernaut marquee bluegrass outfit based in Haywood County.
"WPTL is the station that I grew up on listening to in the mornings," Surrett said. "My dad would be coming in from working nights on the railroad and mom would be cooking breakfast, all of us kids getting ready for school, eating breakfast — turn on the stove, turn on the radio."
During the 2020 shutdown, Surrett was looking for something to do since Balsam Range wasn't able to tour and perform. Thus, amid a happenstance encounter with Evans, who Surrett went to Pisgah High with, "Papertown Roots Radio" hit the airwaves in August 2020.
There were no expectations for "Papertown Roots Radio" at first, just a slice of life radio slot during the evenings where Surrett could spin his favorite bluegrass, country and Americana artists, all while waxing poetically about his beloved town — tall tales and special guests, good tunes and hearty laughter.
Tim Surrett. File photo
"It's been proven on my show that there's still a place for community radio — there's almost this Mayberry kind of feeling about WPTL," Surrett said. "At this point, the station is the linchpin of our community and that feeling of togetherness. And you don't see that much anywhere anymore, sadly, but we're so lucky to still have that right here in our backyard."
By the online streaming numbers, "Papertown Roots Radio" garners around 35,000 listeners each go-round. Again, this doesn't include those listening on the couch or on the road.
"There's a lot of our listenership tuning in from all over the country and across the globe — California, Long Island, Europe," Surrett said. "And a lot of those folks used to live in Canton and Haywood County — WPTL is a way to keep connected to their hometown and what's going on here."
For Evans, the 60th anniversary of WPTL is not only a milestone to behold and be proud of, it's also a moment to reflect on the two-way street of appreciation and admiration between the station and its audience — a testament to the hard work and fellowship that remains at the foundation of Paper Town.
"You know, sometimes I don't realize the impact of the station and how many people actually tune in and listen to us," Evans said. "My Jeep has WPTL plastered all over it. And while I'll be sitting at a traffic light, people will just look over at us and wave. That makes me feel good — if I can touch someone's heart during the day, that's all that matters."
Want to listen?
WPTL can be found on the radio dial at 920 AM and 101.7 FM. You can also stream the station online at wptlradio.net.
Popular programs include the "Morning Show with John Anderson" from 6-8:30 a.m. Monday through Friday and "Papertown Roots Radio with Tim Surrett" from 7-10 p.m. Mondays and Wednesdays.
If you'd like to donate and support WPTL, you can call 828.648.3576 or email This email address is being protected from spambots. You need JavaScript enabled to view it. . WPTL is located at 131 Pisgah Drive in Canton. The mailing address is P.O. Box 909, Canton, N.C. 28716.