A&E Latest
Barn Quilts: Deborah Freedman mixes traditional with contemporary
Wednesday, August 16, 2023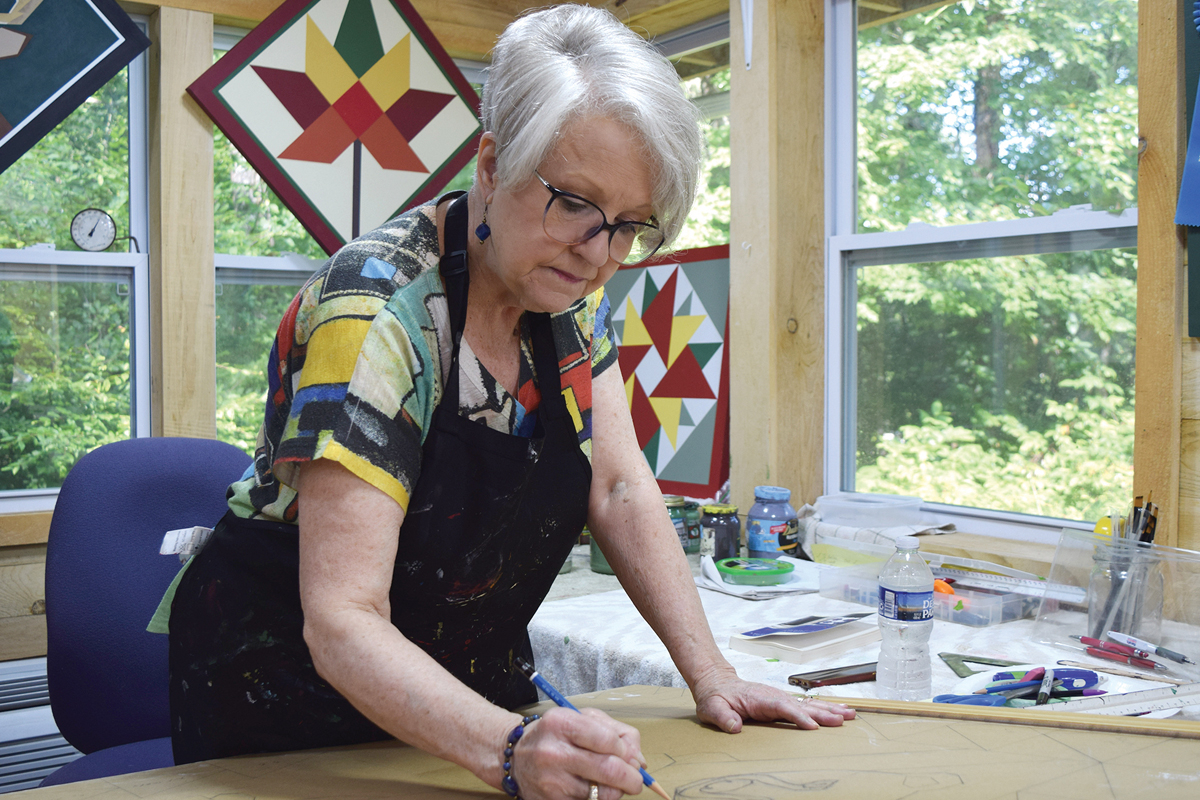 Deborah Freedman sketches out a quilt block in her studio prior to pulling out her paint brushes to apply the durable paints she uses for the finished product.
Deborah Freedman has been painting barn quilts for five years, but she conveys a sense that she has been creating these paintings her entire life.
While still working as an interior designer, Freedman departed from her profession and delved headfirst into the newfound art form. She has found a place among a community of artisans at Dogwood Crafters cooperative in Dillsboro where she displays her work for locals and tourists alike to view and purchase. Through the cooperative, she teaches the processes of barn quilting to those who either want to learn a new skill or experience a medium with deep traditions. She knows heritage crafts such as hers have been diminishing for several years, but she believes contemporary adaptations of her work will lead to a piqued interest in younger generations.
Freedman worked as a high-end interior designer in West Palm Beach, Florida, for 25 years, meeting one-on-one with clients to design their picture-perfect homes. In 2016 she relocated to Western North Carolina and decided the time was right to retire from her profession. A couple of years into her move a neighbor approached her with a request of painting a barn quilt of her goats.
"When I came here, I hadn't picked up a paintbrush in 30 years," she said.
Freedman was hesitant at first, but once she finished her first work she was hooked. In the five years since, she has amassed a portfolio of over 200 works and multiple awards received from various local craft shows and the North Carolina Mountain State Fair. The style of the barn quilts she creates run from traditional designs such as the maple leaf and bear paw patterns to the incorporation of modern symbols including Grateful Dead iconography and Star Wars jedi helmets.
Knowing the history and importance of displaying painted quilts on the outside of structures, Friedman is conscious of creating long-lasting and durable pieces. For this, the artist uses medium density overlay plywood (MDO) as the canvas for its ability to hold shape and retain rich color. Freedman also only uses specialty outdoor paints she came to trust during her time as an interior designer, all for the purpose of the longevity of the works of art.
"We want something that is going to be with people for decades, not a few years," she said.
Longing for a space to connect with other crafters, the artist submitted several of her barn quilts to be judged for entry at Dogwood Crafters. Her work was accepted into the space, and she continually forges relationships with like-minded artists. Furthering education of heritage crafts is one of the important mindsets at Dogwood.
"Dogwood is trying to preserve our heritage arts — quilting, painting, pottery — heritage arts are important because it's our heritage in Appalachia."
For this, the cooperative hosts a number of classes on these historical art forms such as broom-making and sewing. In this series, Freedman hosts a barn quilt painting class of around 12 students where each selects a pattern and is given a kit to paint their own square. In the end, the student can take their piece home.
"Last year I taught one class … this year it filled up in a week and I'm teaching a second one in October to 10 more people and we have such a good time," she said.
Freedman realizes that the utilization of her chosen art form is decreasing as time progresses and technology advances.
"Just like my son saying, 'Mom, we can get you a computer, we can print this, you can make a lot of money.'"
Instead, Freedman stresses the importance of traditional methods of creating her barn quilts through hand drawing and painting, but she has adapted her style to appeal to current interests.
"People my age really love these [traditional] patterns, but people younger or people from the city will come in and are drawn to the contemporary," she said.
For her modern take on the paintings, Freedman adapts the geometric shapes found in most quilt patterns and incorporates modern symbols or imagery to fit into the design. She has found great success in this area, continually receiving commissions for wildlife, movies and even spiritual icons. Some of her newer pieces do not even incorporate the cornerstone geometric shapes as the focus. She is currently creating a series of bears whose styles are blended and whose faces are detailed. These capture her craft's long-standing designs and newer adaptations that will appeal to younger individuals who will share this art form with others.
Freedman can be reached at e561.308.6620 or This email address is being protected from spambots. You need JavaScript enabled to view it..