A&E Latest
Bill Douglas: Passing down a bit of history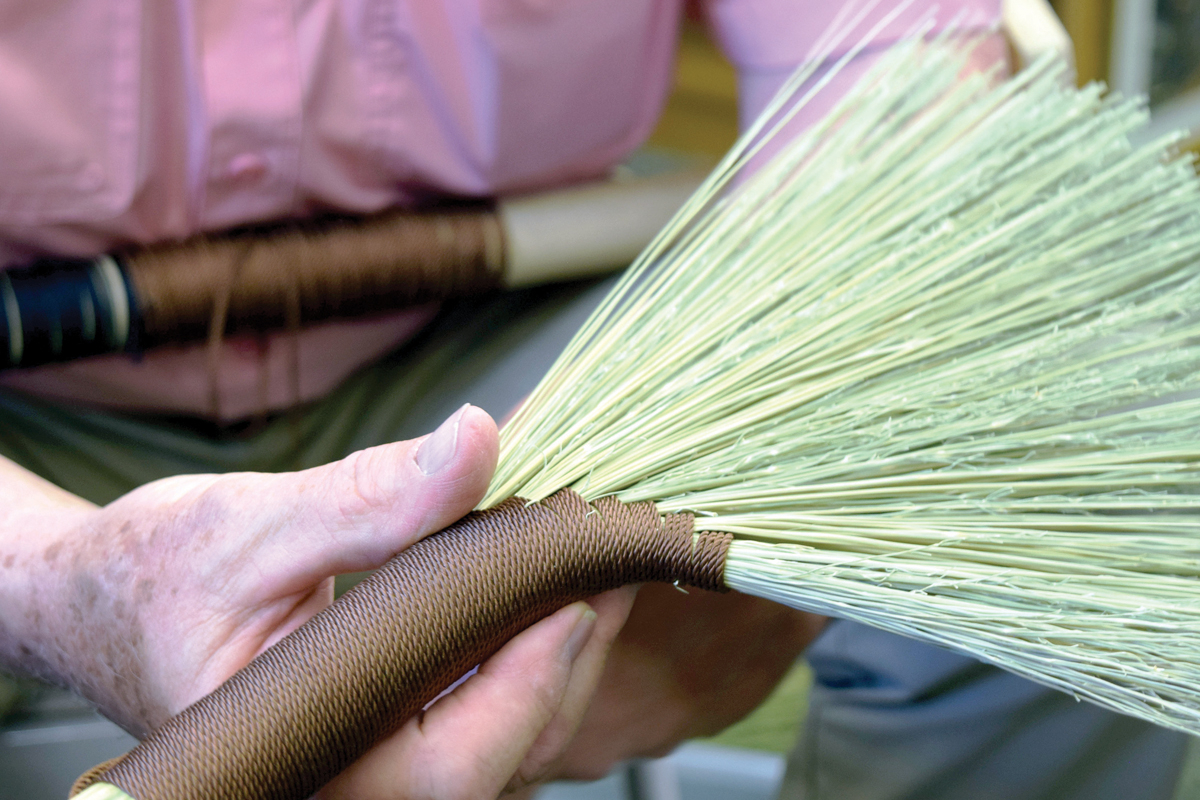 A member of Dogwood Crafters, Bill Douglas specializes in woodworking and weaving.
Heritage crafter Bill Douglas is continually gathering knowledge about the processes he uses to produce his work and takes great pride in creating historically rich brooms and canework that have traditions dating back hundreds of years.
Douglas is also involved in the operation of the well-known Dogwood Crafters co-op in Dillsboro, an organization he credits with helping to keep long-standing artistic media alive.
Living in New Orleans early in life, Douglas worked a nine-to-five job where he had little interest in craft. His interest was piqued, however, when his wife acquired a dining set from her grandmother that needed refinishing.
"I stripped it down and redid that. We were living in an apartment, and I remember working on that in the hallway in front of the apartment. Luckily, we were at the end of the hallway and no one was coming past," he said.
From there, he became interested in woodworking. The artist discovered a class on decorative duck carving, which he attended for two years. The pieces he made in and out of the workshops earned him blue ribbon prizes at various state fairs.
After moving to North Carolina, his wife decided to take a crafting class through their church. Driving her back and forth to the lessons, a member of the church approached Douglas about enrolling in a chair caning class at Dogwood Crafters, an organization he was familiar with from his mother-in-law.
"I went to that [chair caning class] and from there we were hooked," he said. Douglas continues to repurpose chair backs or stool legs he finds at estate sales. He purchases rattan, a type of palm grown in Indonesia, and intricately weaves the material around the seat furniture. Choosing from an array of weaving patterns, he is confident in his ability to select one that meets the needs of aesthetics and utilization.
After several years of devoting himself to chair caning, Douglas wanted to expand his knowledge to other artistic media. He saw an ad in the newspaper for a broom making class offered at the Jackson County Public Library taught by local crafter Mickey Sizemore. After taking the class, Douglas was fascinated by the process and began acquiring as much knowledge about the medium from as many different people as he could.
An important resource for Douglas is the workshops on broom making at Olive's Porch in Murphy, an off-site learning center run by the John C. Campbell Folk School. Here he learned several different ways to create brooms that range from small handhelds to be hung on a wall to full-scale floor brooms to sweep off front porches.
Douglas utilizes the turkey tail design; he takes several fistfuls of broomcorn or sorghum and starts by wrapping the first bundle with a long strand of twine until taut. Using the same length of string, the artist adds the next bundle, bending the broomcorn slightly to create the pattern he desires. At the end he ties off the collective bundles to a chosen handle and trims the ends for an even finish.
Becoming deeply involved in the realm of heritage crafts, Douglas wanted to take his talents back to where he began his journey as an artisan. About six or seven years ago, Douglas and his wife Debbie, a basket weaver, submitted their work to the standards committee at Dogwood Crafters and were admitted.
"Not anybody can get anything in there," he said. "It's all juried."
Dogwood Crafters serves as a hub for local makers to display their works for sale and share a sense of community with their fellow makers. An important outreach program is Dogwood's heritage art classes and demonstrations. The classes include book making, barn quilt painting and hand-built pottery, among others. Douglas now leads several sessions throughout the year. The artist places responsibility on other individuals as well, saying Dogwood is doing its part to encourage heritage artworks. If someone even has the slightest interest, he encourages them to enroll in one of the classes.
Douglas knows the impact traditional arts have made on his life and he knows the impact it could have on others. He is also aware of the impact individuals can have on historic ways of making and sharing with whomever they can. Douglas says passing down heritage crafts connects people to their cultural roots and to others who pursue the interest.
(Contact Bill Douglas at: This email address is being protected from spambots. You need JavaScript enabled to view it. .)