A&E Columns
This must be the place: 'I spent a little time on the mountain, I spent a little time on the hill'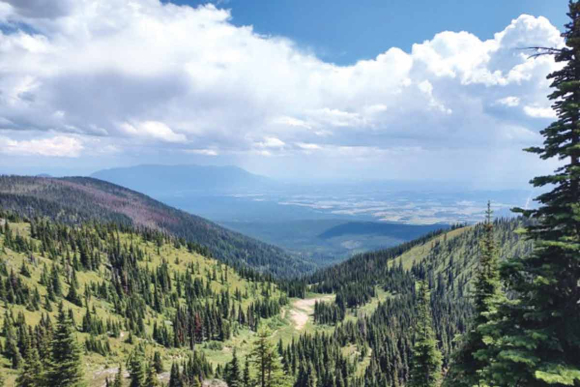 The summit of Big Mountain is 6,817 feet. Garret K. Woodward photo
Hello from Room 312 at the Apres hotel in Whitefish, Montana. Late Sunday morning. High of 91 degrees with low humidity and hot sun high above the desolate Rocky Mountains in this remote part of the lower 48 states.
Out here covering the Under the Big Sky music festival, a massive gathering bringing in some of the biggest names in country and Americana on a 400-acre working ranch. Late-night performances and shenanigans at the local watering holes way past the midnight hour in downtown Whitefish — a small outpost community and beacon for outdoor recreation and spiritual escapism.
Due to extremely expensive flights from Asheville to Whitefish, it was decided that my girlfriend and I would fly into Denver, Colorado, and take a road trip up through Wyoming, Montana and Idaho. Buffer both ends of the trip with a couple days of mischief and happenstance. Save money. Create memories together. Book it.
Besides, I deeply enjoy driving, especially in the depths of the West and all its natural, intrinsic beauty. Endless hours to think about nothing and everything, all while this incredible high-desert landscape unfolds outside of the windshield and soothes my restless nature.
Touching down in Denver, we grabbed the rental car and motored over to my old photographer and cosmic brother-from-another Andrew's humble abode in Boulder. Nearing sunset, it was a homemade meal of smoked meat and veggies. Hearty laughter and stories retold about the adventures Andrew and I went on across America while documenting music festivals between 2008-11.
Sitting on Andrew's porch with his wife and my girlfriend, it was a surreal feeling being present in that moment. Flashbacks of being 22 years old and leaving my native Upstate New York in December 2007 to be a rookie reporter at a small newspaper in Eastern Idaho. The hopes and dreams of youth. The eventual outcomes in due time. Keep pushing ahead and someday something will stick.
Skip ahead 16 years and here we all sit in Boulder. Trading tales of our own respective experiences along the journey of life. A couple hours later, say goodbye with meaningful bear hugs and firm handshakes. Plans are already in the works for the next rendezvous, perhaps on our home turf of Western North Carolina.
The first night was spent at an old-school roadside lodging establishment, the Ranger Motel along the Lincoln Highway in Cheyenne, Wyoming. A $77-a-night room with a bathroom that hadn't been updated since the 1960s. No matter, the water pressure in the shower was superb, as was the greasy-spoon breakfast just down the road at the Luxury Diner the next morning.
Merging onto Interstate 25 North. A barren landscape of grasslands and mounds of ancient rock busting through isolated pockets of earth between Denver and Billings, Montana. Cruise-control at 85 mph. Pointing out spots of interest, which is pretty much any direction you may look towards in Wyoming. The vastness is often overwhelming, the land as flat and uninterrupted as the surface of the moon.
While my girlfriend dozed off in the passenger's seat, I let my mind drift and wander, as it always does in the midst of a long car ride. The sounds of Miles Davis' seminal album, "Kind of Blue," echoing from the stereo, specifically "Blue in Green" and how it has remained part of me since I first heard it through headphones at college in Connecticut, a rainstorm just outside my dorm room window.
Headlights and taillights along I-25 towards I-90 West through the essence of Big Sky Country. Earlier that day, we stopped in Buffalo, Wyoming, to go for a quick hike and find a bite to eat before the final hours to the Dude Rancher Lodge in Billings. Sitting on some rocks along a fast-rushing creek, I reminisced about my long-ago western chapter, when I was a young writer and eager for life to, well, happen in real time.
And there I was, over a decade and a half later, sipping on a cold can of beer watching the free-flowing waters with my significant other in rural Wyoming. So many images and emotions between back then and where the cards have fallen nowadays. Many dreams achieved. Many others slipping through the cracks. To break even is to find peace and balance.
That's life in a nutshell, as we all have come to realize in our own way. The only thing you can (and should) do is shake your head in awe of what was, what is and what's to come. Sip the can of beer with gusto and gratitude. Acknowledge that mesmerizing river and that beautiful woman perched right next to you. Be grateful that you can be part of that image you've now chiseled into the walls of your memory.
The road is long, literally and figuratively, but bountiful to those of pure heart and of curious soul. Thoughts and sentiments dance across the dashboard en route to Whitefish. Visions of the past, of beloved faces long gone and dearly missed. The legend and lore, the appeal and yearning of the West and everything it represents — freedom through redemption, truth through struggle.
My late grandfather always loved the West, but he never really got the chance to explore it, at least properly. Part of me thinks that's where my drive and desire to constantly chase after the western horizon with such a reckless abandon originated from and remains within.
And why the sorrowful tunes of Hank Williams hang so heavy and purposely in the depths of my absolute being — "I'm a rollin' stone, all alone and lost/For a life of sin, I have paid the cost/When I pass by, all the people say/Just another guy on the lost highway."
Life is beautiful, grasp for it, y'all.
Leave a comment
1

comment
I very much look forward to reading your column in SMN each week. Excellent writing. Keep up the good work.

Monday, 07/24/2023