A&E Latest
In search of the muse: Cashiers artisan finds purpose in painting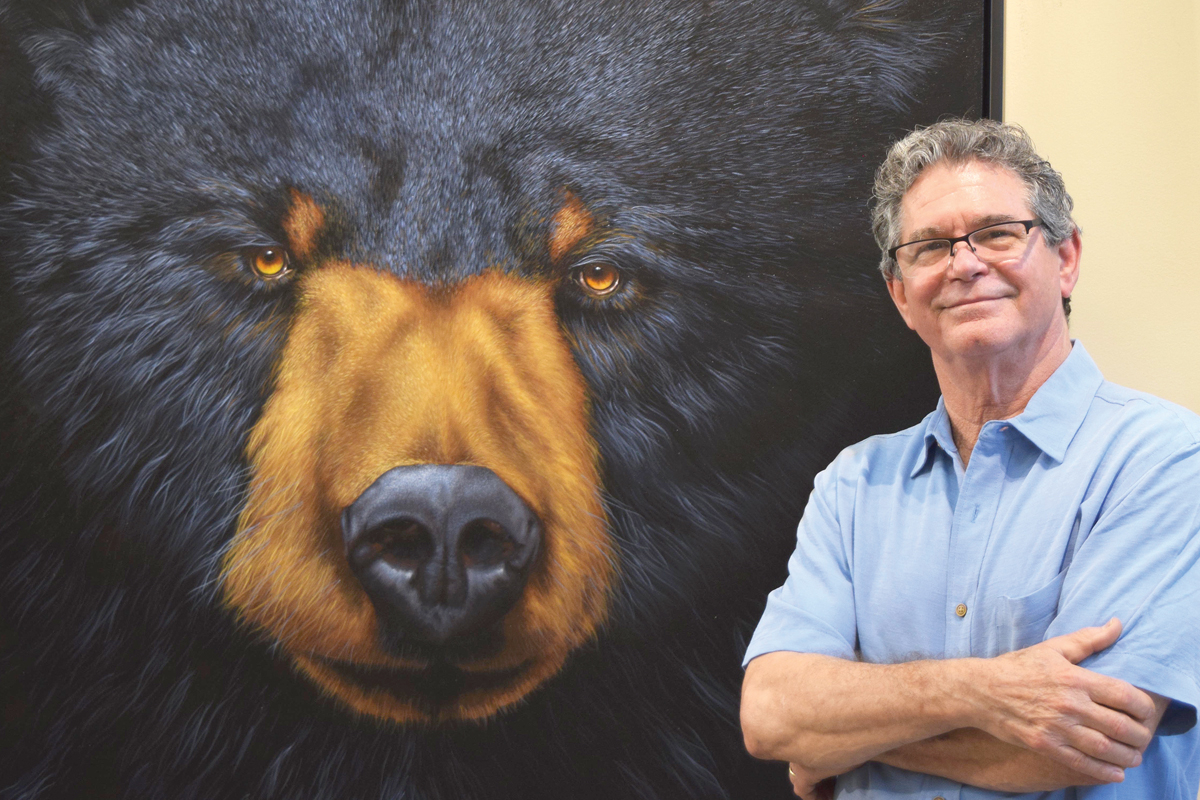 David Berger is a longtime painter based in Cashiers. Donated photo
From fine-detailed still-lifes that resemble photographs to wispy mountain landscapes, artist David Berger's approach to painting is one reaching every type of individual.
Self-taught, Berger makes his artistic ventures into ones that reflect in his artwork and his everyday life. For the artist, doing what brings him joy and sharing this passion with others drives him to create the expansive paintings he is well known for.
Born and raised in Miami, Florida, Berger explains that his struggle with addiction is what led him to find his calling. "I went into a treatment center when I was 31 years old. That's how I ended up painting." During this time, he got a job managing a picture frame gallery and crossed paths with a new hire who was enrolled in a painting class. His interest piqued, he joined. During the nine-week course, he found himself becoming obsessed with the art of painting. "More and more, I fell in love with it. I just couldn't stop." Soon the artist set up his own studio in his garage where he diligently worked to create his first awe-inspiring works. He began showcasing his work in different exhibitions and galleries and soon his paintings garnered enough attention to make their sale his source of income.
Starting out, the artist was drawn to create hyper-realistic still lifes that included every minute detail. Over time, he felt his gut telling him to search beyond the picturesque works and look towards the world around him. After a commission that requested a Florida landscape, his eyes opened to the endless possibilities of nature paintings. The artist takes inspiration from the area surrounding him in Cashiers with its towering, rushing waterfalls and tree-lined lakes that shimmer with the sun's last light. Recently, he has delved into the realm of animal portraiture, which includes his famous substantial bear paintings. For the subject and style of his paintings, Berger paints what his instincts tell him is right. "It's intuition over mood… if it hits me. One day it's like I just go 'it's time', whatever that is, whatever that small voice is that says 'go.'" This has led a body of work that spans avenues of realism, abstraction, and even a dedicated section of left-handed paintings.
Earlier in his career, most of Berger's work was promoted at outdoor art shows. The artist has exhibited at well-known outdoor art events, such as the Coconut Grove Arts Festival in Miami. For 25 years, he traveled all over the United States showcasing at outdoor venues, but has scaled back recently. "While setting up the Leaf Festival here eight and a half years ago, [I] had a massive heart attack. Almost died." Since then, the artist has focused on advertising his work in his own venue, Mountain Mist Gallery in Cashiers. Berger opened Mountain Mist in 2011 where he displays his work for sale and where visitors have the opportunity to step inside and watch the painter create sprawling landscapes and highly detailed creatures in his studio. The gallery also houses the work of over 40 different artists ranging across mediums. In this space, works are presented together for customers to observe the beauty and expansiveness of local handmade crafts.
Throughout his life and his time as an artist, Berger has come to realize his purpose in life is pursuing what he loves and sharing his found passion with others. The artist details that one pillar of recovery is sharing goodwill with others. He uses his artistic practice to bring joy to as many people as he comes across. "If you are doing what you love to do, people will feel that and be drawn to you." He speaks on the importance of making a career choice based on what you're passionate about over one that makes a substantial amount of money. In return, this will make you happier in your life in the long run. He asserts times of making money will come and go, but knowing he's in the field of doing what he loves is enough to keep him afloat.
Berger devotes his life to creating works that share a sense of found joy with others. Every day, he follows his instincts on what stylistic venture to pursue to reach out and draw individuals in. For this artist, finding contentment in life is being where you love and with what you love doing. Berger can be contacted through his Cashiers gallery, Mountain Mist Gallery at 828.743.1801, or visit www.mountainmistgallery.com.