A&E Latest
Peeling back the layers: Couple shares Cherokee history, culture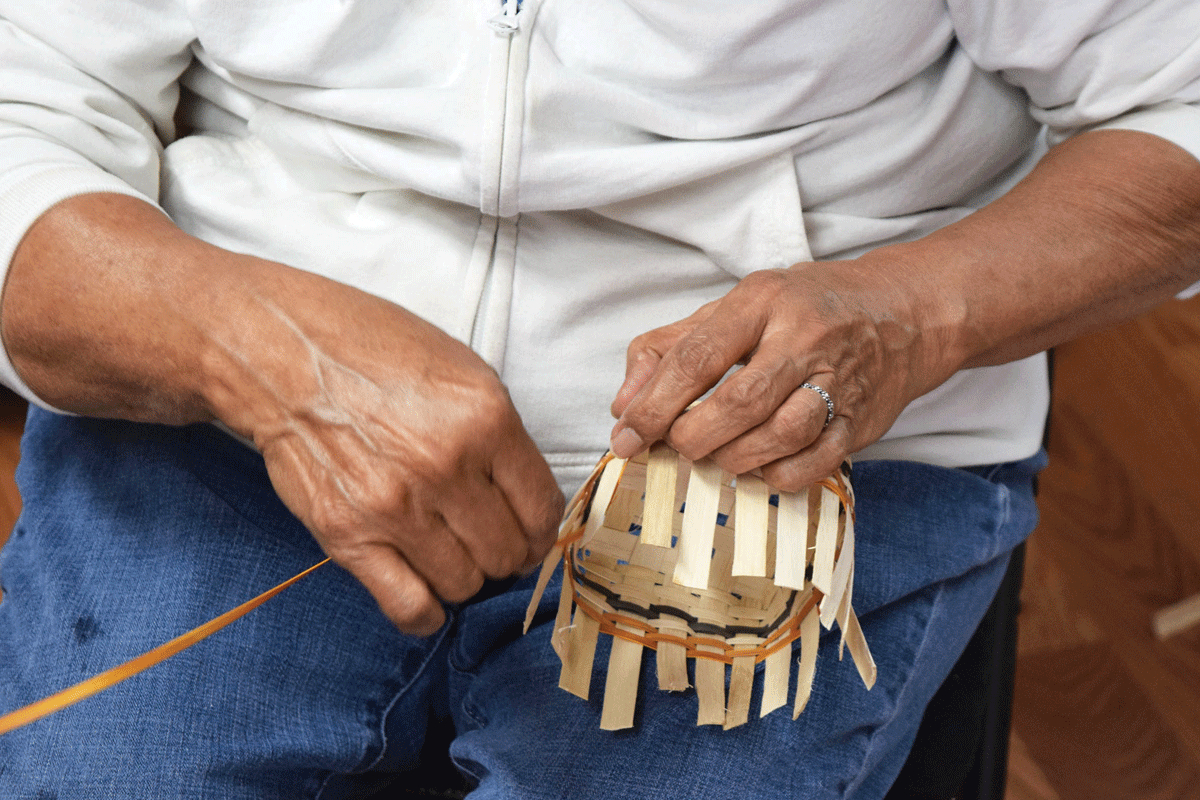 Louise Goings learned the art of basketry from her mother, Emma Taylor.
With over 50 years of experience in each of their disciplines, award-winning artisan couple Butch and Louise Goings continuously garner attention with their expertise in Cherokee basket making and wood carving.
The artisan couple have been bestowed with countless honors and recognitions, most notably the 2023 North Carolina Heritage Award. The Goings have dedicated a majority of their crafting careers to demonstrating and sharing their rich expertise with their community. Through this, their hope is to keep a part of their culture from diminishing by passing these traditions to younger Cherokee generations.
The Goings learned their respective trades from notable Cherokee makers, which plays a significant role in their stories as artists. Butch recalls his first experiences with wood carving, which at a young age was spending time in the forest with his family.
"I can remember back [when] my grandmother would make baskets and we would spend all day in the woods," Butch said. "[And] my dad would show up and he'd show me how to make little whistles out of laurel limbs. It's a good day spent in the woods."
When Butch attended high school in Cherokee, he enrolled in a carving class under the instruction of renowned woodcarver Amanda Crowe. There, Crowe educated her students on carving fundamentals and its importance to Cherokee culture. This is where Butch discovered his passion for wood carving and his desire to pursue a career in this art form.
"My last two years of [high] school, I'd sneak off. I wouldn't be going to school," Butch said. "I'd just be going to the wood carving class. That's mostly where I learned most of my animal carvings."
Butch showcases and sells his animal carvings at Qualla Arts and Crafts Mutual cooperative in Cherokee, where he serves as President of the Board of Directors.
Louise's husband Butch first started carving with his father and later studied with Amanda Crowe at Cherokee High School.
At a young age, Louise was exposed to white oak basketry from her mother Emma Taylor, also an award-winning basket maker. The artist recalls her childhood experience going into the forest to gather basket making materials with her mother and seven siblings.
There, Taylor educated her children on how to process white oak for basket making, including choosing the right tree for basket splits and identifying plants useful for dying. After years of observing her mother create elaborate pieces, the artist made the decision to follow in her footsteps.
"When I was about nine or 10, I started picking up pieces that mom had cut off from her splits and [I started] making little trays," Louise said. "She would take the [trays] with her baskets to sell at different places in Cherokee before the co-op [Qualla Arts and Crafts Mutual] started. When the co-op started, she sold them there and I got 50 cents."
As she obtained more knowledge in white oak basket making and how to create intricately woven patterns, Louise began selling her pieces independently at the co-op, where she continues to do so today.
For the artists, the act of gathering and processing materials is just as important as the finished product. With wood carving, Butch details the knowledge someone needs to have about different types of wood, specifically, what types will sustain being carved and how the grain will appear after carving and lacquering.
With basket making, Louise expresses the important difference between a "weaver" and a "maker." According to Louise, a "weaver" is a person who possesses the technical skills to successfully make a basket, but a "maker" is a person who forages and processes their own white oak and dying mediums to create a completed piece.
Over time, the number of individuals who are true makers has become scarce. Louise explains that, for a long time, someone in the community would cut and shave white oak into splits to be sold to basket weavers. A few years ago, this service was no longer available, leaving many individuals without material and the knowledge of how to craft a basket from scratch.
"There are very few of us who can go to the woods," Louise said. "I think someone said just lately there are only two families supplying the co-op with baskets right now. We're down to the nitty gritty."
Another factor is the availability of crafting materials. According to the artists, for white oak to become the perfect size for harvesting, it must mature for 14 to 15 years. It has become increasingly difficult to find white oak trees of this age due to disease. This instance also occurs in the butternut tree, a material frequently used for wood carving and dying.
The artists have been offered trees raised in PVC pipe, but the wood is described as being tough and almost impossible to work with. They believe upcoming artists wanting to create baskets and carve wood will resort to using imitation wood sold in commercial hobby stores if proper crafting education is not passed down.
Togetherness, a love of nature and sharing the traditions of Cherokee craft with others are what Butch and Louise Goings credit to their successes as makers. The artists devote their time to showcasing Cherokee artistry and educating individuals on indigenous making processes that have been a central part of many generations.
Louise sums up her and Butch's artist ideals into one word: "sgadugi: you come together, work together, to benefit each other." This ideology continually inspires the artists to share their rich knowledge and craft, keeping this part of their heritage flourishing.