A&E Latest
All in the family: Riverwood Pottery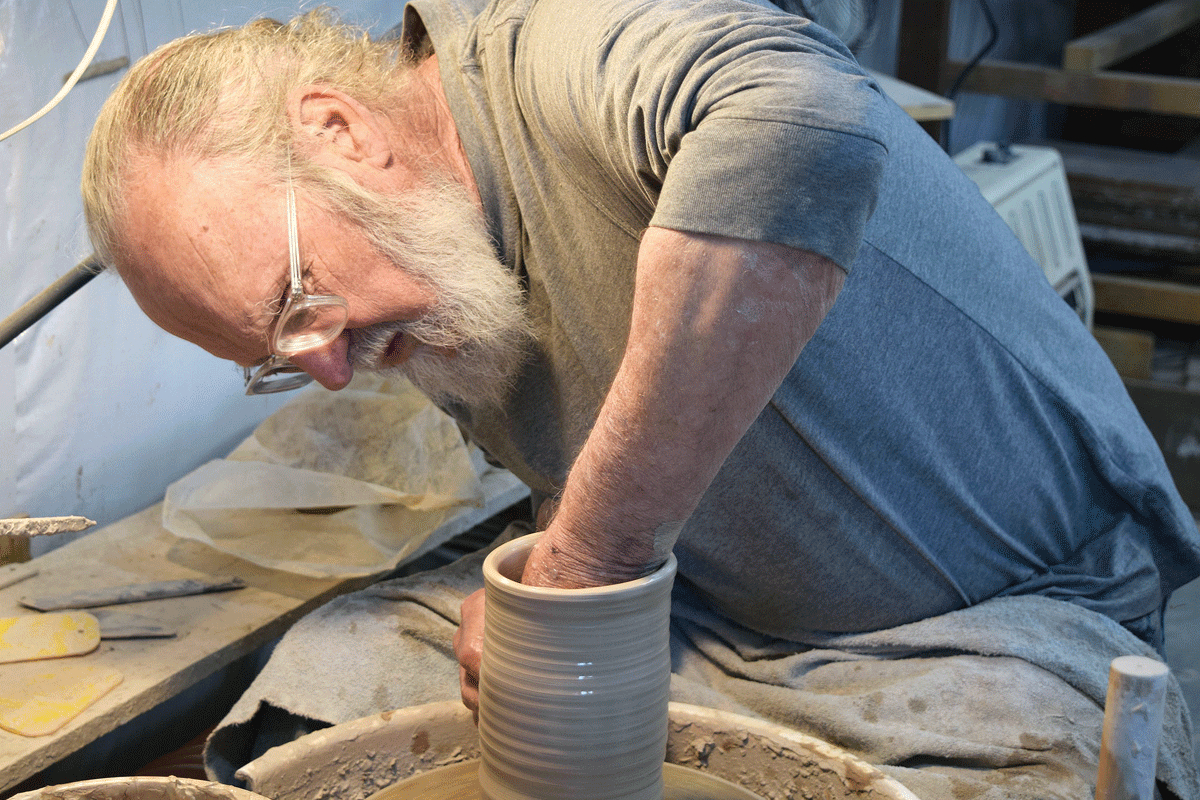 Potter Brant Barnes is an acclaimed WNC artisan. Donated photo
Artist family Brant, Karen and Zan Barnes make pottery a philosophical journey that encompasses every portion of their lives.
From the moment they wake, the family is set in motion to create works that range from purposeful kitchen utensils to vases with innovative surface designs that utilize today's advanced technology.
They have dedicated a majority of their lives to creating pottery, even operating a ceramic open studio/store for 26 years in Dillsboro. Throughout their careers, there has been a message at the center of it all — sharing the joy of their craft with others.
Although the family now all work in the medium of pottery, each member started off on a different path. For Brant Barnes, he has always identified as a visual artist, but not necessarily in the field of ceramics.
"Being an artist is one thing because I've been doing this my whole life, but being a potter is knowledge," Brant said. "I had never touched clay before. I went in [to college] as a painter and came out a potter — I was 22 when I first touched clay."
Brant describes his area of work as being kitchen-based function ware with a specialization in glazes fired at a temperature of cone 10. He enjoys pushing the boundaries of purpose and design, toying with what can come of this, saying that experimentation is what makes the object's functionality better.
Karen comes from a family with rich art making traditions. In college, she studied performance. After marrying Brant and having their daughter, Zan, Karen shifted her vision into the realm of visual arts, considering following her mother's footsteps in fiber work. But, she decided taking a path into pottery would be of benefit to the family's income.
"It would be a whole lot easier for us to be a one craft family — you have to run a business for each of the crafts that you do," Karen said.
Karen started out building pieces by hand from clay and eventually gained enough experience to begin throwing vessels, such as cups and jugs, on a potter's wheel. Her area of work utilizes throwing and hand-building techniques to create face jugs, a regional phenomenon that became popular when the local area experienced its first boom in tourism.
As well, Karen crafts her pieces with specific stories and personalities, ranging from hand-sized spherical jugs made into gleeful farm animals to tall coffee mugs boasting emotions of sadness or anger.
Initially, Zan didn't have plans of joining the family craft. But, throughout her life in some shape or form, opportunities to work in clay arose.
"As a teenager, I had very little interest in what my parents did," Zan said. "I made work through high school a little bit. I went to theater school. And did a studio art minor. When I was working at Western [Carolina University], the summers I spent in the studio making pots."
Through this continued exposure to the craft, Zan made the decision to shift her career path into the world of visual arts, going on to earn her Masters of Fine Arts in Ceramics at the University of North Texas.
The works Zan creates are functional vessels with experimental surface designs, utilizing a Cricut machine to create stencils that are attached to the surface of a piece and then brushed over with a colorful clay slip. Most recently, Zan completed a series of pieces with surface designs that feature a variety of cryptids, including Bigfoot and the Loch Ness Monster.
In 1995, the family began their studio residence at Riverwood Pottery in Dillsboro. Here they sold their own works and operated an open studio where shop visitors could view the Barnes creating works and have the opportunity to make a piece themselves.
"Riverwood was a real, super special place for a long time," Karen said.
The family's favorite memories from the shop were the people they met and had an impact on along the way. Brant details when a visitor created a piece, it was dated, fired, and when they came back to visit, they could pick it up.
"We had a box for every year we were there," Karen said. "One of my favorites is the dad who came by and said his son was getting married, that back when he was a kid he made a turtle. We found the turtle, so he gave it to him for a wedding gift."
Although Riverwood Pottery closed in 2021, the family continues to sell their artwork in several different locations, including Dogwood Crafters in Dillsboro and their own storefront website: riverwoodpottery.com.
But there are concerns about what the future holds for the family's chosen media. The frequent use of plastic in today's society has led to a decrease in functional pottery, Brant noted.
Brant details that before plastic's advent, clay was utilized for most kitchenware and common household items. Single use plastics have now taken over the market for their ease and price point. There is also concern with lack of exposure to pottery that has led to a generational change in the viewpoint of ceramics.
"I don't sell to people my own age at craft fairs," Zan said. "It's just a changing dynamic."
This might be the case, but the Barnes realize the impact they can have on individuals through education. To do this, the artists avidly demonstrate and showcase their making process, teaching at places such as John C. Campbell Folk School in Brasstown, and participating in "Clay Day" hosted by the Southern Highland Craft Guild, where they're all members.
The Barnes family finds there are many joys in clay including the ritual of morning coffee; taking the time to carefully select which mug they created that will be perfect for their enjoyment.
The family trio takes delight in the expansive universe of pottery, but they do not aim to keep this bliss to themselves. For these artists, spreading their love for this craft with others gives them all contentment in the world.