A&E Columns
This must be the place: Ode to the girl from the North Country, ode to a year of grief later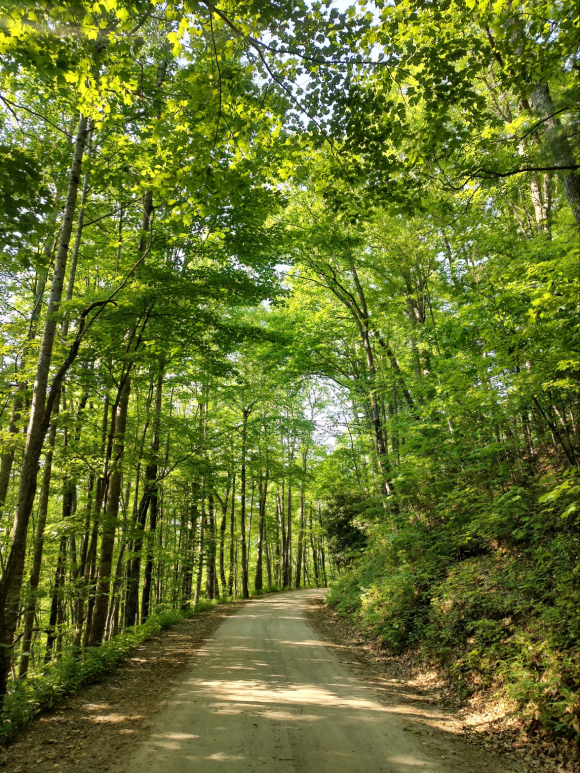 The backwoods road to the secret running trail in Balsam Gap.
Garret K. Woodward photo.
Pulling up to the entrance of an old logging road in the depths of Balsam Gap between Sylva and Waynesville, a hot sun hovered. Lace up the running shoes and duck under a shady tree canopy along the isolated dirt road of solitude.
Late Saturday afternoon. A slight haze overtaking the mountain ridges in the distance looking towards Cullowhee and Cherokee. The scent of new forest growth and fresh earth emerging into the last of spring, onward into the frolicking nature of soon-to-be-here summer shenanigans and agreeable weather.

Within the first half-mile of the eventual three-mile trot, the mind began to drift and wander, thoughts and emotions ricocheting amid the space between the ears, as per usual once you become vulnerable to the intricate energy singularly found in the depths of a solo run down a silent dirt path — the only sounds that of your feet underneath you, your breathing now finding a comfortable pace.
Almost immediately, I started thinking about my late friend, Stephanie Van Nortwick, who was tragically killed in a car accident a year ago this past week in rural Virginia. The crash was June 7, 2022, with her untimely passing coming on June 9 in the ICU at the UVA University Hospital in Charlottesville. To note, Steph was an organ donor whose generosity helped give a better life to four individuals.
Originally going by Steph Wilkins, I befriended her way back in high school in the North Country of Upstate New York. As a competitive runner in those days, I met her and several other local athletes at a track camp offered one summer at nearby St. Lawrence University. We'd all known each other for years, fighting it out on the track and in the backwoods during cross-country season.

But, at that point, our interactions were only at arm's length, with track camp offering several other avenues of possible friendship. It was also at track camp where she had a budding relationship with Adam Van Nortwick, the best runner in our conference with numerous records and awards to his name.
Track camp was also a setting that introduced me to my high school sweetheart. She went to same high school as Adam in Saranac Lake, with Steph in the next district just down the road in Tupper Lake. Me? I was over an hour away up Route 3 and Interstate 87 at Northeastern Clinton — eager to leave whenever I could escape to the sincere friendships and jovial adventures that awaited me.
Following track camp, we started meeting up every weekend during our final year of high school, venturing around the vast landscape of the ancient Adirondack Mountains — camping, hiking, boating, swimming or simply just daydreaming about our unknown futures on the dock at Adam's parents' home on Kiwassa Lake.
At age 38, those memories are over 20 years ago. And although much has changed and shifted in our respective lives, those images — people, places and things — have remained close to the surface of our daily lives. Innocent, joyous times while we were coming-of-age, soon-to-be released upon the world of adulthood and impending responsibilities. And we never lost touch after high school.

There were weddings and reunions later down the line, with Steph and Adam's nuptials being such a memorable celebration those many years ago at a tiny stone church near Paul Smith's College. There was the occasional mid-summer rendezvous at Adam's parents' lake house where we caught up with one another about life — once again daydreaming about the unknown future ahead.
Skip ahead to the recent jaunt in the woods of Southern Appalachia, that old logging road in the heart of Balsam Gap. Late Saturday afternoon. Sunshine piercing through the shaded tree canopy. Silence, save for the sounds of running shoes crunching along the dirt path, my breathing finding its ideal rhythm along the trek. The endless streams of thoughts and emotions to digest and make sense of.
A year has now passed since Steph left us, exiting this earthly plane for the next realm — whatever and wherever that may be — somewhere out there in the cosmic ether of the universe. Her husband and two young children are slowly learning how to cope with the searing grief and move forward in this still-unfolding new reality, with Steph's family and friends also doing the same in their own ways and means.
The grief never leaves, as those who experience the loss of a loved one can attest. You just simply learn how to walk beside it. You learn how to carry the weight of grief along the often-bumpy road of life, each loved one lost a cherished item stored in your spiritual suitcase en route to the subsequent chapter of your existence.
From time-to-time, I think about the absolute numbness and catatonic feeling of self that was felt when I walked out the ICU in Charlottesville, just after I said goodbye to Steph for the last time — mere hours before the hospital machines were turned off and she was peacefully let go into an eternal slumber.
That devastating grief was heavy and dragged me down for several months thereafter, where I became distant in daily interactions and endeavors. But, as with grief itself, eventually comes the return of your old self, but you're a little more worn-in and matured in the matters of life and death. Your old self is back, but it's different now, and it will never be the same. It never is.
And yet, you must continue to hold your head high and remain tuned in to the present moment at-hand, in sheer gratitude for the here and now — for not only your late friend, but also yourself and those surrounding you, all of which eagerly awaiting your next move of purpose, passion and compassion.
Life is beautiful, grasp for it, y'all.