A&E Columns
This must be the place: 'And all my trails, won't you take my hand, gonna raise it up all across this land'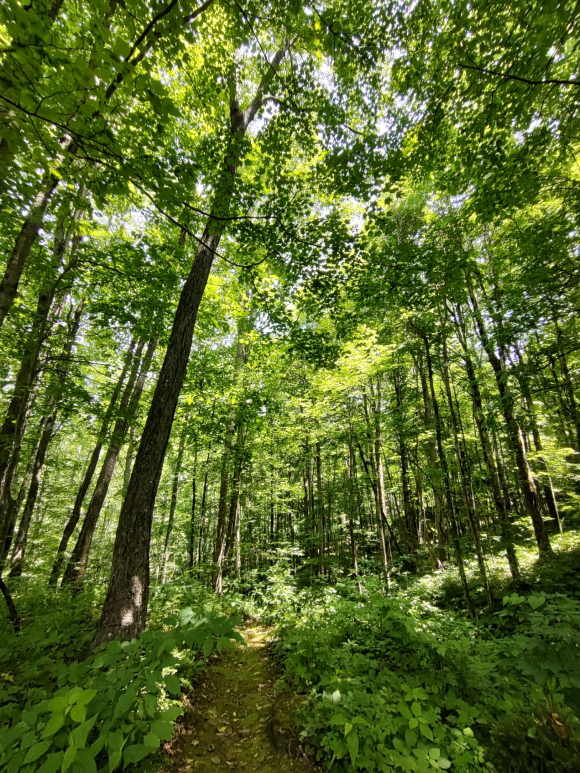 The backwoods of Haywood County on a lazy Sunday.
Garret K. Woodward photo.
It wasn't the daily sounds of passerby traffic on Russ Avenue in downtown Waynesville or the Tuesday morning garbage truck flipping up the dumpster to empty its contents from the pizza joint next door to my apartment that woke me up.
No, it was the slight, jovial whimper of two small dogs at the bedside in the wee hours of Sunday morning that brought me out of my slumber and into the impending day. The sun had yet to rise, with the early morning shadows still ominous and present in the forest outside the large windows of the master bedroom.
Half-asleep and still in a somewhat dreamlike state, my girlfriend and I hopped out of bed and proceeded to head downstairs to let the dogs outside to relieve themselves and to get a few more sniffs in of any and all critters that may have wandered into the backyard in the midnight hour.

Tucked in the ancient woods on a mountain ridge overlooking West Waynesville, this beautiful home isn't mine, nor is it my significant other's. It's owned by dear friends who asked us to house sit for them this past weekend, mostly to let out the small canines and feed the numerous cats who each have taken up a respective corner of the home.

For someone like myself who lives a simple, nomadic life (personally and professionally) — one where I lay my head and leave all earthly possession in a quaint one-bedroom apartment — it's quite surreal to "play house," especially in such a large, welcoming abode.

This mountain retreat is filled with vaulted ceilings, two-sided fireplace, exposed wood beams, sprawling kitchen with a stove that could cook for an army, numerous living quarters with endless natural light cascading through the windows and an outdoor space for a romantic breakfast or lunch — all atop several acres of backwoods exploration.

Although I'm a minimalist, the home is quite intriguing, where I find myself absorbing all the fine details and tasteful style to perhaps someday apply to a forested abode of my own. I might not seek out a house as big in size and scope, but I do see many of these same features as things to someday implement in that cabin in the depths of the desolate Adirondack Mountains — the one I've always envisioned for myself at some point down the line, whenever that may be.

Although I'm a minimalist, it's tempting to want and desire a place where I don't have to wait to use the bathroom (there are three in the mountain retreat) and can step off the front porch onto mossy grounds under a shady tree canopy of silence and tranquility — instead of concrete sidewalks and pavement outside my front door, the white noise of cars and humanity zipping by at a moment's notice.
Thus, as I sat and consumed my eggs and coffee with gusto next to my girlfriend on the back porch of the picturesque mountain property, I found myself pondering the idea of manifestation — how real and tangible it is in the grand scheme of things, where I stand with my past/current manifestations and what the future may look like if I were to stop for a moment and think genuinely on "Where to from here?"

Growing up in the North Country of Upstate New York, I've always had this fantasy of that cabin the ADKs. Wooden bungalow structure. Filled with exposed beams and hanging artwork. Fireplace with wood chopped in the "back forty" earlier that day. Lots of natural light. Open-concept kitchen area into the dining room and living room. One bedroom for myself and my partner, one for incoming guests.

Oh, and a writing room. Preferably the smallest room in the furthest corner of the bungalow. This quiet space with an old desk facing towards a window overlooking the nearby tree line and mystical forest. Shelves of beloved books and vinyl records. And a few guitar cases within reach.

Grab for a guitar case. Pop it open. Pluck the six-string if the mood is right, melodic inspiration striking between spurts of the written word — whether on deadline, on assignment or simply for the sake of getting whatever is ricocheting around one's restless mind and thoughts out on the empty page, ultimately relieving the pent up creative energy within.

And who know when or if those vivid images of the future may come to fruition, eh? Time and space will always dictate what the universe wants to do. It's been that way since the beginning. But, ain't it fun to daydream, to wander and ponder this all too big world of hopes and aspirations? Visions of what might be and could be fascinate the mind — the heart and soul shining with endless possibility.

Finishing up the eggs and coffee late Sunday morning at the mountain house, I gazed around into the surrounding forest with a sincere sense of gratitude for where I currently stood, physically or spiritually. I kept thinking — more so manifesting — that cabin in the woods fantasy which remains in the deepest depths of my being.

It's that same spot within, whether consciously and subconsciously, where I've held other dreams, many of which eventually becoming a reality, come hell or high water — of the written word, true romance, unimaginable adventures and strangers soon becoming fast friends, interviews and articles, friendships and relationships, nothing and everything and whatever lies in-between.

Life is beautiful, grasp for it, y'all.
Leave a comment
1

comment
Beautifully written piece! I could picture and feel the quiet beauty of your short-term mountain forest escape. It confirms my feelings of being "where I belong" in our mountain hideaway in these wonderful Appalachin Mountains of Hayesville, N.C. While still living in upstate S.C. in "the city", we spent many weekends "up here", and the peace I felt entering my soul in the drive up to the mountains was delectable! I could literally feel the stress of a busy week draining away and my soul being revived by the quiet splendor! I hope you find a way to experience your own slice of paradise very soon. If I'd known how wonderful full-time living up here was, I'd have found a way to get here sooner! Keep writing, but find "your own little slice of Heaven" to do it in!

Monday, 06/12/2023